Turkey: Raising Awareness of the Persecution of Falun Dafa in China
April 09, 2018 | By a Turkish Practitioner
(Minghui.org) Falun Dafa practitioners in Antakya, Turkey held an event and signature drive on March 10, 2018 to raise awareness about the persecution of the practice in China.
Antakya is an ancient city, also known as the "City of Tolerance." The residents of Antakya showed great interest in Falun Dafa, and when they heard about the ongoing persecution in China, they expressed their concern and signed the petition condemning it without hesitation. Over the course of the day, 134 signatures were collected.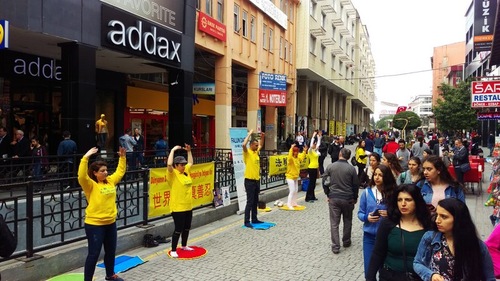 Exercise demonstration in Antakya, Turkey.
Passersby wanted to learn the exercises and nearby shop owners also showed great interest in Falun Dafa and in learning the exercises. Children also participated.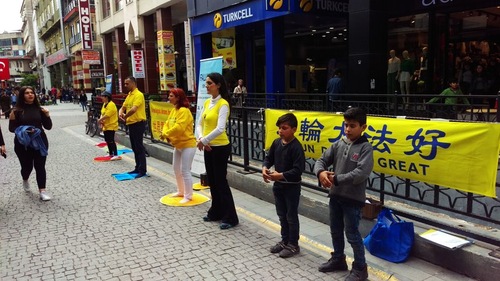 Children learn the exercises.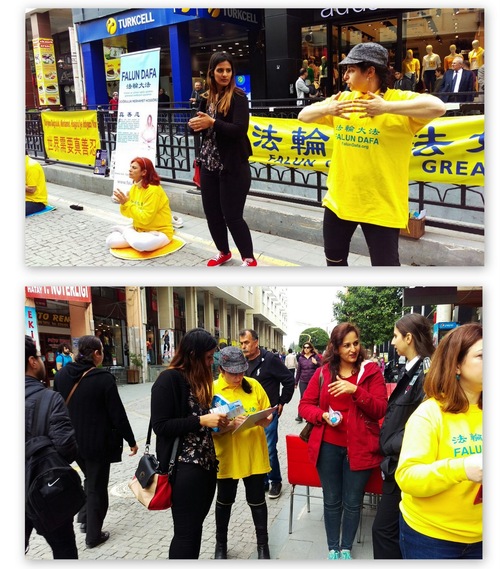 Arzu Açık, who works as a security officer at a private company, was very interested in Falun Dafa and learned the exercises from practitioners. She was sad to hear about practitioners being tortured in China, and immediately signed the petition to help stop the persecution.
Civan Kaplan, a nurse who works at a private hospital, stopped when she saw practitioners doing the exercises and asked for more information. A practitioner introduced the practice to her and told her about the persecution and the Chinese regime's forced organ harvesting from living Falun Dafa practitioners for profit. When Mrs. Civan heard this, she was very upset and said, "People should be free to practice what they believe. The organ harvesting in China has to stop." She then showed her support by signing the petition.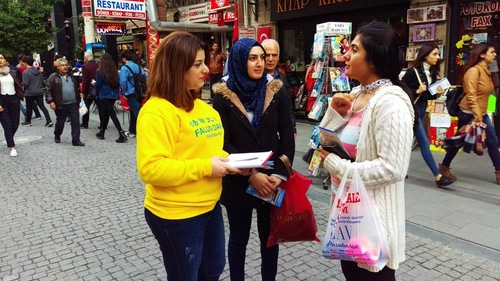 University Student Nejla Arslan watched the Free China documentary, which was shown in Antakya Mustafa Kemal University the day before.
Nejla Arslan had just seen the Free China documentary and came to the activity to get more information about Falun Dafa. "I did not know that China used such violence on its own people," she commented.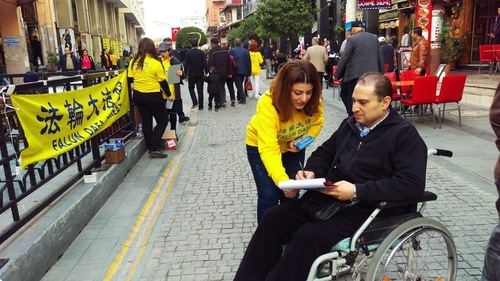 People were eager to sign the petition, without hesitation.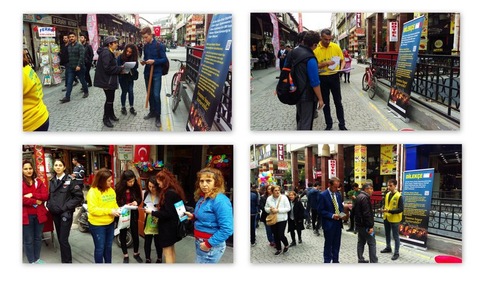 Many people signed the petition opposing the persecution of practitioners in China.