Vancouver Falun Gong Practitioners Support 300 Million Quitting the CCP
April 07, 2018 | By a Falun Gong practitioner in Vancouver, Canada
(Minghui.org) Falun Gong practitioners and supporters in Vancouver, Canada held activities in front of the Chinese Consulate on April 1, 2018, celebrating 300 million people quitting the Chinese Communist Party (CCP) and its affiliated organizations. They displayed more than 30 banners along the street. Passersby expressed their support to practitioners.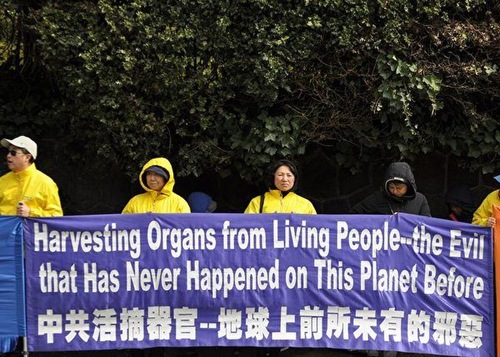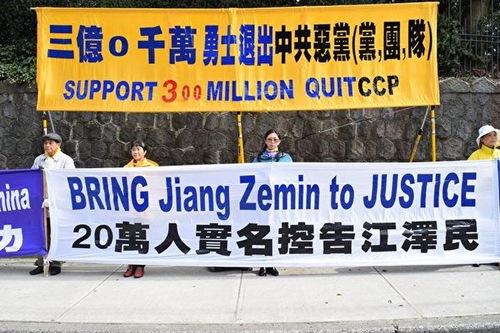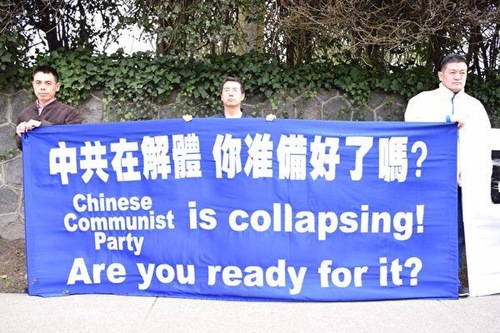 Falun Gong practitioners in Vancouver displayed more than 30 banners in front of the Chinese Consulate on April 1.
The banners read, "Support 300 Million Quit CCP," "Harvesting Organs from Living People – the Evil That Has Never Happened on This Planet Before," "Bring Jiang to Justice," "Falun Dafa Is Good," and "Chinese Communist Party Is Collapsing! Are You Ready for It?" The banners spanned almost an entire block along Granville Street.
Many people driving by honked to show their support. Some took pictures and videos. Some waved at practitioners and gave them thumbs-up. Some stopped to find out more information. They praised the practitioners' brave exposure of the persecution.
A gentleman named Tom asked practitioners about the current status of lawsuits against Jiang. He said, "The Chinese Communist Party is terrible! I have learned about their organ harvesting."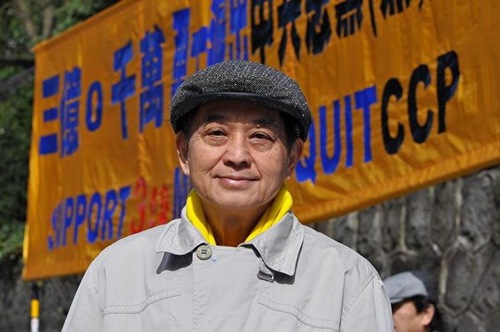 James, an immigrant from Vietnam, suggested that all Chinese people hurry up to quit the communist organizations and cut their connections with the CCP.
Mrs. Wang, who volunteers to help people quit the communist organizations, told the reporter that she had witnessed a change in people during recent years. She said a former secretary of the Communist Party Committee had refused to quit, but after seeing how Mrs. Wang had helped people several times, he started greeting her like a friend. One time, he said to Mrs. Wang, "I think you are better than the CCP." Mrs. Wang said, "Why don't you quit the CCP then?" He replied without hesitation, "Sure!"
Another man who used to have bad attitude, said when Mrs. Wang asked him whether he was a member of the CCP, "I'm a senior member of the CCP. What you are doing is anti-Party!" Wang continued talking to him nicely, "Are you afraid of an old woman working against the Party? Do I look like a bad person?" The man thought for a second, and said, "No." Mrs. Wang continued, "What I'm doing is truly for your benefit. The CCP has committed terrible crimes. It will be punished. Quitting the CCP will ensure your safety." The man was touched by Mrs. Wang's sincerity and agreed to quit the CCP.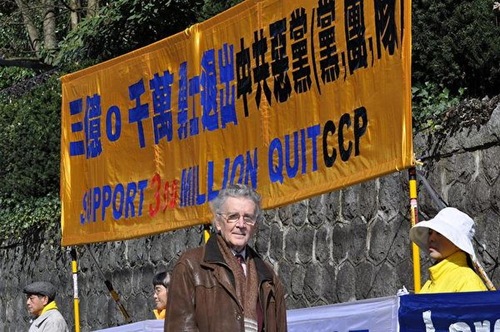 Mark shows his support for Falun Gong.
A gentleman named Mark said he was an immigrant from Poland. He had worked as a journalist and an engineer. He knew about the brutality of the Communist Party in Eastern Europe and Russia. He told the practitioners, "The persecution has lasted so many years, but you continue telling people about the persecution. What you are doing is admirable. You are very brave!"
Mr. Huang Ningyu, Vancouver coordinator of Human Rights in China, congratulated the 300 million people who have quit the communist organizations. "I would like to express my admiration of Falun Gong's tireless work on the celebration of 300 million people quitting the communist organizations. It's a remarkable achievement in the process of disintegrating the CCP. This wave of resignations from the CCP has played a critical role in exposing the crimes of the CCP and toppling the dictatorship. The number of people who quit the CCP climbs by tens of thousands every day. It's an indication that most Chinese people have seen clearly the wickedness of the Party. People inside and outside of China want to distance themselves from this collapsing regime."
Ms. Zhang Su, a spokesperson for Falun Gong in Vancouver, said that even insiders of the CCP's political systems have seen that the regime won't last and have announced their withdrawals from the communist organizations by various means.