Toronto: Falun Dafa Group Warmly Received in Easter Parades
April 04, 2018 | By Minghui correspondent Zhang Yun
(Minghui.org) Falun Gong practitioners joined the Toronto Beaches Lions Club Easter Parade on April 1, 2018, following an Easter Parade at Pickering in suburban Toronto on March 31. The Tian Guo Marching Band and a team of waist drummers participated, along with a float.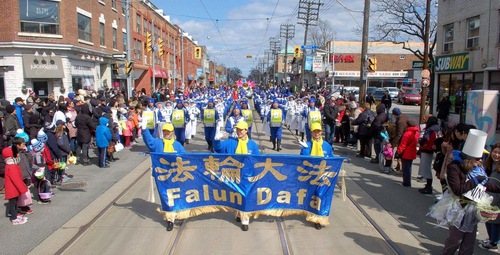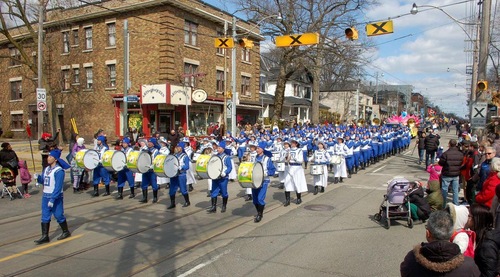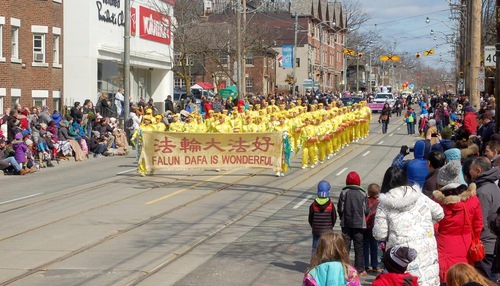 Falun Dafa practitioners celebrated the 52nd Toronto Beaches Lions Club Easter Parade on April 1, 2018.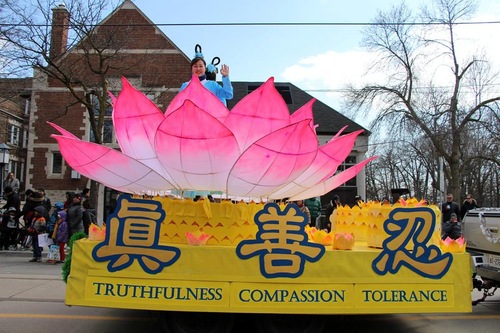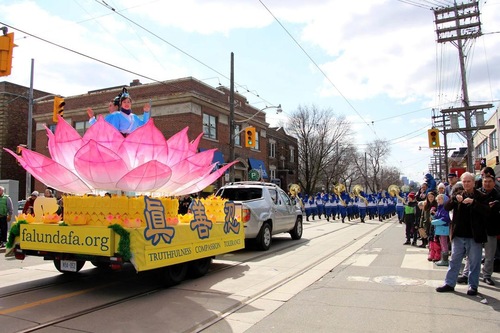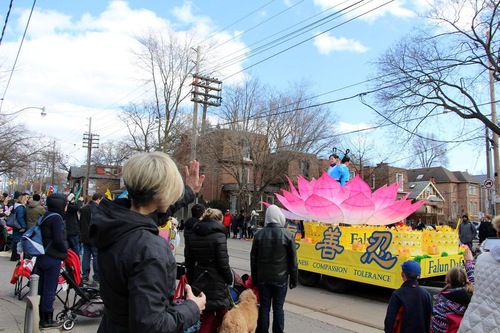 Many spectators were impressed by the float.
About 50,000 people gathered along Queen Street to watch this annual tradition that started in 1967. Despite the earlier weather forecast of rain, both Saturday and Sunday were sunny throughout the parades. Many people applauded the practitioners for their performances.
Carol McCague, one of the organizers, thanked practitioners for their participation. She said she was impressed by the practitioners' beautiful costumes, wonderful music, and excellent float.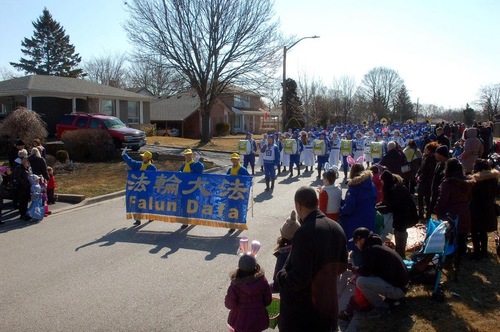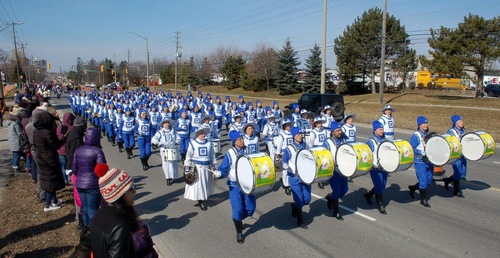 Tian Guo Marching Band in Easter Parade at Pickering in suburban Toronto on March 31, 2018.
"I Feel Like Spring Is Coming"
Deb, one of the spectators, danced to the music from Tian Guo Marching Band. She has watched the parade every year and was excited about it. "I can see that the band members always have smiles on their face and they are very peaceful. Although it is chilly today, while watching the band perform here I feel like spring is coming," she said.
Having heard about the persecution in China previously, Deb said she was sorry for the mistreatment practitioners have suffered for their belief. "I hope the persecution will end. And I also want to thank them for bringing happiness to the community," she added.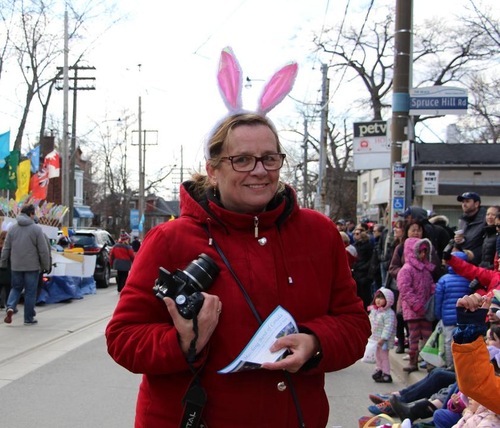 Massine said that she liked the Tian Guo Marching Band very much.
Another resident, Massine, warmly applauded the practitioners and said that she watches the parade every year. She knows that the Tian Guo Marching BAnd goes to multiple parades in the Greater Toronto Area and is well received. "I hope more people will pay attention to the situation in China so that practitioners can freely practice their belief," she continued.
Photographer: I Will Tell More People
Anwar, a photographer, took many pictures and videos of the practitioners. He said that he would post the video on YouTube for more people to watch. Surprised to hear about the suppression in China, he accepted a pamphlet from a practitioner and said that he would read more later on. "Tragedies like this should not happen in our society," he said.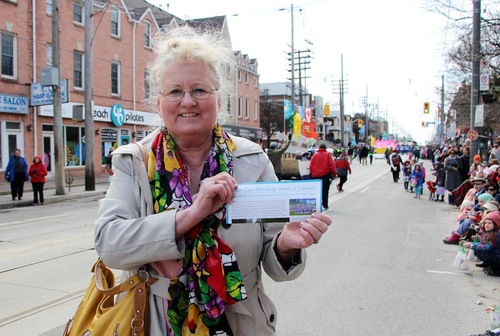 Maaike said the performance gave her a good feeling and made her calmer.
Maaike said that she liked the performance very much. "Fabulous! Beautiful! Everything is gorgeous!" She added, "It gave me a good feeling and made me feel calmer."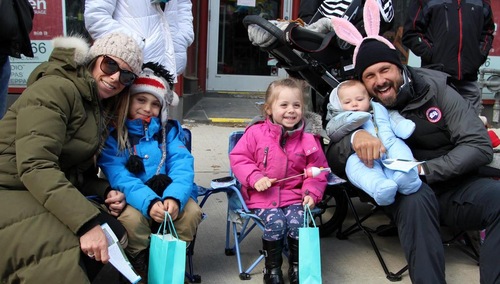 Jordan, her husband, and their three children said Falun Dafa practitioners made them happy.
Response from Chinese Residents
Ms. Shi kept waving to the practitioners as she watched the parade with her family. She has seen practitioners in the parade every year and is very proud of them. Having immigrated here from China nearly 20 years ago, she knew a lot about Falun Dafa. "We know who is right and who is wrong. We are glad to see the great performances from practitioners," she remarked.
Ms. Wei moved from China more than 10 years ago. She was impressed by the Tian Guo Marching Band and said that it was hard to imagine this back in China. "People should have the freedom to practice what they like," she said, "I think the persecution is very wrong."
Two students watched the performance of the Tian Guo Marching Band and talked with the practitioners. They had read about Falun Dafa online and knew the Chinese Communist Party (CCP) had fabricated lots of stories to defame Falun Dafa, including the Tiananmen Self-Immolation Incident. They were also aware of the forced organ harvesting in China and decided to renounce memberships in communist party organizations.
Another middle-aged woman who came from China several months ago said that she was very happy to see the parade. "I know about Falun Dafa and I supported it very much even back in China." She took videos of the Tian Guo Marching Band, waist drum team, as well as the float, and said that she would pass the pictures on to all her friends in China.