Australians Moved by the April 25 Peaceful Protest and Continuing Efforts
April 28, 2018 | By Minghui correspondent Hua Qing from Australia
(Minghui.org) Falun Gong practitioners in Australia held a series of events this week commemorating the 19th anniversary of the April 25 peaceful protest. Many passersby were moved by the tireless peaceful resistance of the group and offered their support.
Sydney
The events in Sydney took place in front of the Chinese consulate and Hyde Park on Sunday and Tuesday, respectively.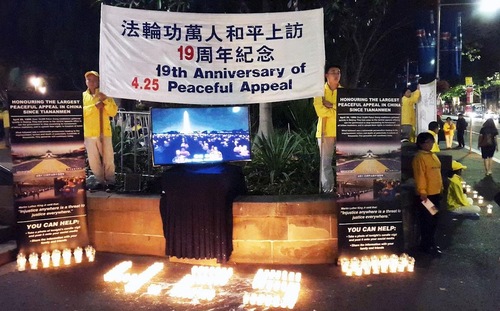 The candlelight vigil in Hyde Park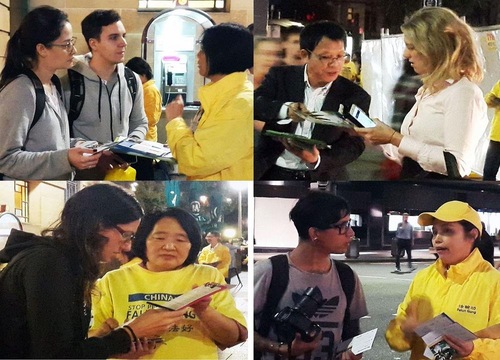 Telling people about Falun Gong and the persecution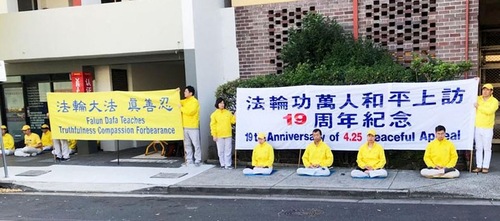 Protest in front of the Chinese consulate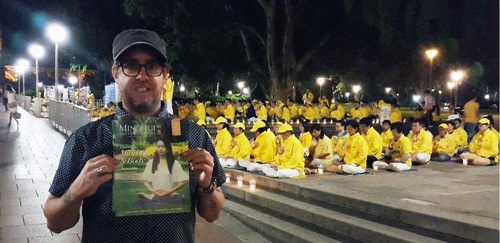 Retired military official Ash Beardsley thought the candlelight vigil was the most magnificent and pure commemoration he has ever seen. He thanked practitioners for their efforts and telling the public about the persecution. He strongly supports practitioners, and believes that the righteousness will soon defeat the evil.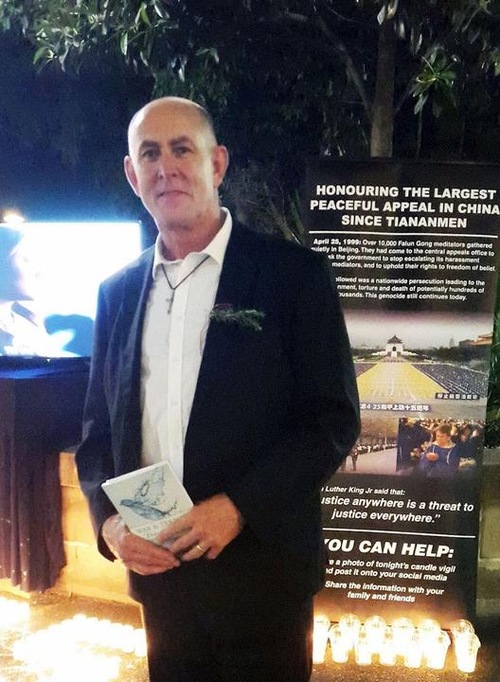 Graham Swan, a retired navy official, has heard about the persecution. When practitioners told him the details of the persecution, he had tears in his eyes. He praised the peaceful resistance, and encouraged practitioners to keep up the good work.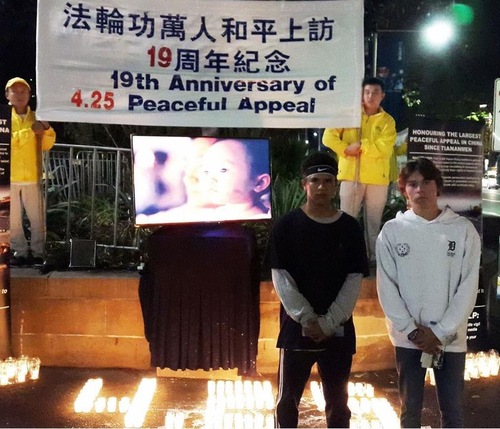 Giles Anderson (right) and Corey Roberson (left), two high school students, were outraged when they learned of the persecution. They said they would post pictures of the candlelight vigil on their social media pages, and tell their teachers and friends about it. "We have many Chinese classmates. We will bring this up in class, and ask the teacher to run a discussion on the brainwashing by the communist party," Corey said.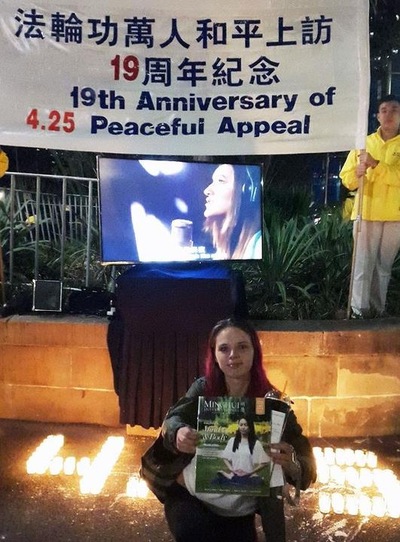 Dainik Thomas often sees Falun Gong activities. "I feel the pain that Falun Gong practitioners have experienced," she said. "Every time I see them, I sign a petition. I try my best to help them. It is sad that the persecution has gone on now for 19 years."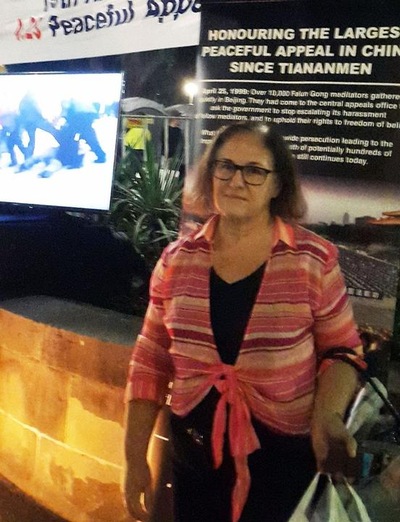 Ms. Caro, a businesswoman, said, "It's sad that the Chinese people have lost their traditions and culture [due to communist rule]. The communist party not only hurts China, but also Australia. I will not buy products made in China," said she.
Melbourne
Practitioners in Melbourne held commemorative activities in downtown on Wednesday.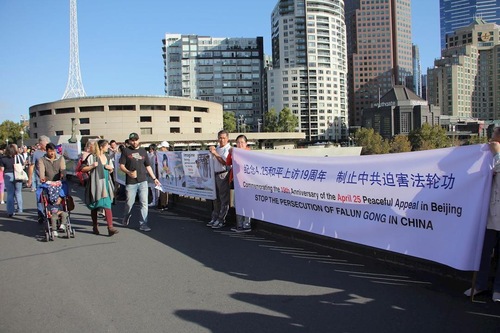 Holding banners in downtown Melbourne
Mr. and Mrs. Thompson encouraged practitioners to hold more events like this, informing the public.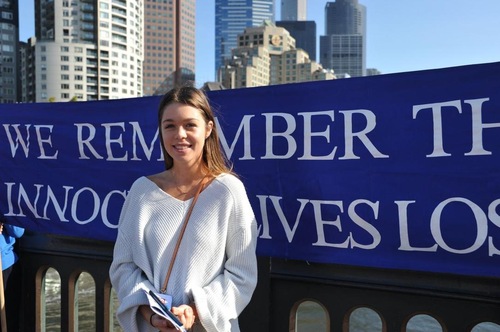 Abaylee Jeoffray, a local student, believes that Falun Gong's principles of Truthfulness-Compassion-Forbearance will bring peace to the world.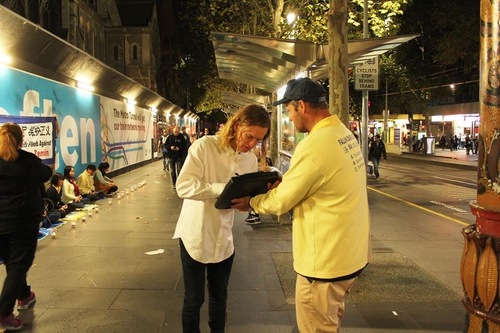 Matt Browning never heard about the persecution, but he signed the petition right away when he learned about it. "It is horrible that people were killed because of the peaceful resistance. We cannot allow it to continue. Our government should support Falun Gong, and help to end the persecution."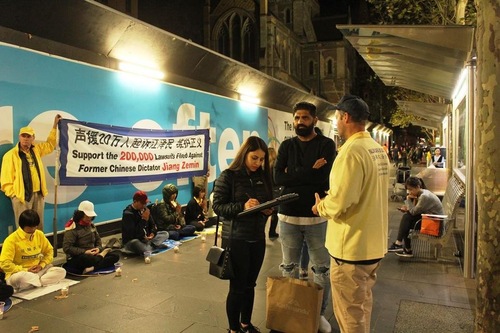 Manpreet Keur and her husband Troy stopped at the candlelight vigil to sign the petition. "It is too cruel to harvest people's organs because of their belief. It is beyond my imagination," Manpreet said. "Truthfulness-Compassion-Forbearance are universal principles, and everybody needs this."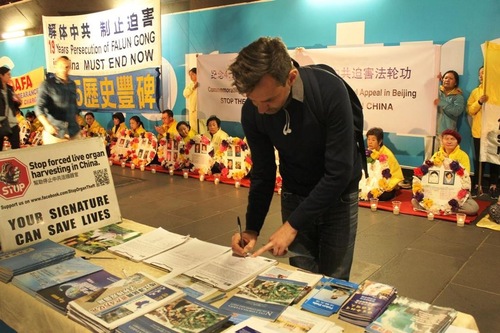 Troy talked to practitioners for a long time. He hopes the Australian government will do more to support Falun Gong.

Related article in Chinese:

http://www.minghui.org/mh/articles/2018/4/27/墨尔本真相横幅展-烛光纪念四二五(图)-364667.html