Canada: Falun Gong Practitioners in Ottawa Commemorate the April 25 Peaceful Appeal
April 27, 2018 | By Ying Zi, Minghui Correspondent in Ottawa
(Minghui.org) Falun Gong practitioners in Ottawa held a rally in front of the Chinese Embassy on April 24, 2018, to commemorate the 19th anniversary of the peaceful appeal in Beijing on April 25, 1999.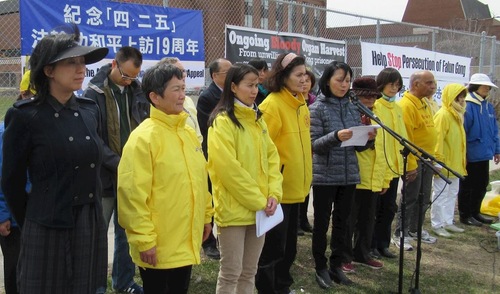 Rally in front of Chinese Embassy in Ottawa.
Falun Gong practitioner Ms. Lu Hongyan called for the immediate release of her mother Ms. Chen Huixia, who has been imprisoned by the Chinese Communist Party (CCP) since June 3, 2016. Mrs. Chen was tied to a metal chair during forced brainwashing. Because of torture, she has been too weak to stand or walk.
Ms. Lu told the reporter, "My mother's attorney requested a document review at the court in January 2017, but his request was rejected. My mother's case was heard in the court on May 12, 2017. The court adjourned and met again on January 4, 2018. No decision has been announced. Millions of Falun Gong practitioners have been persecuted and countless families broken apart in the past 19 years. We call for an immediate end to the persecution and the release of all Falun Gong practitioners."
Falun Gong practitioner Mr. Li Xu recounted how he and his fellow practitioners had submitted a letter of truth clarification to the Chinese Embassy the day after the April 25 Appeal in 1999. He said, "There is no other group that has ever dared to say 'no' to the Chinese Communist Party in history. The peaceful appeal was a true indication of Falun Gong practitioners' great courage, rationality, and strong faith."
Mr. Li said that more than one million Canadians have signed a petition calling for an end to the persecution, different levels of Canadian government have given recognition to Falun Gong, and Canadian Prime Ministers have talked about this issue with the Chinese government.
Ms. Pu Huilin used to have lupus. She told the reporter that her health had been restored after she started practicing Falun Gong, and her spirit had been lifted. She said, "Since I started cultivating myself, I have followed the Falun Gong principles of Truthfulness-Compassion-Forbearance, and have become more tolerant, more thoughtful of others, and very calm. I would like to tell everyone the benefits of Falun Gong, especially the Chinese people who have been deceived by the Communist Party."
Falun Gong practitioner and artist Ms. Kathy Gillis said they would continue to protest as long as the persecution lasts. She wants to tell the Chinese officials, "The world's people know what you have done as does heaven. The only hope for people is to withdraw from the communist party organizations."
Mr. Li Xun added, "Because of Falun Gong practitioners' persistent truth clarification, Canadians have known the CCP's persecution and its harm to humanity. The righteous force of people around the world will escalate the disintegration of the CCP."