Commemorating April 25 Demonstration in Sweden, Switzerland, and Germany
April 25, 2018 | By practitioners in Europe
(Minghui.org) Falun Gong practitioners in Europe held a variety of public activities last weekend to commemorate the 19th anniversary of a peaceful protest in Beijing by 10,000 practitioners that took place on April 25, 1999.
Sweden
On Saturday morning, practitioners gathered in front of the Chinese embassy in Stockholm, where they meditated and read an open letter to Chinese officials, calling for an end to the persecution of Falun Gong in China. They also passed out flyers to inform the public of the continued abuse and torture of practitioners in China for their faith.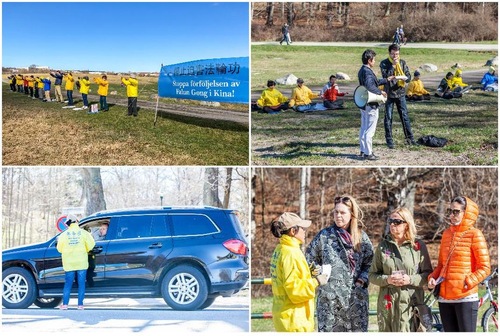 Practitioners meditate in front of the Chinese embassy and talk to passing pedestrians.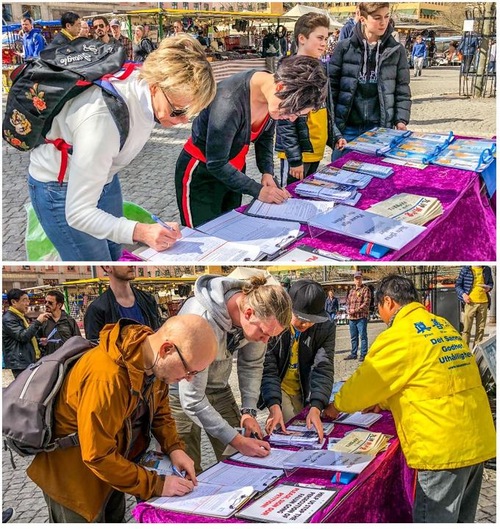 People sign a petition condemning the persecution of Falun Gong in China.
In the afternoon, practitioners assembled in downtown Stockholm and demonstrated the Falun Gong exercises next to the famous Konserthuset music hall.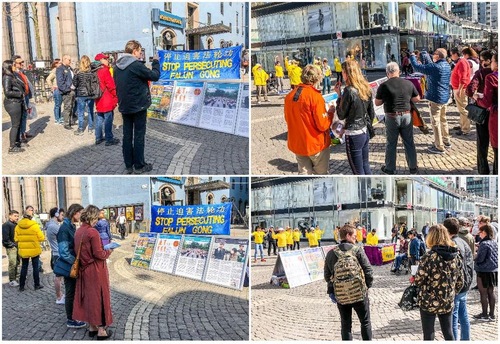 People view Falun Gong display boards in downtown Stockholm.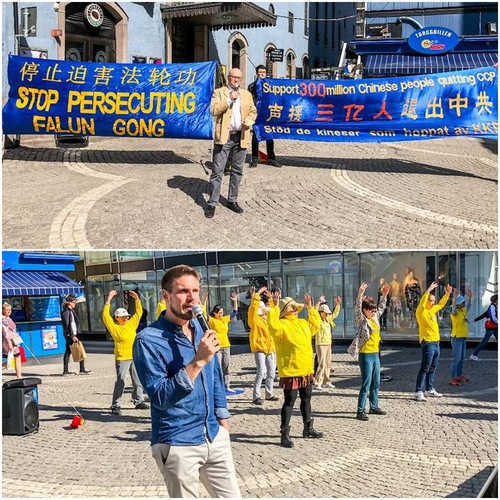 A practitioner discusses Falun Gong and its ongoing persecution in China.
Two men listened to an in-depth introduction by practitioners and said, "If it weren't for your efforts, people would not be able to imagine how severe the persecution is. Keep up the good work!"
Two Uyghurs who have lived in Sweden for twenty years stood by the practitioners and told passersby, "I can tell you all they say is true. The Communist Party is cruel."
One of them showed people his arm, which was covered in scars. "These were burns by the Communist Party's policemen years ago. They hung me up and beat me for eight hours."
Switzerland
Practitioners in Switzerland set up display boards at the Rose Garden, a popular tourist attraction in Bern.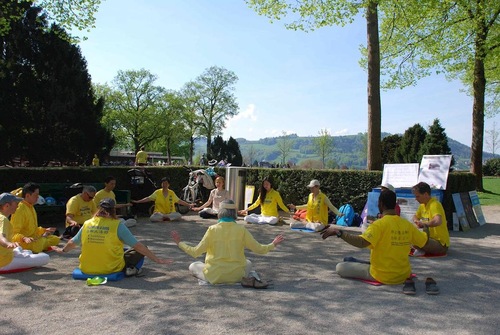 Group exercise demonstration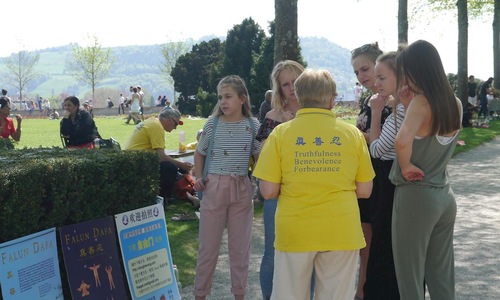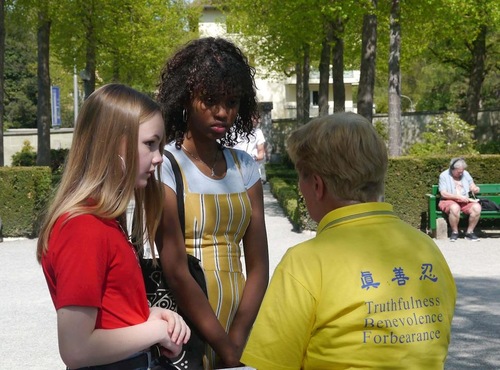 Practitioners talk to passersby about the persecution in China
Lucy and Nicole had never heard about Falun Gong and were shocked to learn of the state-driven killing of practitioners for their organs in China.
Lucy said, "This practice is peaceful. The persecution is not acceptable." Her friend echoed, "The belief in Truthfulness-Compassion-Forbearance is great….I cannot understand why the Chinese government suppresses it."
Among many people who wanted to learn the Falun Gong exercises, Claudia put down her backpack and joined the practitioners. After an hour of meditation, she said, "I feel very comfortable in this group."
Germany
At a Falun Gong booth in Freiburg, Germany, a Chinese tourist in his fifties gave practitioners a thumbs-up and said, "Falun Gong is great! I'm not as brave as you guys. I don't dare to practice, but I know Falun Gong is great, really great."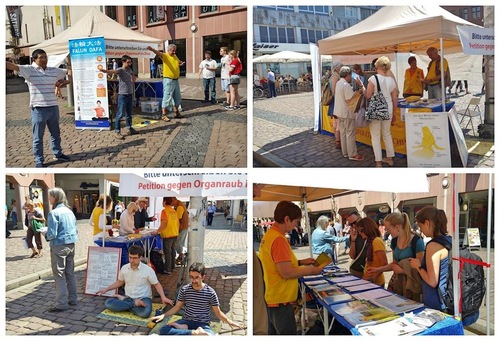 Falun Gong practitioners inform tourists about the persecution in China.
Waves of tourists and locals stopped by the practitioners' booth, gave them encouragement, signed a petition calling to end the persecution in China.
DM, a high school teacher, asked why Chinese citizens have allowed the persecution to go on for 19 years and have not fought against the Communist Party. Practitioners explained that the regime has used hate propaganda to turn much of the Chinese public against Falun Gong.
After reading more about the persecution, DM said, "Now I know the meaning of your event." He took a stack of flyers for his friends and said, "I will tell more people about this. I support you."
A Chinese chef praised practitioners, "Nobody dares to speak the truth. But you do. All you said about the Communist Party is true. My family has been persecuted in all kinds of ways by the Party."
"A few older people in my family practice Falun Gong. They are all healthy. They're in their nineties now. I believe they'll live past 100. One of my cousins is a police chief. His mom practices Falun Gong, so he knows Falun Gong is good."
April 25 Demonstration
On April 25, 1999, around 10,000 Falun Gong practitioners went to the National Appeals Office beside the Chinese Communist Party's compound in Beijing to seek the release of 45 Falun Gong practitioners who had been illegally arrested in Tianjin. International media reports called the one-day protest the "largest, most peaceful and successful petition."
Over the past 19 years, Falun Gong practitioners have continued to raise awareness of the persecution and urge the communist regime to end the atrocities.
Related reports in Chinese:纪念四二五-德国弗莱堡学员传真相(图)纪念四二五-瑞士法轮功学员首都传播真相(图)