Taiwan: March and Rally in Taipei Commemorates 1999 Peaceful Appeal
April 24, 2018 | By Minghui correspondents Liu Wenxin, Huang Yusheng, and Shenrong in Taipei
(Minghui.org) About 5,000 Falun Gong practitioners from across Taiwan attended a march and rally in Taipei on the afternoon of April 22, 2018, to commemorate the peaceful appeal in Beijing nearly 20 years ago.
Seven years after Falun Gong was introduced to the public in 1992, the number of practitioners reached about 100 million in 1999. Following the illegal arrests of practitioners in Tianjin, approximately 10,000 practitioners went to the appeals office in Beijing to tell officials what Falun Gong is, and about its principles of Truthfulness-Compassion-Forbearance. This was referred to as the most peaceful and orderly demonstration in Chinese history.
Grand March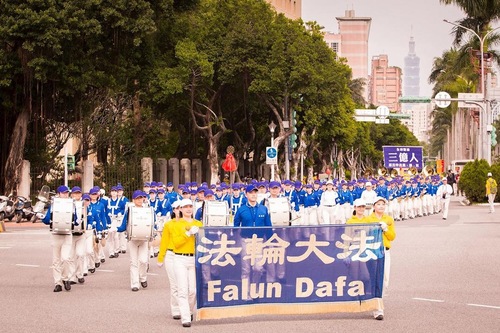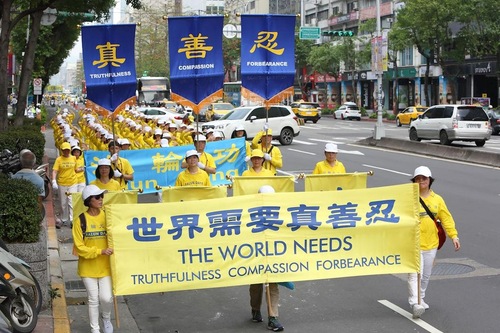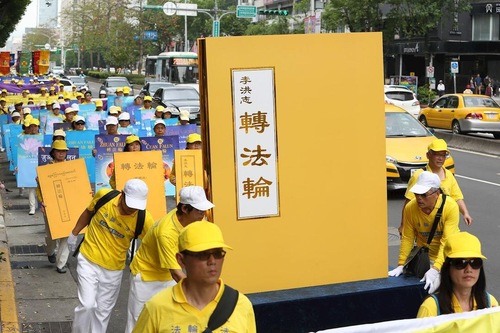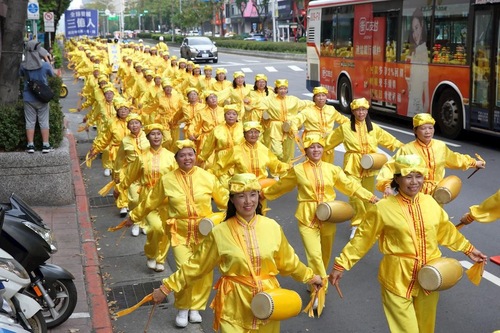 March by Falun Gong practitioners in Taipei on April 22, 2018.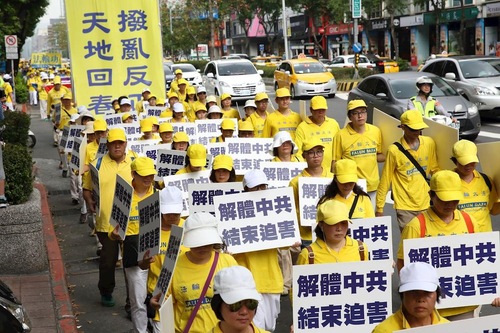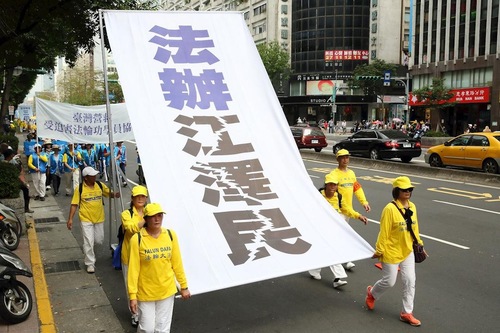 Banners call for renouncing the Communist Party organizations.
Thousands of practitioners joined group exercises after lunch, and the march started at 1:30 p.m. Passing through the Taipei 101 (Taipei World Financial Center), Xinyi Business District, and colleges, this four-mile march ended at the Presidential Office Building.
Many pedestrians, including tourists from mainland China, were impressed by the scene. Mr. Fang, a local resident in Taipei, said he knows that Falun Gong is fully accepted in over 100 counties, while being brutally persecuted in China. "From practitioners I know, I think Falun Gong is good for practitioners and beneficial to society. We should promote practices like this instead of suppressing them," he remarked. He said that freedom of belief should be protected and that he hopes people in China will soon be able to freely practice their belief.
Bob, a businessman, said he has business in Taiwan and gave thumbs up to the march. Having practiced taichi previously, he knows that Falun Gong helps improve one's mind and body. "I especially admire Falun Gong practitioners for their courage, because few people in this world have the courage to speak out the truth," he explained.
Mr. Lin, a tourist from mainland China, said it was hard to imagine that practitioners could participate in such a large-scale march in Taiwan while being brutally suppressed in China. He attended the march and agreed to quit the Chinese Communist Party (CCP) organizations. "I have read Nine Commentaries on the Communist Party, and I do not want to be associated with such a notorious regime," he said.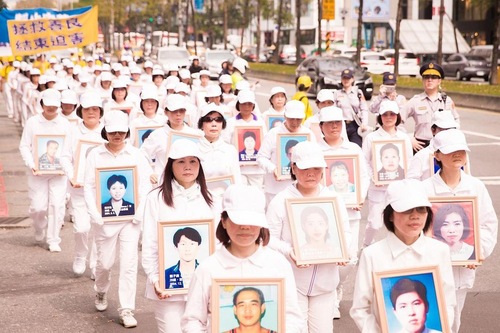 At least 4,200 practitioners have lost their lives due to torture while in police custody.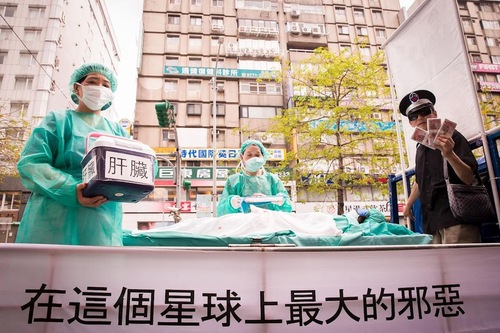 Demonstrating forced organ harvesting from practitioners in China.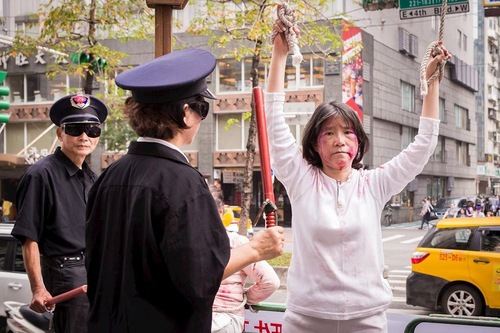 Anti-torture exhibition.
Rally on the Ketagalan Boulevard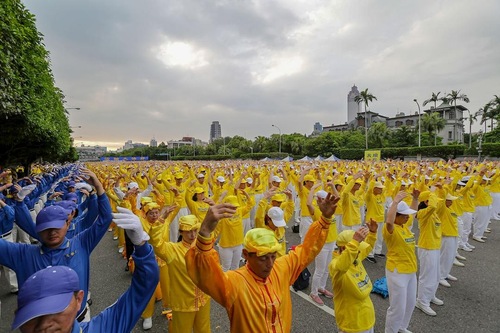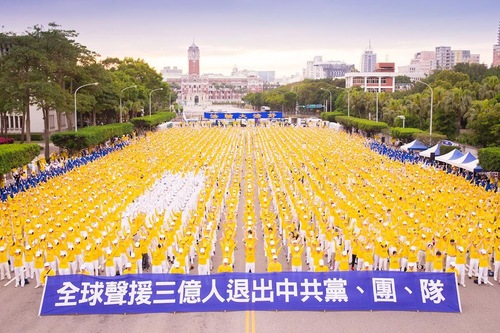 Group exercises by Falun Gong practitioners during the rally.
Chang Chin-hwa, president of the Falun Dafa Association in Taiwan, explained, "Very few people in Taiwan had heard about Falun Gong in 1999. It was the news report about the peaceful appeal of April 25 that helped us learn what Falun Gong is, and attracted a large number of Taiwanese to practice this self-improvement system."
She said that although the Chinese communist regime has been suppressing the practice for the past 19 years, more and more people have come to know the real story of Falun Gong. "Right now, about 100,000 Chinese renounce the Party's organizations every day, and over 300 million have done so as of March this year," she added.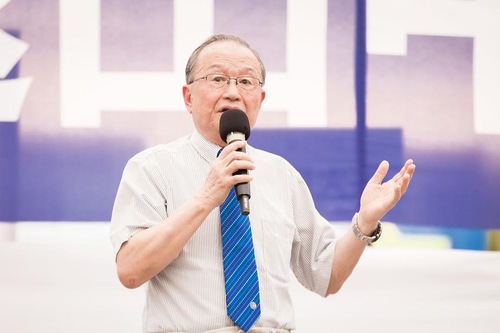 Kao Wei-Pang, founder of the Taiwanese Victims of Investment in China Association (VICA), thanks practitioners for their consistent efforts.
Kao Wei-Pang, founder of the Taiwanese Victims of Investment in China Association (VICA), said he was in Beijing in 1999. "I have seen how the Communist Party fabricated news to defame Falun Gong and then sent practitioners to labor camps and prisons, where they were subjected to torture and could even become victims of organ harvesting," he said.
He said he is happy to see that 19 years of suppression has not defeated practitioners. He said, "Rather, their perseverance and consistent efforts have helped people to see through the communist's nature and separate themselves from the regime." He said this not only helps practitioners in China but also others who, like him, have suffered as a result of the totalitarian communist regime. Many Taiwan businessmen, including him, had suffered losses because of the lawless Communist Party. He said, "It is practitioners who help us see hope for the future."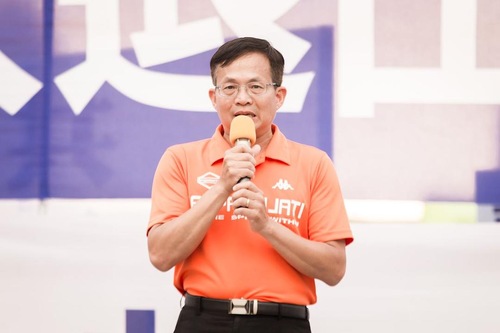 Tseng Tzu-cheng, a member of Hsinchu City council, hopes freedom of belief is protected in China.
Tseng Tzu-cheng, a Hsinchu City councilor, said he has a serious and solemn feeling over what has happened to practitioners during the past 19 years. He said, "I hope we can join together so that freedom of belief will become a reality in China and human rights can be truly protected."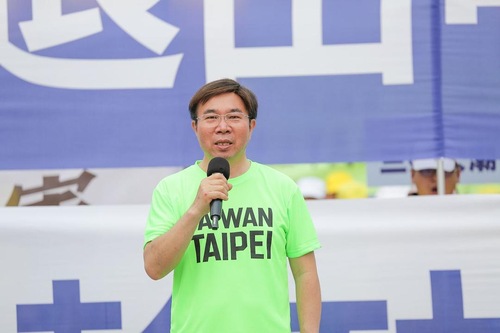 Taipei City Councilor Chang Mao-nan hopes that more people will help uphold the common good in society, like Falun Gong practitioners.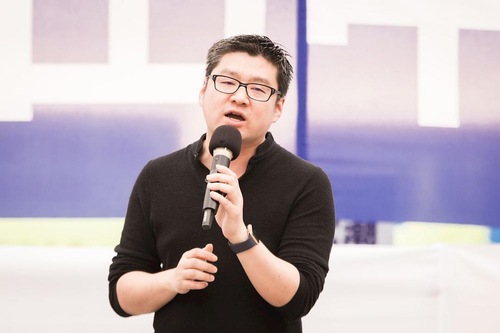 Taipei City Councilor William Hsu praised practitioners for their courage.
Taipei City Councilor Chang Mao-nan agreed. He said that practitioners cherish traditional values and are backbones of the society. He also hopes that more people will help uphold the common good in society.
Taipei City Councilor William Hsu said, "I think the most important thing is that Falun Gong practitioners did not yield, and they stood up to safeguard their righteous belief—that is what happened on April 25, 1999."
Mr. Zhou came to the site to support practitioners. He said, "The Communist Party has never changed its vicious nature. It harms not only citizens domestically, but also people from overseas. That is why practitioners are outstanding for speaking out the truth—because that is what our society needs."
Taipei Times, the only printed, daily, English-language newspaper in Taiwan, reported the event on April 23. Citing a speech from Tseng, the article read, "Hopefully one day, Falun Gong practitioners can freely study their philosophy of 'truthfulness, compassion, and forbearance' without having to worry about persecution."
Related article in Chinese:http://www.minghui.org/mh/articles/2018/4/23/台北五千人纪念四·二五和平上访十九周年(图)-364459.html
http://www.minghui.org/mh/articles/2018/4/23/台北举办声援三亿人退党集会(图)-364467.html