Disabled Man in Serious Condition While Serving Second Prison Term for His Faith
April 23, 2018 | By a Minghui correspondent in Guangdong Province
(Minghui.org) A Maoming City resident serving time for his faith has become seriously ill, and his family is calling for his immediate release.
Mr. Ke Zhengji suffered from ankylosing spondylitis (an inflammatory arthritis affecting the spine and large joints) for many years and had to take early retirement and disability benefits. He, however, was able to keep his ailments under control without medication after he began practicing Falun Gong in 1997. He was healthy enough that he started an orchard to help his wife support the family.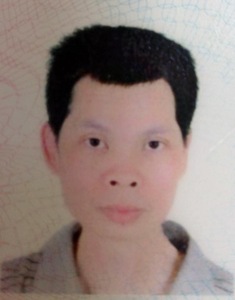 Mr. Ke before his arrest
Mr. Ke after his latest arrest
Mr. Ke never wavered in his faith after the Chinese communist regime began its persecution of Falun Gong in July 1999. He was sentenced to 7 years in prison on October 21, 2002 for refusing to renounce his faith. His wife divorced him under pressure. When he was released on January 9, 2009, his orchard had become a barren wasteland.
Mr. Ke filed a criminal complaint in July 2015 against former Chinese dictator Jiang Zemin for initiating the persecution of Falun Gong that resulted in his lengthy imprisonment. He was arrested again four months later, on November 19.
Mr. Ke's lawyer visited him on February 1, 2016 and noted he appeared very pale and fragile. He said he had relapse of ankylosing spondylitis and hydronephrosis (excess fluid in his kidneys) due to being unable to do the Falun Gong exercises.
The lawyer immediately filed a medical parole request, but he was told that Mr. Ke's case was a political one and that no parole would be granted.
Mr. Ke appeared in court on September 13, 2016 and sentenced to 6 years in prison and fined 15,000 yuan on September 29 by Judge Li Zhiqiang of Maonan District Court.
Judge Luo Wen of Maoming City Intermediate Court ruled to uphold the verdict without holding a public hearing as requested. Mr. Ke was admitted to Sihui Prison on December 6, 2016.
Mr. Ke's family received a phone call from the prison in mid-April 2018, saying that Mr. Ke has been hospitalized for kidney problems, high blood pressure, and spine problems. They were asked to visit him at the prison hospital.
The details of his family's visit remain unclear, but his loved ones are calling for the prison to immediately release him.
Related Reports:Higher Court Upholds Guilty Verdicts Against Falun Gong Practitioners Without Holding Hearings
Four Guangdong Residents Sentenced to Prison for Their Faith
Maoming City: Four Falun Gong Practitioners' Homes Raided, Ten Arrested