Tokyo: Reconnecting with Traditional Culture and Saying No to Communism
April 21, 2018 | By a Falun Gong practitioner in Tokyo
(Minghui.org) A march took place near Asakusa Culture Tourist Information Center in Tokyo on April 7, to support the Chinese people who have left the communist party organizations. Since the Nine Commentaries on the Communist Party was published by Epoch Times in 2004, more than 300 million have announced their decision to separate themselves from the CCP as of March 2018.
March in Tokyo on April 7, 2018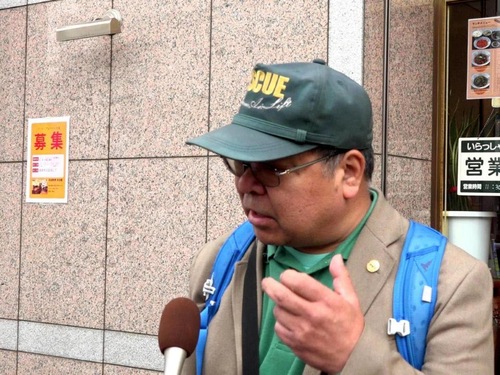 Mr. Nagano, an officer of the Self-Defense Forces, encourages practitioners to continue their efforts.
Mr. Nagano from the Self-Defense Forces said that he thinks the communist party should not have existed in China. He encouraged the practitioners to keep up their efforts.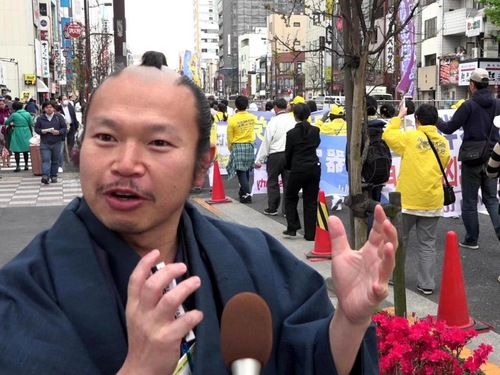 Mr. Kakushima enjoys traditional Chinese culture and said that the suppression is unacceptable.
Mr. Kakushima was disturbed by what he heard about the suppression in China. "It [opposing the persecution] is a great thing to do. We must be clear on what is good and what is bad, and join together to do the right thing," he added.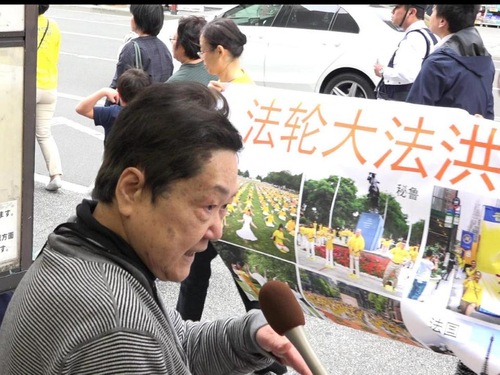 Mr. Tanaka said that China will be a better place without communism.
"No regime should suppress people like that," said Mr. Tanaka. He agrees with people withdrawing from the communist party since that would lead to a better future.
Mr. Kazama praised the practitioners for reconnecting with traditional culture and saying no to communism. "I will stand with Chinese people who are pursuing freedom," he continued.
Response from Chinese Residents
One woman said that she had learned to do the Falun Gong exercises three years ago. "This march brought my memory back. I remember enjoying the meditation a lot."
A young woman talked with the practitioners and was surprised to hear about the brutal persecution, especially the forced organ harvesting. She thanked the practitioners for telling her about the CCP's crimes and was willing to quit its organizations.
A Chinese student studying in Tokyo said that he was impressed by the practitioner's energy. Although he was not an official Communist Party member, he agreed to quit its Youth League.