Edinburgh, Scotland: Learning about Falun Dafa on a Warm Spring Day
April 17, 2018 | By a practitioner in Scotland
(Minghui.org) Falun Dafa practitioners went to the Scottish Government on the Royal Mile, as well as St James Square next to Prince Street, on April 14, 2018, to tell people about Falun Dafa and its persecution by the communist regime in China.
After continued rain and cold, the day became warm and sunny. Many pedestrians read the practitioners' posters, talked with them to learn more, and signed a petition calling on the Chinese regime to end its persecution of Falun Dafa.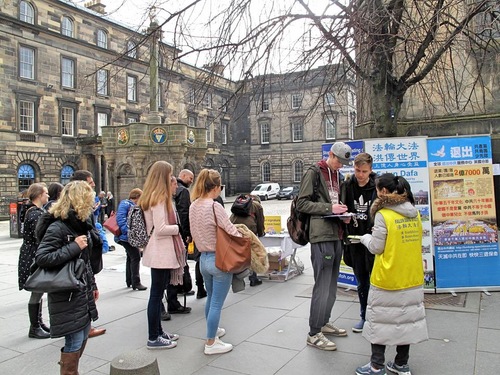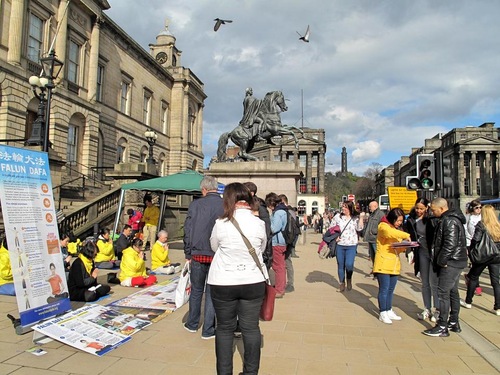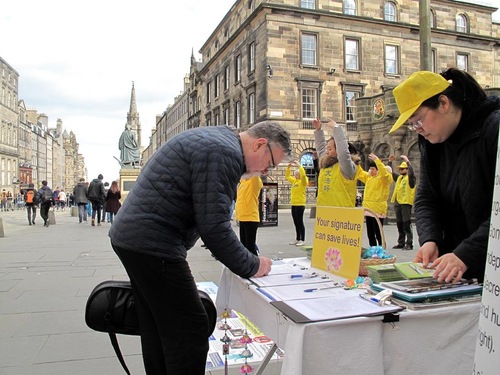 Exercise demonstration and signature drive by Falun Dafa practitioners in front of the Scottish Government
Mclain Carter, who recently graduated from college, asked practitioners some questions and read the pamphlets at St James Square. "My major was history and religion, and I have heard about the persecution before. I will tell people at my workplace about this—they need to know it," Mclain said as he signed a petition to support practitioners.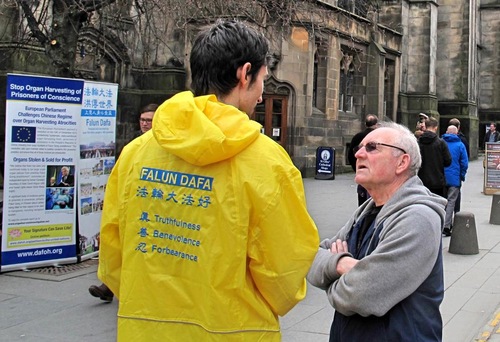 Sandy found Falun Dafa unique and wanted to learn more.
Sandy said he had practiced martial arts since 1963. He was impressed by the gentle and peaceful meditation practice and said he would look up more information about Falun Dafa.
One man who used to work in London recently moved to Edinburgh. "I often saw practitioners near the Chinese Embassy in London. So I am always curious about it," he remarked. He said he planned to learn the exercises at a nearby group exercise site.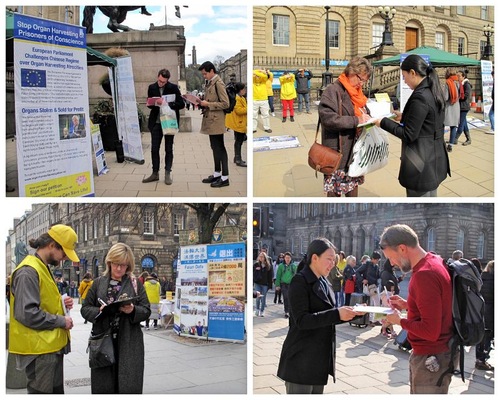 Passersby talk with practitioners and sign petitions calling to stop the persecution of Falun Dafa in China.
Ronnie, a retail food supplier, was hearing about Falun Dafa for the first time. With a strong interest in Eastern culture, health, and meditation, he liked the exercises a lot. Surprised by the brutality in China, especially the state-sanctioned killing of Falun Dafa practitioners for their organs, he said the entire world needs to know about the persecution.
"This crime [forced organ harvesting] is outrageous, and we cannot let it keep happening," he continued, "The news media also needs to report it. And little by little, more people will know the truth about it."
David, another resident of Edinburgh, also encouraged practitioners to keep up their efforts. "I know about the persecution in China, and I feel sorry that people don't have freedom of belief there," he said.
He also praised practitioners for their perseverance: "Someone has to stand up and uphold justice. I think you are among them. You have my best wishes."