Czech Republic: Nearly 40,000 People Sign Petition to Protest the Persecution of Falun Gong in China
April 15, 2018 | By a Falun Gong practitioner in the Czech Republic
(Minghui.org) Jiří Pokorný, a representative of the Czech Falun Dafa Association, submitted a petition protesting the Chinese Communist Party's (CCP) persecution of Falun Gong to the Czech Senate on April 4, 2018. The petition was signed by nearly 40,000 Czechs.
Senator Dr. Zdeněk Papoušek of the Senate Committee on Education, Science, Culture, Human Rights, and Petitions accepted the petition handed in by Mr. Jiří Pokorný. The petition asks the Czech legislature to pass a resolution calling on the Chinese authorities to end the persecution of Falun Gong.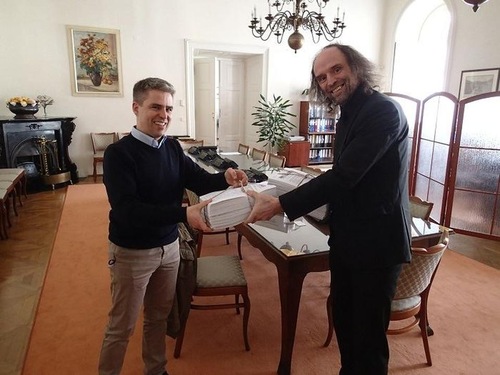 Senator Dr. Zdeněk Papoušek (right) accepts the petition from Mr. Jiří Pokorný.
In recent years, Falun Gong practitioners in the Czech Republic have organized different activities to raise awareness of the persecution and collect signatures to condemn it as well as to introduce people to Falun Gong, a traditional cultivation practice based on Truthfulness- Compassion-Forbearance.
The CCP's persecution of Falun Gong practitioners is ongoing. Disturbed by the Chinese regime's behavior, many Czechs support Falun Gong and have signed the petition calling for an end to the persecution.
In addition to signing petitions in person, people also signed online to support Falun Gong. Nearly 40,000 signatures were collected. The practitioners in the Czech Republic said that they will continue to raise awareness about the CCP's persecution and work with people from all walks of life to stop it.