Falun Dafa Warmly Received at Health and Wellness Expo in Boston
April 14, 2018 | By a Falun Dafa practitioner in Boston
(Minghui.org) Falun Dafa practitioners in the Greater Boston area of Massachusetts participated in the 14th Annual Health and Wellness Expo held at the Northshore Mall on April 7, 2018. The event was presented by the Salem, Peabody & Beverly Chambers of Commerce.
The expo showcased 50+ exhibitors that included hospitals, health insurance providers, massage providers, health & fitness facilities, etc.
At the Falun Dafa booth, practitioners took turns demonstrating the exercises and introduced the practice to visitors. One visitor said, "I've been looking for this practice for years, I want to practice Falun Dafa."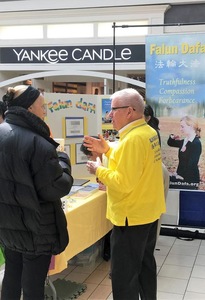 Practitioners talking to visitors at their booth about Falun Dafa at the annual Health and Wellness Expo held at Northshore Mall
Hearing that Falun Dafa teaches the exercises free of charge, many people were surprised. The practitioner told a woman that Falun Dafa is a cultivation practice for both mind and body. When she learned that the Western practitioner she talked to is 75 years old, she said that the practitioner looks much younger than her age.
An event organizer stopped by the Falun Dafa booth. She liked the beautiful origami lotus flowers on the table very much. A practitioner introduced to her the words on the bookmark attached to the lotus flowers: Falun Dafa is good and Truthfulness-Compassion-Forbearance, and told her that this brings people the purest and most beautiful energy.
She agreed and said that this is exactly what society needs, because there are many violent messages nowadays which can have a very bad influence on young people. She asked if she could have an origami lotus flower for her daughter and said that she would like to hang one in her car. The practitioner readily agreed, so she chose one and expressed her sincere gratitude.
A married couple stopped by the booth. The husband said that a doctor had introduced Falun Dafa to him a few years ago. After he began to practice, he discovered that a problem with his spine disappeared. He experienced the magical effects of Falun Dafa. Unfortunately, he failed to continue with the practice. The practitioner encouraged him to start practicing again.
One woman said that she would like to learn the exercises. The practitioner told her to download the exercise instruction video, practice music, and Dafa books online. The practitioner also told her to attend a free lecture session to be held in the nearby town named Reading. The lecture introduces Falun Dafa and teaches the exercises on site. Everyone is welcome to attend. The woman was happy to hear about all that and said she would go back to share the news with another friend so that the friend would have the opportunity to learn Falun Dafa, too.