Taiwan: Falun Gong Joins Taoyuan Lantern Festival
March 08, 2018 | By Minghui correspondent Huang Yusheng
(Minghui.org) Among 57 entries at the Lantern Festival Celebration Parade in Taoyuan, Taiwan, Falun Gong practitioners' Tian Guo Marching Band was the largest, consisting of nearly 200 members.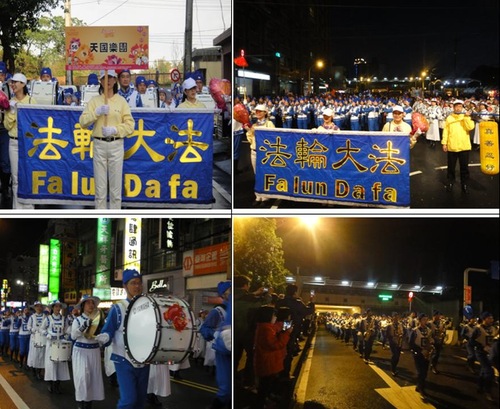 The Tian Guo Marching Band performs at the parade
The parade began at 4:00 pm on February 28. A total of 1,700 performers participated in the celebration. As the finale, the Tian Guo band played several songs composed by practitioners and a few local folks songs.
It was the band's first time playing in this parade. Spectators Mr. Hsie and Ms. Huang were surprised to see such a large band. "It's magnificent," they said, "very energetic."
Mr. Huang and his wife said the band was "very professional and special."
"We know Falun Gong well. They gave us great impressions, and we support their peaceful resistance against the persecution," they added, referring to the Chinese Communist Party's violent campaign to eradicate Falun Gong in mainland China.
Mr. Guo, the band's director, said, "This is a very large parade with more than a hundred years of history. We're glad to be here. Our goal is to bring the beauty of Falun Gong to the public and let them know about this self-improvement practice. Meanwhile, we want to send our New Year's greetings to everyone."
According to Mr. Guo, the band has 180 members, who range from 12 to 70 years old. They come from every corner of Taiwan.