Toronto: Introducing Falun Gong at the Nowruz Bazaar
March 24, 2018 | By a Falun Gong practitioner in Toronto
(Minghui.org) Falun Gong practitioners in Toronto participated in the Nowruz Bazaar, a celebration of the Iranian/Persian New Year Festival, in Richmond Green Park on March 16-19, 2018. The group introduced Falun Gong, a traditional cultivation practice for mind and body, and exposed the Chinese Communist Party's (CCP) persecution of the practice over the past 19 years.
A short introductory video in Persian was played at the Falun Gong booth. Practitioners also demonstrated the meditative exercises on the event stage.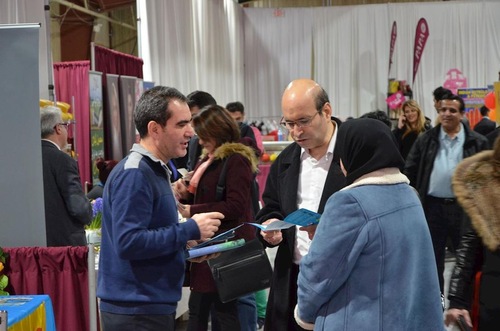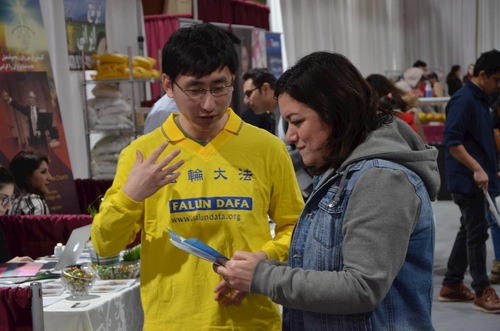 Falun Gong practitioners in Toronto introduce the traditional cultivation practice to the public at Nowruz Bazaar in Richmond Green Park.
"Falun Gong is a powerful practice. I know it's unfairly treated in China. I support you!" said Mr. Human from Iran, who used to work for a media outlet and had been following the persecution of Falun Gong for years. Mr. Human left his contact information, hoping to help the efforts to end the persecution.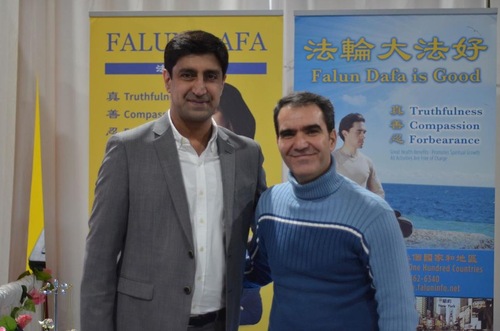 Mr. Human (left) from Iran supports Falun Gong.
Mr. Reza Shahba owns a consulting company. He told practitioners that he admired their great efforts. "Did you know that your being here is so valuable? You are helping people find inner peace. It makes your work priceless." Mr. Shahba talked to practitioners about the meaning of traditional education and uplifting morality. "Traditional values are being lost around the world, but you are continuing to revive them. The principles I learned from Falun Gong practitioners are good for me!" He said he hopes to help stop the persecution in China, too.
Dr. Mohammad Peyvandi showed great interest in Falun Gong. Hearing about the great health benefits of Falun Gong and its worldwide popularity, he said, "So many people practice Falun Gong! Many of my patients have anxiety, skin diseases, and other problems. I have to tell them about Falun Gong."
Mr. Syamak learned some of the Falun Gong exercises and said, "I feel a strong energy. I have to read Zhuan Falun when I get back home. One of my friends in the U.S. has mentioned Falun Gong to me. I'm so glad I found you here!"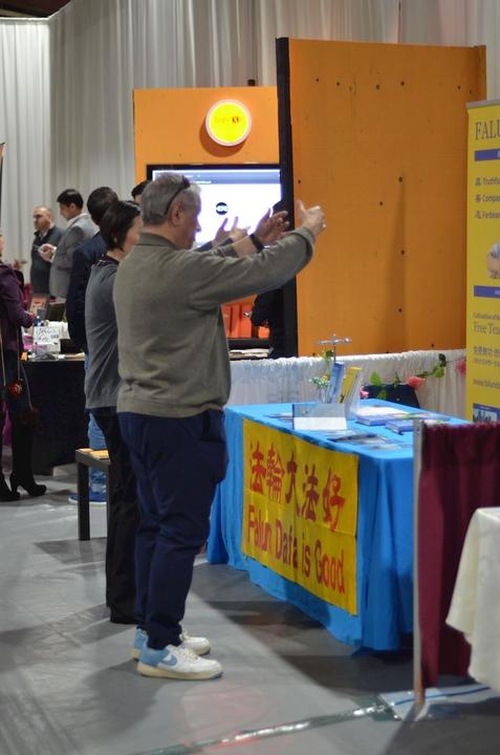 Mr. Syamak feels great after learning the first exercise.
Mr. Hojjat was happy to know there is a Falun Gong group exercise site in a park close to his home. He planned to attend and learn the exercises. He left his contact information and thanked Falun Gong practitioners for all the information.
Angela from Newmarket told a practitioner that she had been looking for an Eastern cultivation practice to improve herself. She had tried many different ones but felt she finally found the right one today. She was very saddened by the persecution in China and expressed her support of the group's work to end the persecution. She left her phone number and was happy to find that a practitioner from Iran could speak Persian. She wrote down her name in Persian, and reminded the practitioner, "Promise, you will get in touch. I want to learn Falun Gong!"