St. Patrick's Day Parades Welcome Truthfulness-Compassion-Forbearance
March 19, 2018 | By Minghui correspondents Wang Ying from San Francisco and Shu Jing from Houston
(Minghui.org) Falun Gong practitioners from San Francisco and Houston participated in St. Patrick's Day Parades last Saturday in their respective cities, introducing the traditional Chinese cultivation practice of Falun Gong and its principles of Truthfulness-Compassion-Forbearance.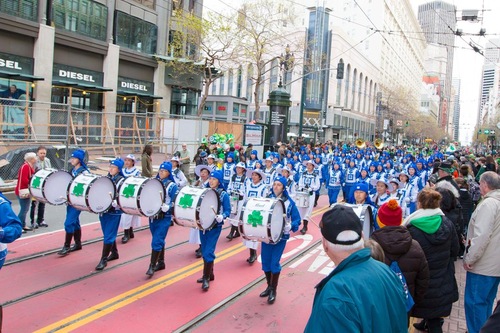 Falun Gong's Tian Guo Marching Band in the San Francisco parade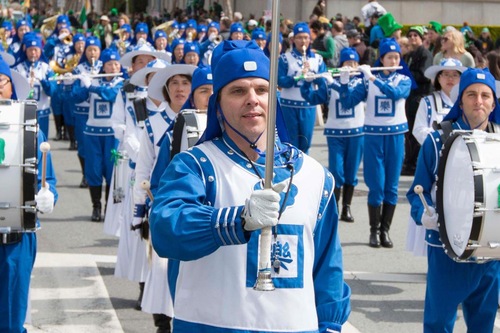 Abraham, conductor of the San Francisco Tian Guo Marching Band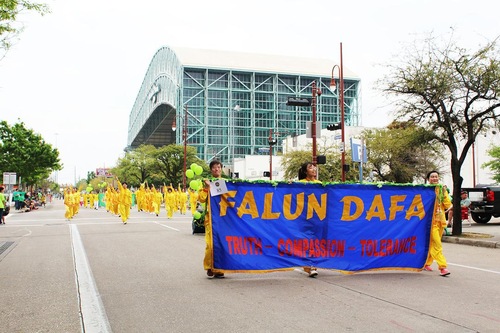 Falun Gong practitioners in the Houston parade.
The Falun Gong group's traditional Chinese uniforms and marching band performances of both Chinese and western music stood out among 125 groups in the San Francisco parade.
The organizer, Liam Frost, was glad to see them in the parade again this year.
"Their performances are outstanding and I love their uniforms. They always do a great job. We appreciate that they come to this parade every year," Frost said.
Michelle Jasmine from Modero, CA watched the parade with her family. She highly praised the Tian Guo Marching Band.
"We love this band. Excellent! Absolutely the best," she said.
When she learned that the guiding principles of Falun Gong are Truthfulness-Compassion-Forbearance, Jasmine mentioned that she is the owner of a private school and that these principles should be taught everywhere.
"The world needs compassion and forbearance," she added. "The persecution of Falun Gong is wrong. Chinese people should have freedom."
The exercise demonstration in the Houston parade was also eye-catching.
Mike Ramos in the audience enjoyed the Falun Gong group's performance.
"I like it very much," Ramos said. "The principles of Truthfulness-Compassion-Forbearance are profound. Wonderful."
Related article in Chinese:
http://www.minghui.org/mh/articles/2018/3/18/休士顿圣派翠克日游行-法轮功队伍展示功法(图)-363036.html