Rally in Macau Supports 300 Million Withdrawals from Communist Organizations
March 16, 2018 | By a Falun Gong Practitioner in Macau
(Minghui.org) A rally was held in downtown Macau on the afternoon of March 11, 2018, voicing support for the 300 million Chinese people who have withdrawn from three Chinese communist organizations including the Chinese Communist Party (CCP), the Communist Youth League and the Young Pioneers. The rally was held by local Falun Dafa practitioners.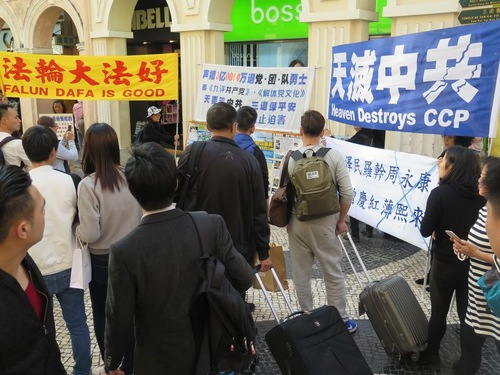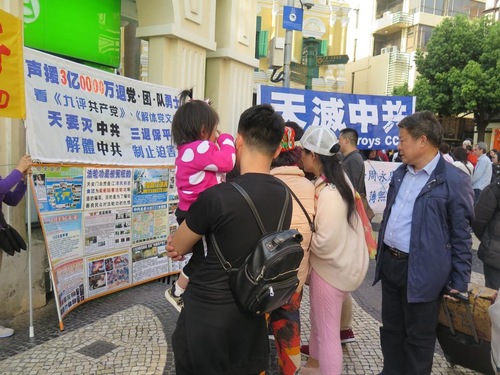 Rally in Macau supporting the 300 million Chinese who have withdrawn from Communist organizations. The rally was arranged by local Falun Dafa practitioners.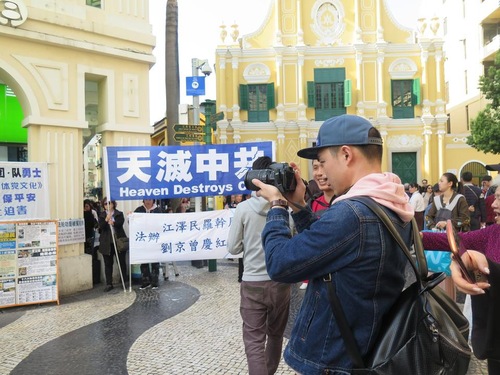 A tourist from China takes pictures of Falun Gong exhibit.
Tourists from mainland China gathered around as soon as the Falun Gong banners were unfurled. They were surprised to see banners stating "Support 300 Million Withdrawals from the Party, Youth League; and Young Pioneers;" "The Party Is Doomed;" "Bring Those Responsible to Justice;" and "Falun Dafa Is Good."
Some tourists said, "How could we possibly see these in China?" Some read the banners out loud. Many took pictures of the activities and display boards one by one.
Falun Gong practitioner Ms. Lin extolled those she encountered to chose a bright future for themselves, "We gather here today to express our support for the 300 million Chinese people who have withdrawn from the three Communist organizations. It's a law of the universe that good is rewarded and evil is punished. The Chinese Communist Party knows clearly its own evil deeds, so it even pulls in Chinese children to join its organizations and pledge their lives for the cause of communism. Don't meet the same doom as the Party. Don't be a scapegoat for the Party. We Chinese people love our country, but our country is not the Party. We must rescind having pledged our lives to the cause of communism by withdrawing from these organizations. We want to be free from the burden of the Party's crimes. Good people have a bright future."