Sacramento, California: Falun Gong Practitioners Participate in Chinese New Year Celebrations
March 01, 2018 | By a Falun Gong practitioner in Northern California
(Minghui.org) Falun Gong practitioners in Sacramento, the capital of California, were invited to participate in Chinese New Year celebrations in local and neighboring areas on February 10-25, 2018. They brought the benefits of Falun Gong (also known as Falun Dafa) to many festival-goers.
On February 25, an annual Chinese New Year celebration was held in downtown Nevada, about 60 miles north of Sacramento. Practitioners participated in the parade and demonstrated the Falun Gong exercises on stage. Many people in the audience followed along with their movements.
A man told a practitioner that he had learned about Falun Gong in another city and had brought Falun Gong books and videotapes. He was studying on his own at home.
Another Westerner saw the Falun Gong booth and told a practitioner that she had learned about the persecution of Falun Gong by the communist regime in China, how practitioners in China have been persecuted, and that some even had their organs harvested when they were still alive. She prayed to have the persecution stop soon so that practitioners in China can freely exercise their faith as practitioners in the United States do.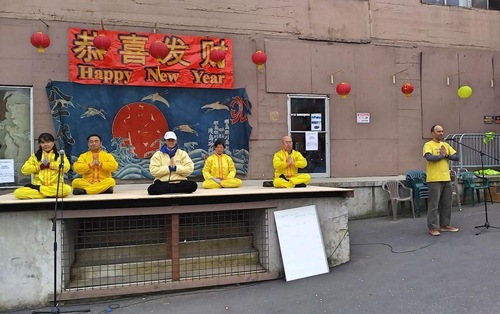 Practitioners demonstrate Falun Gong exercises on stage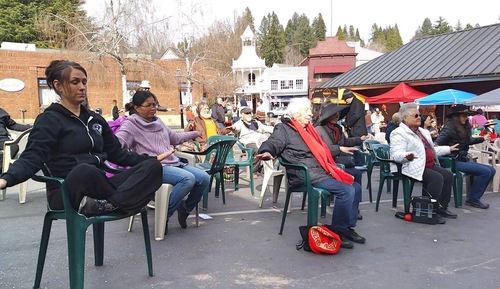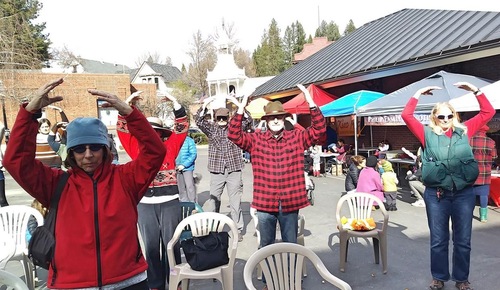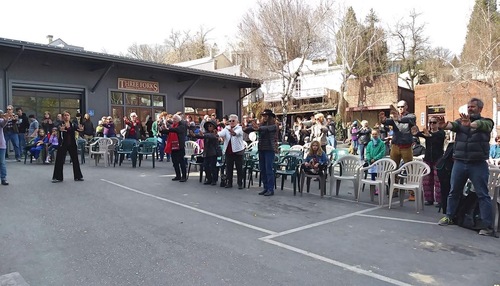 People in the audience attentively follow along practitioners on stage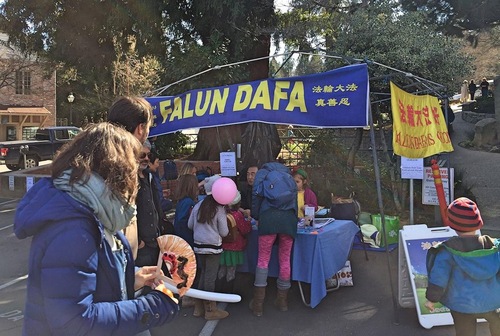 Falun Dafa booth attracted many people to learn about the practice
The celebration was presented by The Community Asian Theatre of the Sierra (CATS). CATS is a non-profit organization striving for the development of culture, education and the arts. Executive Director Jenanie Wood appreciated the practitioners' participation and performance.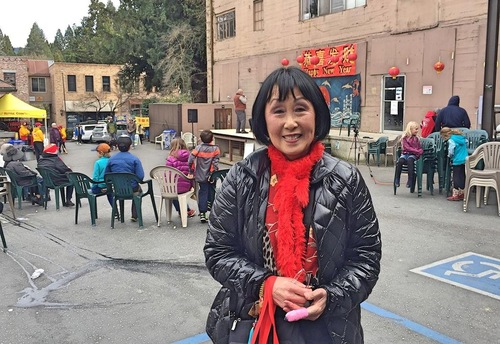 Jenanie Wood, Executive Director of the organizer of the Nevada City Chinese New Year celebration
On February 10, Falun Gong practitioners also participated in a gala celebration of the Year of the Dog held at Hiram Johnson High School in Sacramento. The event attracted many Chinese nationals. Local practitioners have taken part in the event for more than 10 consecutive years. They are familiar with the event organizers and many participating community exhibitors and business people. Many guests warmly greeted practitioners and took the latest Falun Gong informational materials.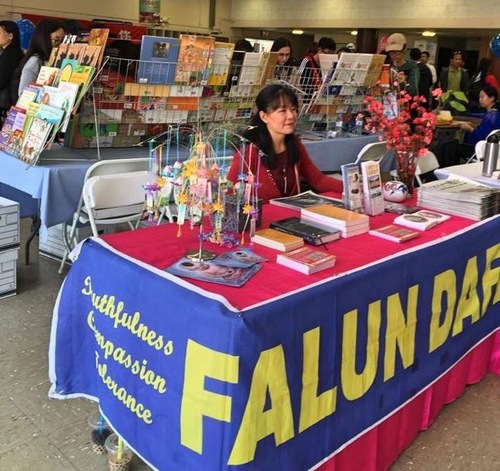 Falun Dafa booth at the Sacramento Chinese New Year celebration held on February 10
Ms. Li, who works in the real estate business, talked with a practitioner at the Falun Gong booth for a long time. As a Christian, she often paid attention to and watched Falun Gong-related news online, including that of Falun Gong practitioners being killed for their organs under the communist regime in China for remaining steadfast in their belief. She found it shocking and likened the suffering of Falun Gong practitioners to that of Christians in the Roman Empire. Ms. Li prayed that Falun Gong practitioners in China be soon free from the tribulations.