Mr. Liu Haixiao from Changchun Severely Persecuted during Sixteen-year Prison Term
March 01, 2018 | By a Minghui correspondent in Jilin Province, China
(Minghui.org) Mr. Liu Haixiao, 46, from Shuangyang City, Jilin Province, started practicing Falun Gong in 1995. After the Chinese Communist Party (CCP) began to persecute Falun Gong in 1999, Mr. Liu refused to give up his spiritual belief and actively exposed the persecution. He was repeatedly harassed, was arrested four times, and was sentenced to 16 years in prison.
Interrupting the Local TV Network to Clarify the Truth
In order to let more people know the truth about the Party's persecution of Falun Gong, Mr. Liu and several practitioners interrupted the TV network signal in Shuangyang with a broadcast produced by Falun Gong practitioners on May 19, 2002. He then became homeless to avoid arrest.
When his father passed away on August 30, 2002, Mr. Liu could not be with him. His father was a former Falun Gong practitioner who had written the guarantee statement out of fear, renouncing his faith one month before he passed away. The police continued to harass his mother after his father died.
Arrest and Pre-sentencing Detention
Mr. Liu was arrested near Changchun City by police from the Nanguan District and Shuangyang City at midnight on November 4, 2002. He was taken to the Changchun No. 3 Detention Center.
The guards tortured Mr. Liu at the detention center, forcing him to sit on a small stool for long hours. He was also forced to memorize the detention center regulations.
Conditions in the prison were harsh. There was no hot water regardless of the time of year. The vegetable soup served to the inmates contained only rotten potatoes, and sand was mixed in with the rice. Time in the restroom was curtailed.
During the SARS epidemic in 2003, the No. 3 Detention Center was overcrowded and conditions became harsher. It was freezing cold during winter and snow drifted into the cells.
Unprecedented Long Sentences
Four practitioners, Mr. Liu, Mr. Li Huaiming, Mr. Wu Zilong and Ms. Zhao Xinling, were tried in the local court in 2003. They were not allowed to speak during the trial.
Mr. Liu, Mr. Li, and Mr. Wu protested by calling out loudly "Falun Dafa is good!" during the trial. They were dragged out of the courtroom and shocked with electric batons. The flesh on Mr. Liu's neck was torn open. Threatened with more electric shock torture, they signed the court documents.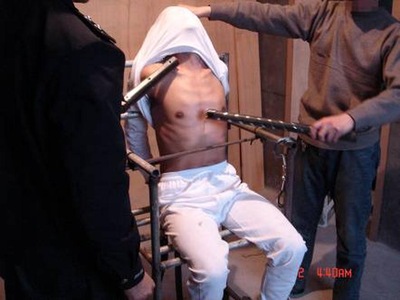 Torture Re-enactment: Electric Shock
Mr. Liu and Mr. Li were sentenced to 16 years in prison, Mr. Wu to 13 years, and Ms. Zhao to 2 years. They appealed to the Changchun Intermediate Court, which maintained the original sentences due to pressure from the 610 Office.
Persecuted in Jilin Prison
Mr. Liu, Mr. Li, and Mr. Wu were transferred to Jilin Prison on October 23, 2003. Mr. Liu was detained in the No. 3 Ward. There were more than 70 prisoners in one cell. The practitioners were monitored around the clock and forbidden to talk to each other.
Shortly after his transfer to Jilin Prison, Mr. Liu developed scabies over his whole body except his face. He was still forced to perform hard labor. The guards claimed that they would let him rest and get medical attention only if he gave up Falun Gong. He refused.
The distance from the cell to the workshop was about 100 meters. The bottoms of Mr. Liu's feet were covered with blisters due to scabies, which broke open when he walked to the workshop and back to his cell. He itched constantly, was in severe pain, and could only sleep about 30 minutes each night. His weight dropped from 126 lb to 77 lb. Finally, the prison officials took him to a hospital for treatment in the winter of 2014, and his condition began to improve.
Guard Wang Yuanchun formed an "Education Team" on March 18, 2013, to brainwash practitioners. After Mr. Liu refused to write the "five statements" (that included wording about giving up Falun Gong), he was shocked with electric batons by Wang and Zhao Jing, head of the Education Section. He was then held in solitary confinement for 50 days.
Mr. Liu was held again in a confinement cell on September 2, 2015, and was made to sit on a small stool for hours each day.
Deceived by the authorities' lies, Mr. Liu's mother and other family members tried to pressure Mr. Liu to give up his faith on December 15, 2015. Wang demanded that Mr. Liu's mother kneel before him and beg him to quit practicing. Mr. Liu refused to renounce his belief and explained why he could not give up the practice.
Persecuted Since 1999
Mr. Liu was taken to a brainwashing center for one week in March 2001. His wife was held in a detention house for 15 days. Due to the constant harassment from the 610 Office, he left Shuangyang in January 2002.
He was held in a detention center for a month in November 1999. His father and friends were ordered to pressure him to give up Falun Gong. Once released, the local police came to his work unit to harass him around the CCP's sensitive dates.
Mr. Liu was arrested on July 26, 1999, and detained in the Shuangyang District Detention Center until August 1.