Copenhagen, Denmark: Ancient Meditation Welcomed at Health Exhibition
February 09, 2018 | By Minghui correspondent Shu Hui
(Minghui.org) Body-Mind-Spirit Health Days came to the Brøndby Hallen exhibition hall in Copenhagen, Denmark on February 2-4. The local Falun Dafa group took the opportunity to participate.
Many people had a chance to learn the Falun Dafa exercises. Many more learned about the peaceful spiritual practice and the persecution it faces in China.
Learning Falun Dafa exercises at the Body-Mind-Spirit Health Days in Copenhagen
"I Cannot Wait to Buy This Book"
Pia, who said she was very interested in Chinese culture, attended the Falun Dafa introductory session on February 2. She started to learn the exercises the same day, saying, "I feel great! This is what I have been looking for!"
Pia bought a copy of the book Zhuan Falun. A practitioner told her that a new translation of the book had just been completed and that it would be available in about two months. "I cannot wait to read this book," Pia replied.
The practitioner offered to exchange her book for a new version when it becomes available and Pia thanked her for her kindness. She was also thrilled to see a Shen Yun book, "This is magnificent! There is so much I can learn."
A man named Jan talked with a practitioner for a long time. He was interested in the relationship between doing exercises and improving one's character. He seemed pleased with his new understandings. "I have seen that people who follow a religion no longer take it seriously. That's not good. We have to find a way to return to our original selves instead of sinking to the level of today's society," he added.
Two elderly women came by and asked many questions. One of them, an instructor, once taught in China. She asked about the difference between qigong and Falun Dafa and why the practice is banned in China. After listening to a practitioner explain the practice and how the Communist Party has defamed it over the past 18 years, the woman appeared satisfied and decided to learn the exercises with her friend. They also returned the following day for the information session.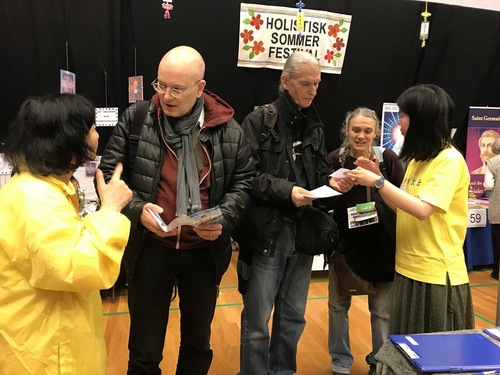 Anna Akerlund (right), Kent Akerlund (middle), and their friend Bill (left) are all interested in learning Falun Dafa.
Kent Akerlund and his wife Anna Akerlund, both from Sweden, stopped by with their friend Billy. Billy could speak some Chinese and they talked for a long time. They were interested to learn that Falun Dafa is practiced in more than 100 countries. They found out where to purchase the books and learn the exercises for free and said they would follow up.
Strong Energy Field
A couple watched the exercise demonstration and left with some brochures. They came back later and the wife said, "We visited most of the other booths, but yours is special because of a strong energy." They stayed and talked with practitioners about the exercises.
Another man said, "It seems as if the energy is very high and feels almost as if it is pulling me up." He was interested to learn that the practice requires both physical exercises and the cultivation of xinxing. He said he would give it a try.
Many families who came said they were surprised to hear that all Falun Dafa activities are free of charge. An older man said he liked it as soon as he saw the words Truthfulness-Compassion-Forbearance. "I think this practice will help me physically and spiritually," he added.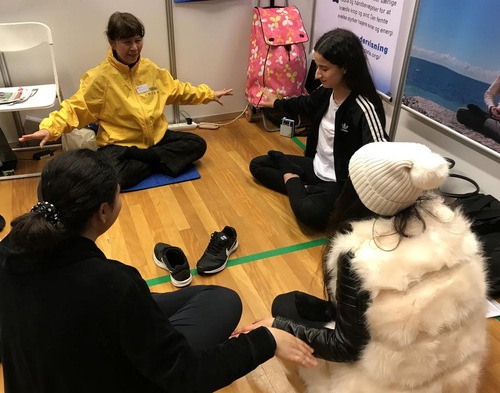 Three high school students—Rein, Ceyda, and Hibba—learn the meditation exercise.
Too Awful to Be Ignored
Two women who stopped to read about Falun Dafa were shocked to find out about the persecution in China, especially about forced organ harvesting. They said they had never heard of anything so appalling. One of them asked for more brochures for her friends and coworkers. "This is too awful to be ignored. Is there anything else I can do?" she asked.
Anna, her husband, and a friend were visiting Copenhagen together. There were tears in her eyes as a practitioner described the harvesting of organs from living practitioners in China. "I never thought something like this could ever happen," she said. All of them signed a petition demanding an end to the persecution in China.