Peru: Practitioners Learn from Each Other at Experience-Sharing Conference
February 27, 2018 | By a Falun Dafa practitioner in Peru
(Minghui.org) Practitioners in Peru gathered for the 2018 Falun Dafa Experience-Sharing Conference on February 18, 2018, Chinese New Year Day. At the Hotel El Condado Miraflores in Lima, 22 practitioners reflected on how they live by the principles of Truthfulness-Compassion-Forbearance.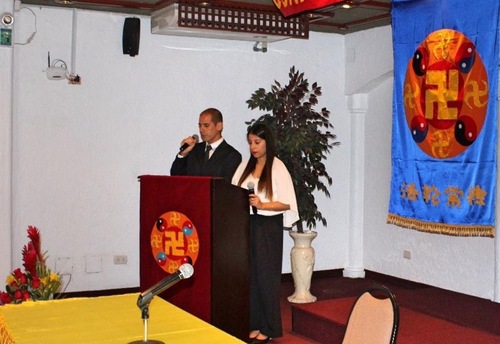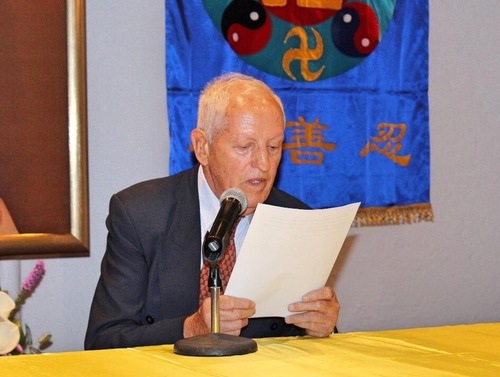 The 2018 Falun Dafa Experience-Sharing Conference in Peru took place on February 18.
Miracles Witnessed
Clara Solis, 27, began practicing Falun Dafa in 2004 with her parents, and has had many amazing experiences. One day, she had such a bad sore throat that she could not eat. Eventually she was unable to drink or sleep, which really worried her. "Then I suddenly realized that only Falun Dafa could help me. With help from my dad, I began reading Dafa books aloud. After three days, I could eat and drink again, and all the discomfort disappeared. That convinced me that Falun Dafa is extraordinary," she said.
Another practitioner, Luisa Aguirre, shared with the audience how she found out about Falun Dafa in the first place. It was 2004 and she was in terrible pain, beyond what she could endure. Seeing no hope at all, she prayed to God, hoping that He would take her. "Just then, a voice in my ear asked me to turn on the radio. That was strange since I almost never listened to the radio," she recalled. Nonetheless, she found a radio in the closet and turned it on.
On the radio, she heard a practitioner introducing an ancient meditation system called Falun Dafa. The group practice site was close to her home and free of charge. That was how she became a practitioner. "Over the past 13 years, Falun Dafa has changed me in many ways, from physical improvement to becoming a better member of society," she said. "As a practitioner, I do the three things well: study the Fa well, send forth righteous thoughts, and clarify the facts to people."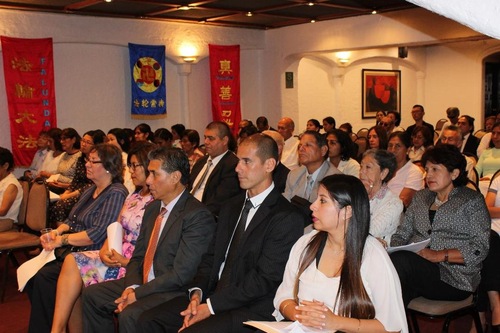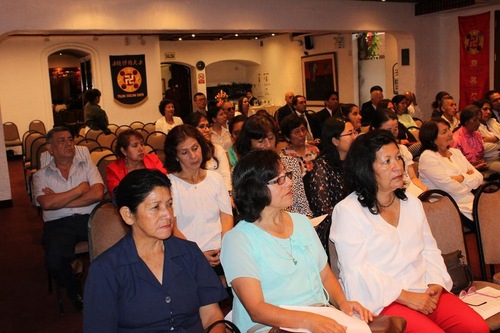 Practitioners at the conference listen attentively.
Telling Others about the Practice
Garolia, an immigrant from China, talked about how her family has changed. Her brother is a businessman. Having heard and believed the Chinese Communist Party hate propaganda defaming Falun Dafa, he had a negative attitude about it. After Garolia came to Peru, he often insulted her and prohibited her from attending Falun Dafa activities or printing informational materials. He also made negative remarks about the practice. He subsequently started having problems. He was fined, he was forced to close the store, and his loan approval was delayed.
Garolia talked with her brother, explaining that one could be rewarded for supporting innocent practitioners who believe in Truthfulness-Compassion-Forbearance. She gave examples in which people incurred dire consequences after they sided with the persecution in China. His brother believed what she said and decided to separate himself from the Chinese communist organizations. Interestingly, his business improved significantly after that. "I am glad my brother has made a good choice. And this also encouraged me to do better," she said.
Cesar Anibal began practicing in 2007 and has gone to the group exercise site every weekend for the past ten years. Because he has retired and has more spare time, he visited the Ministry of Education to speak with officials about the health benefits of Falun Dafa. They connected him with several schools, and he followed up with their principals. He and other practitioners have been to several schools and taught hundreds of students the five exercises. Both parents and faculty members like the practice and are impressed by the principles of Truthfulness-Compassion-Forbearance.
The conference started at 2:00 p.m., and ended at 8:00 p.m. with a group picture. Several practitioners said they learned a lot from the event and were inspired to remain diligent in their cultivation.