New York and London: New Year's Greetings from Falun Gong
February 26, 2018 | By Minghui correspondent Cai Wei in New York and a correspondent in London
(Minghui.org) Falun Gong practitioners around the world have been celebrating Chinese New Year 2018 with events to introduce this peaceful mind-body cultivation practice while raising awareness of the persecution of the practice in China. On Saturday, February 18, practitioners in New York and London marked the third day of the lunar new year at celebrations in their local Chinese communities.
New York
The Chinese community in Brooklyn, New York, held their annual New Year celebration along 8th Avenue on Saturday the 18th. Falun Gong practitioners set up a booth and handed out New Year gifts, including calendars, balloons, and Falun Gong informational materials.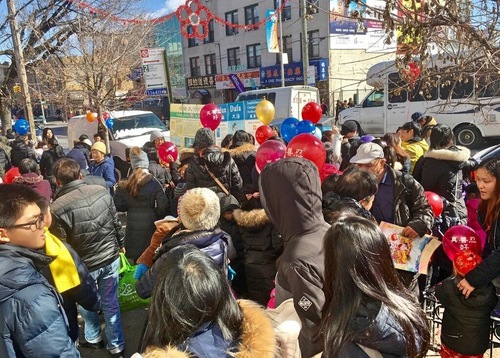 Visitors flocked to the Falun Gong booth during the Brooklyn Chinese New Year celebration.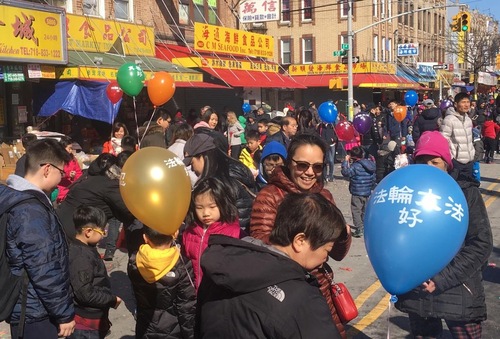 People were happy to receive balloons printed with "Falun Dafa is good" in Chinese.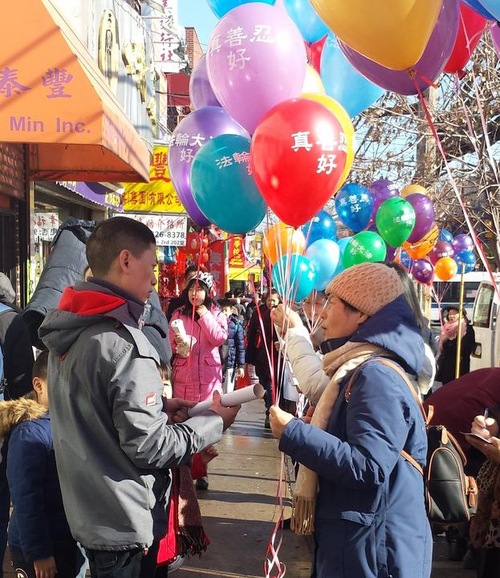 A practitioner (with balloons) talks to a passerby about Falun Gong.
From 10 a.m. to 3 p.m., the practitioners' booth was crowded with people pleased to receive the Falun Gong gifts. Balloons with "Falun Dafa is good" in Chinese were seen everywhere.
Practitioners also spoke to people about withdrawing their membership from the Chinese communist party. Many people said that they had already quit, a number of them at the same event last year.
Over the course of the five-hour event, 242 Chinese quit the Party and its affiliated organizations once they learned about the shameful history of the Party.
London
In London, the Chinese community held a New Year celebration in Chinatown. Falun Gong practitioners took part in the festivities, where they demonstrated the exercises and collected signatures on a petition condemning the state-sanctioned forced organ harvesting of prisoners of conscience in China.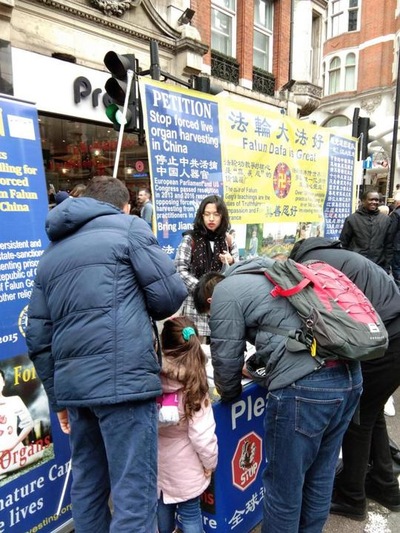 Many people stopped to sign the petition in support of Falun Gong's peaceful resistance against the persecution.
High school student Yaoyao was among the practitioners who participated in the event. She started practicing Falun Gong with her mother in China when she was a child. After the persecution started, her mother was arrested, imprisoned in a forced labor camp, lost her job, and became homeless, all while Yaoyao was growing up. But she and her mother never gave up their belief in Falun Gong's principles of Truthfulness-Compassion-Forbearance.
In England, Yaoyao doesn't have to worry about police harassment anymore. She has participated in many events to introduce Falun Gong to the public and raises awareness of the persecution in China.
At the New Year's event, Yaoyao was glad to see more than 500 people sign the petition. Although some Chinese tourists still have misunderstandings about Falun Gong, Yaoyao believes that practitioners' efforts, courage, and spirit will eventually win out over the lies that the communist party has spread to slander Falun Gong and that these people will realize that the Party has deliberately deceived them.
"I believe what we have been doing is necessary and important, because we debunk the party's hateful propaganda. I believe that the Chinese people are as kind and just as anyone else. It is just that they have been deceived by the Party. Once they see through the lies, they will make the right choice," Yaoyao said. "I believe that everybody in China will have a bright future."