Flushing, New York: Falun Dafa Group Highlighted in Chinese New Year Parade
February 20, 2018 | By Minghui correspondent Cai Ju
(Minghui.org) The largest Chinese New Year parade took place in Flushing, New York, on February 17, one day after the Lunar New Year. Among over 50 participating groups, Falun Dafa was selected as the finale and delighted the over 200,000 spectators.
Leaders of the Flushing Chinese Business Association Gary Hu and Peter Tu and many elected officials were on hand to celebrate the special season with the community. Peter Koo, New York City Council member, said he was glad to see traditional Chinese culture and hear traditional Chinese music. He emphasized the importance of sharing them with Western society as well as passing them on to the next generation.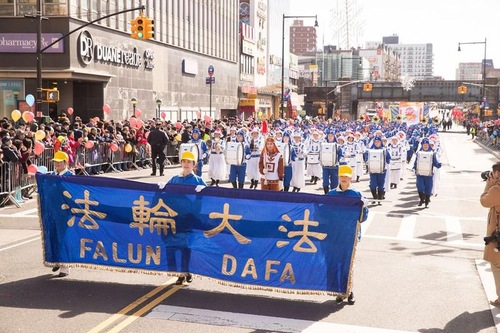 The Tian Guo Marching Band performs in the Chinese New Year Parade in Flushing, New York, on February 17, 2018.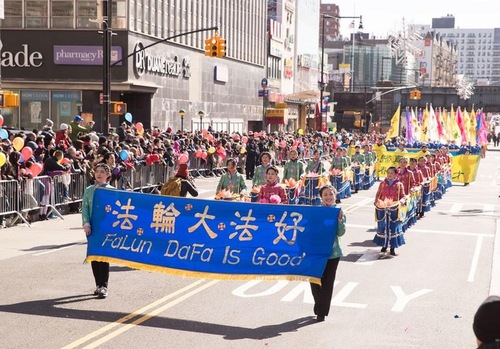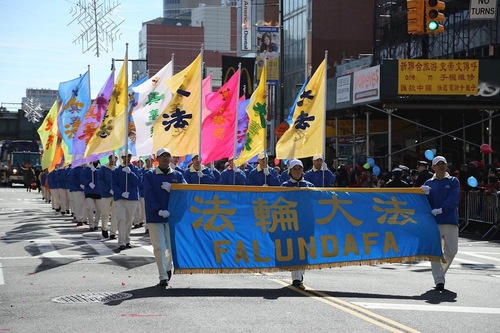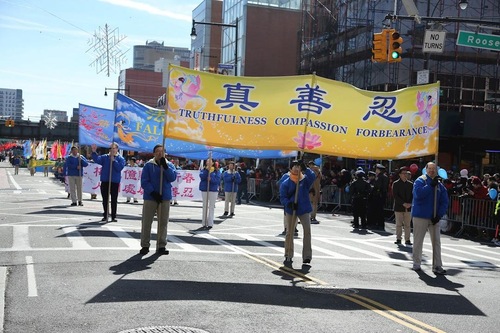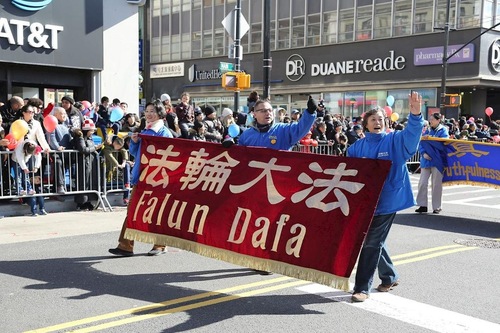 Falun Dafa practitioners perform in the parade.
Many in the audience were impressed by the size of the Tian Guo Marching Band. Some of them called out, "Happy New Year, Falun Dafa!" "Falun Dafa is great!" The practitioners also held up banners about the cultivation practice and wished the community a prosperous New Year.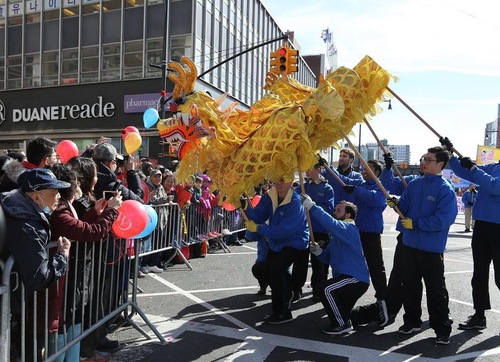 The dragon dancers were very popular with the spectators.
The dragon dancers, in particular, were enjoyed by children and adults alike. Marco Tistarelli, an Italian practitioner, said the 9 dancers came from 9 countries, including Italy, Russia, Brazil, Germany, Australia, and the United States. "Falun Dafa comes from ancient China, and we are happy to celebrate with all the communities. I hope we can let everyone know that Falun Dafa and the principles of Truthfulness-Compassion-Forbearance belong to the entire world and that everyone can benefit from it," Tistarelli said.
Many people said they liked the Falun Dafa performances. "They represent true Chinese culture," one of them said, "It's amazing that the group is so big. Very impressive."
One resident, Ye Wrong, said he had been posting videos of the parade on his YouTube and Twitter accounts. "I like the colors the practitioners use. Gold or blue, it always gives you energy," he remarked. He noted that everyone—both those around him and his online followers—seemed energized by the performances.
Mr. Bai, another resident, said he had seen the parade in previous years and added that the practitioners' performance was positive and uplifting.
He also expressed his support for the event because it helps people understand the persecution of Falun Dafa in China. "I think the world embraces the principles of Truthfulness-Compassion-Forbearance. We all love them so much," he added.