Southern California: Informing the Chinese Community about Falun Gong at New Year Fair
February 18, 2018 | By a practitioner from Los Angeles, CA
(Minghui.org) The annual Chinese New Year fair in Monterey Park, California, was held on February 3-4, 2018. Falun Gong practitioners from Los Angeles set up a booth to tell the Chinese community the facts about Falun Dafa, and expose the persecution of the practice in China.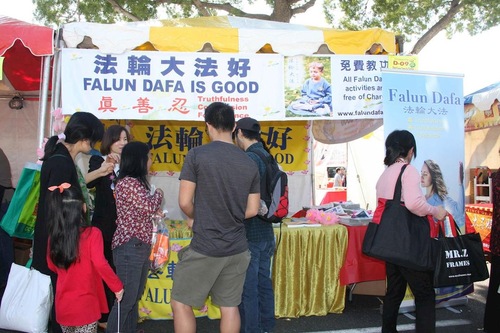 Visitors stop by the Falun Gong booth.
Some of the many visitors who stopped by wanted to learn the exercises and asked for the contact information for local exercise sites. Others came to express their support for Falun Gong's peaceful resistance.
Besides telling the Chinese what this self-improvement cultivation practice is about, practitioners also told them the history of the Chinese Communist Party (CCP), and especially the facts about the persecution. At the two-day event, 150 Chinese quit the CCP with help from practitioners.
Ms. Tang, 80, an immigrant from Shanghai, China, talked to practitioners for a long time.
She said, "From the political movements in the 1950s to the persecution of Falun Gong, the Communist Party has killed millions of people. I didn't know what freedom was until I moved to the United States 30 years ago."
Ms. Tang said she has read a lot of informational materials about Falun Gong which helped her to understand the nature of the Communist Party.
"I admire Falun Gong practitioners' spirit. Because of their peaceful resistance, more and more people are learning the truth about the persecution. The CCP will never win, and I strongly believe that the CCP will collapse."
A 70-year-old man agreed with Ms. Tang.
He said, "I've been supporting Falun Gong from the beginning. It has not been easy for you in the last two decades. I think your efforts are great, and the peaceful resistance is great. The Communist Party has ruined the future for China. I and my friends are worried. I hope you will keep up the good work and let more people know the truth."
The local Westerners were also glad to see Falun Gong practitioners at the fair. A woman told practitioners that the husband of one of her friends is a doctor. He had cancer, and after he started practicing Falun Gong it disappeared. She always wanted to learn the exercises and was glad to see practitioners.
Practitioners also handed out handmade paper lotus flowers as a new years gift. Many visitors loved the flowers, a cultural symbol of purity, which came with a bookmark that reads "Truthfulness-Compassion-Forbearance is good."