Practitioners from New York and Vancouver Thank Master Li
February 14, 2018 | By Minghui correspondents in New York and Vancouver
(Minghui.org) As the 2018 Chinese New Year approaches, practitioners from North America are very thankful to Master Li. Below are reports from New York and Vancouver, where practitioners celebrated the New Year and sent their greetings to Master Li.
Flushing, New York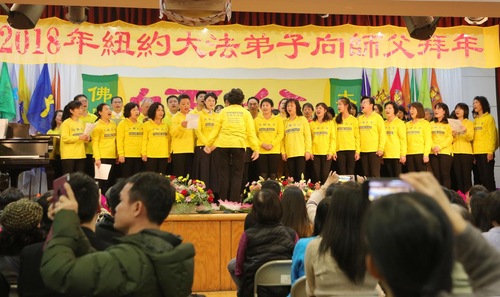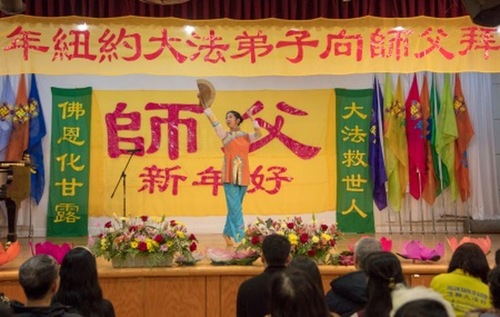 Practitioners sing and dance to celebrate the Chinese New Year in Flushing on January 27, 2018.
The celebration in New York took place in Flushing on January 27. In addition to dances and a choral performance, practitioners also played the waist drums, piano, violin, pipa, and other musical instruments.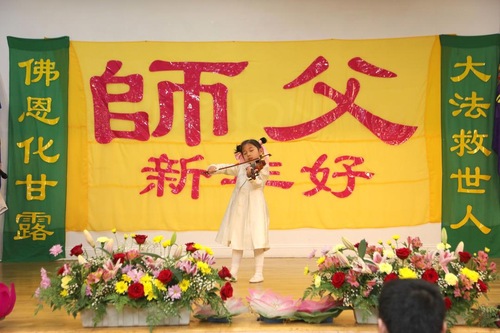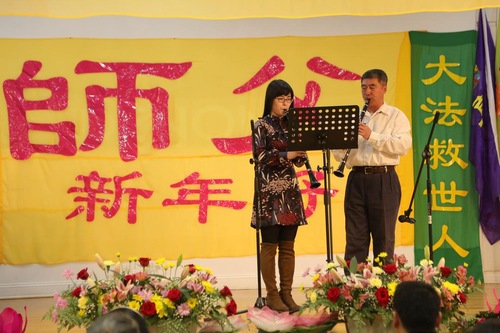 Music performances at the event
Enrico Trigoso from Peru speaks fluent Chinese. Wanting to know more about life and the world, he read many books about Christianity, Buddhism, and Daoism. When a Yoga instructor told him about Zhuan Falun, the main teaching of Falun Dafa, and the exercises, he knew right away this was what he had been waiting for.
"Falun Dafa is very good. All the books are available to download from the internet for free. It does not cost a penny to practice it," he explained. "Furthermore, Falun Dafa tells me that a person cannot improve in cultivation unless he or she improves xinxing, or mind nature. I am glad that it requires us to let go of bad thoughts and attachments." After he started practicing, he stopped smoking marijuana and many other bad habits. Asthma that had plagued him for years was also cured.
Ms. Zhou has helped teach exercises in the community for more than 10 years. She said people are interested in learning the exercises and some even flew here to learn them.
The event ended with all the participants singing "Falun Dafa Hao" (Falun Dafa Is Great).
Vancouver, Canada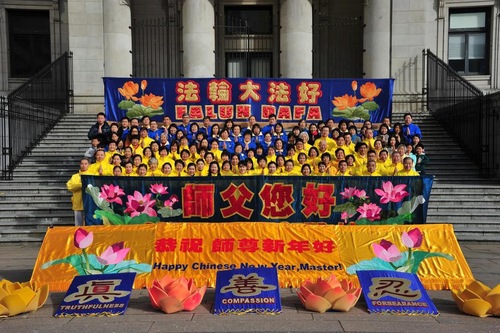 Practitioners in Vancouver, Canada, wish Mr. Li Hongzhi, the founder of Falun Dafa, a Happy New Year.
On the plaza in front of the Vancouver Art Gallery in downtown, practitioners gathered to do the meditation to celebrate the New Year on February 10. A group picture was taken as practitioners wished Master Li a Happy New Year.
It was a sunny day, and many pedestrians talked with practitioners for more information. Some signed petitions urging an end to the ongoing suppression in China.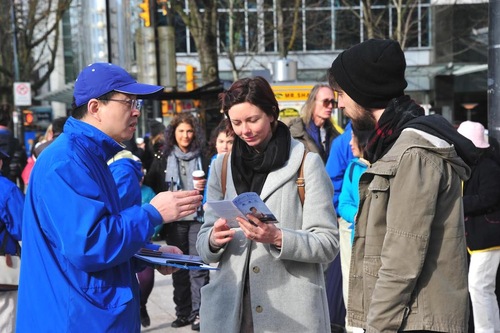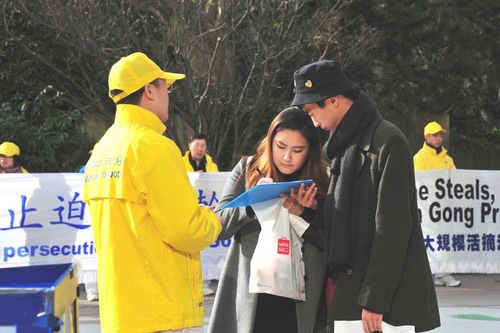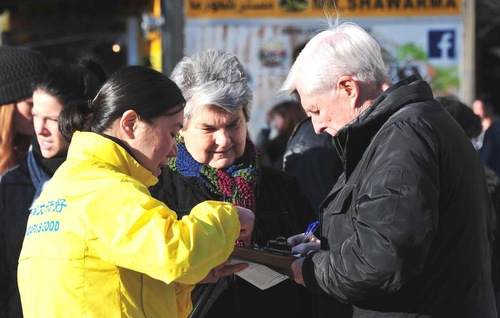 Passersby learn about Falun Dafa and sign petitions to oppose the persecution in China.
Mr. Tian, who has practiced Falun Dafa for 20 years, said the practice cured him of all his ailments. "I have seen many practitioners whose health and mind nature improved like me," he said. "More importantly, the principles of Truthfulness-Compassion-Forbearance help me overcome my shortcomings and be a better person."
Because many Chinese have been exposed to hate propaganda promulgated by the Chinese Communist Party, Mr. Tian sincerely hopes that they will think for themselves and find out what Falun Dafa really is. "It is for your own good and your own future," he added.
Related article in Chinese:http://greetings.minghui.org/mh/articles/2018/2/13/温哥华法轮功学员恭祝师尊新年好-361109.html