South Korea: Chinese Tourists Drawn to Falun Dafa Activity on Christmas
December 31, 2018 | By a Falun Dafa practitioner in South Korea
(Minghui.org) To celebrate the holiday season, Falun Dafa practitioners did the exercises in Myeongdong, a favorite shopping destination for Chinese tourists in Seoul, South Korea, on December 25, 2018.
The shopping district was crowded with tourists, and the group practice was an island of peace amid the bustling shoppers. Many Chinese tourists stopped and took photos and accepted informational materials about Falun Dafa.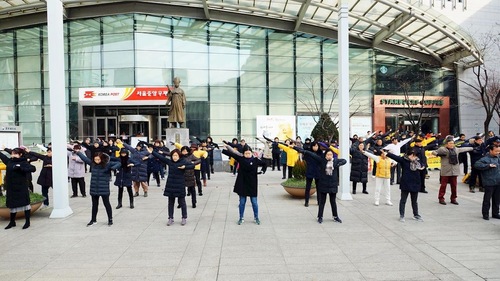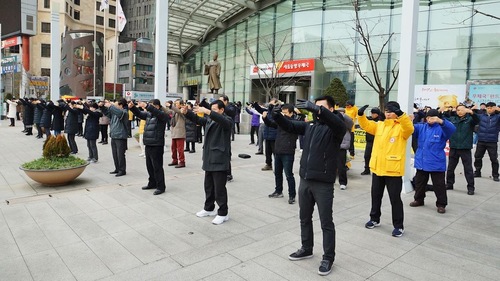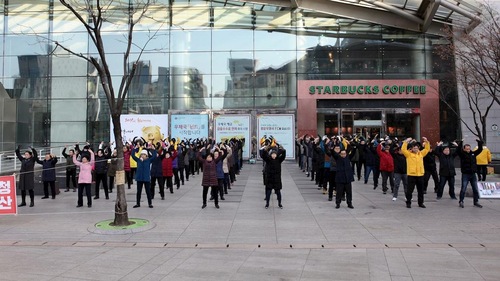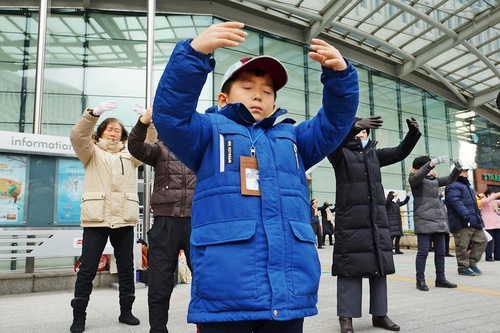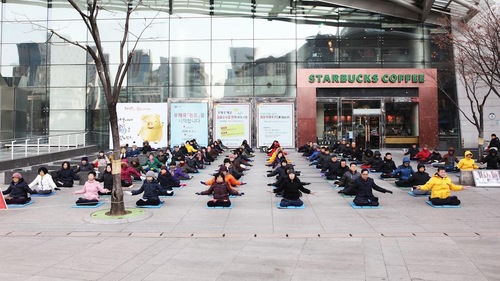 Falun Gong practitioners do the exercises together outside in Seoul, South Korea, on December 25, 2018.

Because Falun Dafa has been heavily suppressed in China by the communist party for 18 years, many Chinese tourists were surprised to see practitioners openly doing the exercises in public. Several commended the activity, while others took photos and videos and said they would show them to their friends and relatives in China. One said, "Let them see there is freedom outside of China."
Many local residents as well as tourists from other countries also stopped and took photos. An undergraduate student exclaimed, "It's so peaceful and serene here. The atmosphere is wonderful."
One middle-aged woman said that she had seen practitioners doing the exercises before and wanted to learn them. She wrote down pertinent contact information before she left.
As part of their activity, practitioners handed out handmade bookmarks with the words, "Falun Dafa is good" and crystal lotus pendants. The people who received them expressed their thanks for the Christmas gift.