Raising Awareness of the Persecution of Falun Gong at Santa Monica Ocean Park
December 22, 2018 | By a Falun Gong practitioner in Los Angeles, USA
(Minghui.org) A special activity recently caught the attention of passersby at the Santa Monica Ocean Park tourist attraction. Falun Gong practitioners formed a line on the sidewalk and held a series of banners next to each other to raise awareness of the ongoing persecution of Falun Gong in China. The practitioners called it the "Great Wall of Truth."
Falun Gong is a mind and body improvement system which was introduced to the public in China in 1992. Practitioners place emphasis on improving their moral standard by following the principles of Truthfulness-Compassion-Forbearance and practicing five daily exercises.
Dozens of practitioners gathered at Santa Monica Ocean Park on December 16, 2018, to demonstrate the five sets of health-improving exercises for the public. Some practitioners gave out fliers to passersby, hoping they could learn not only about the benefits of the practice but also about the persecution that has been ongoing since 1999. Many tourists showed their support for the practitioners' efforts to end the persecution, and some expressed interest in learning the exercises.
Helen Li from the Service Center for Quitting the Chinese Communist Party (CCP) said that more people still need to know about Falun Gong. "The Chinese communist regime is still arresting and torturing practitioners. We need everyone to act together to stop such evil," she said.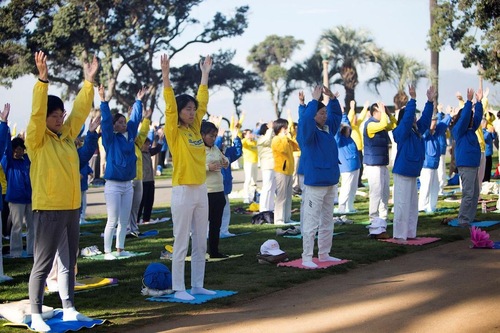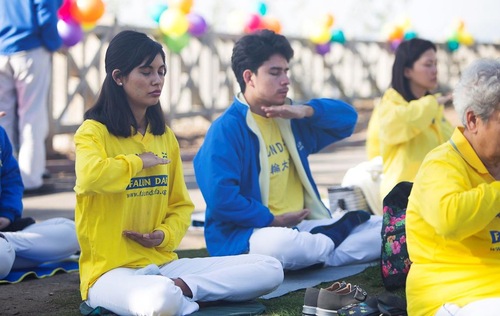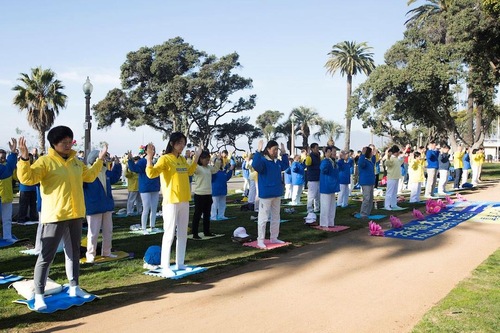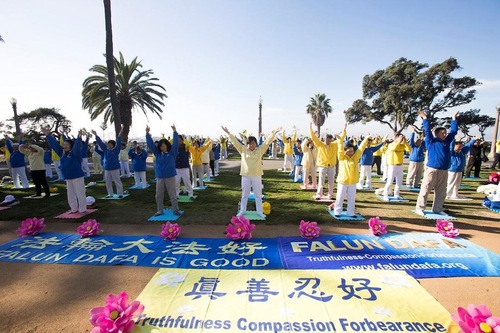 Falun Gong practitioners gather near Santa Monica beach to demonstrate the exercises.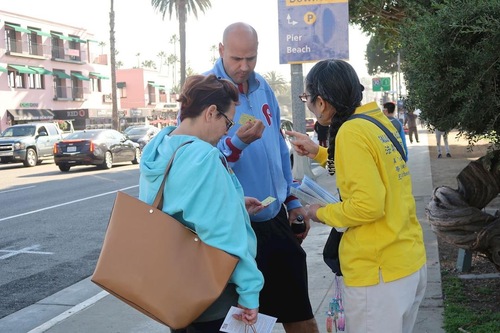 Falun Gong practitioners tell passersby at Santa Monica Ocean Park about the practice's benefits, and about the ongoing persecution in China.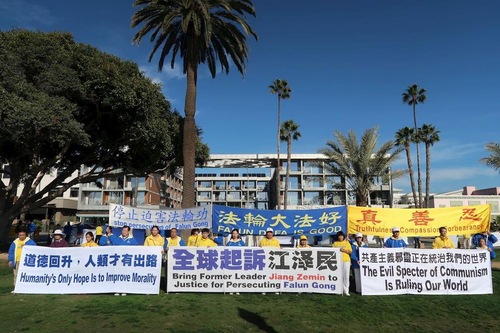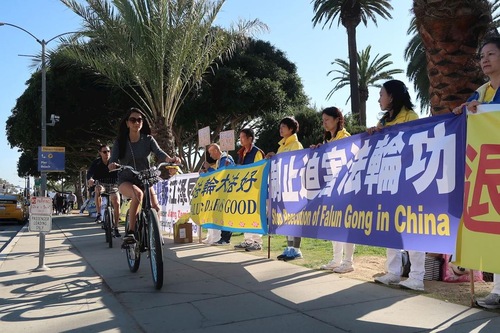 Practitioners hold banners to form a "Great Wall of Truth," to let the passersby know what is happening in China.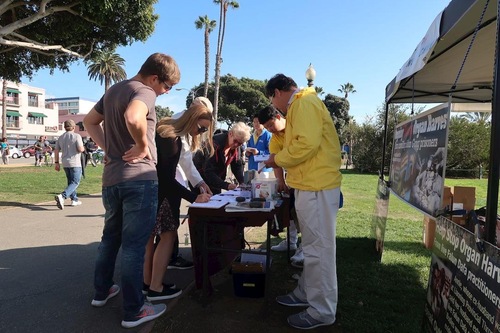 Passersby sign a petition calling on the Chinese communist regime to end the persecution.
LA Resident: The CCP Shouldn't Have Launched the Persecution
Ms. Lin immigrated to the U.S. many years ago. She learned about the persecution in 1999 from the news. She didn't believe the CCP's propaganda and said she feels that the news should be fact-based.
"There are various ways to cultivate in Chinese traditions and they help improve body and mind, as does Falun Gong," she said.
She said she believed that practicing a belief is a personal choice and shouldn't be made political. She said that the CCP shouldn't deprive the rights of the people, nor should it have launched the persecution.
Couple from San Diego
Sandra Reyes and her husband Jesse Cesmit joined the practitioners for the exercises. They said the exercises made them feel comfortable and relaxed. Sandra at first had planned to stand behind the practitioners and follow their movements, but a practitioner offered her a mat and asked her to join the practitioners at the front so that she could learn the correct movements. She said her spine had been injured in a car accident, and she wanted to find a way to stretch and reduce the pain. She said she enjoyed the exercises, "The movements are easy to learn."
This was also Jesse's first encounter with Falun Gong. He said that doing the exercises made him feel peaceful, and was a "very relaxing experience."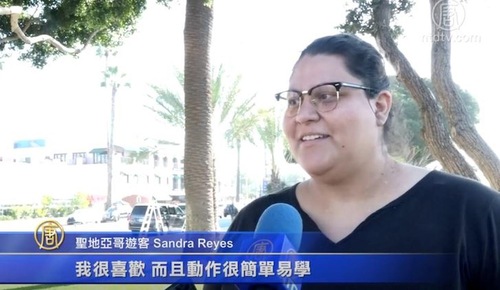 Sandra Reyes from San Diego enjoys doing Falun Gong exercises.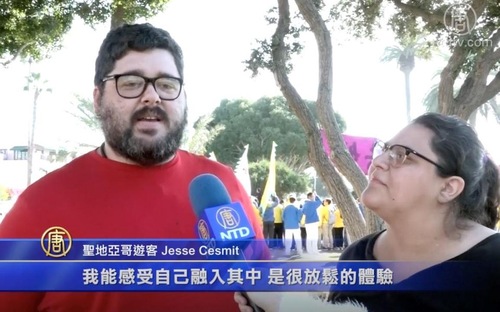 Jesse Cesmit said that he felt peaceful after doing the exercises.
Besides telling people about the persecution in China, practitioners also wanted to tell the public about the principles of Falun Gong, "Truthfulness-Compassion-Forbearance."
Karla Cardoso from Mexico has been a practitioner for two months. She said that she was happy to now be able to "...look at everything in life from a different perspective."