Peaceful Resistance Events Held in Multiple German Cities on Human Rights Day
December 19, 2018 | By Minghui correspondents in Germany
(Minghui.org) Falun Gong practitioners in several German cities held events on United Nations Human Rights Day (December 10), calling upon the public to pay more attention to the 19-year long persecution in China and take action to stop it.
Munich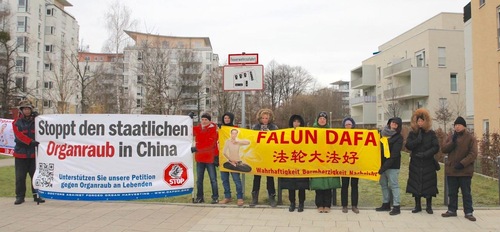 Peaceful protest in front of the Chinese consulate
Practitioners from Germany and Austria held a peaceful protest in front of the Chinese consulate on December 8.
Similar protests have been held every Friday since December 2017. Although the consulate has recently moved to a new location, many citizens nearby have learned about the persecution, especially the state-sanctioned organ harvesting from these protests.
Some of them did not understand how the forced organ harvesting was related to a spiritual movement. Once they were told how the persecution by the Chinese regime started, most of them expressed support for Falun Gong's peaceful resistance.
Heidelberg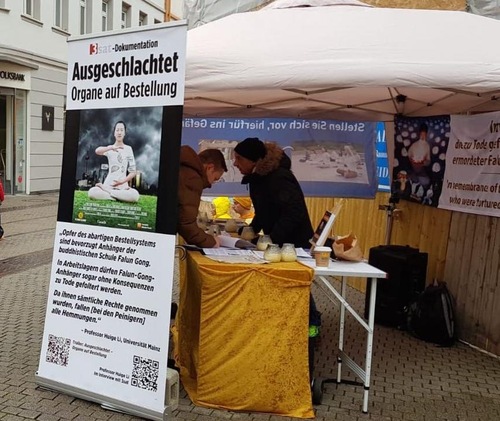 Signature collection in Heidelberg
On December 8, practitioners collected signatures on a petition that condemns the forced organ harvesting in downtown.
A German lady stood in front of the display board that read "kill on demand" for a long time. She was shocked by the brutality, and took a stack of flyers for her friends. A few days later, she called a local practitioner and asked him to pass out the flyers everywhere in Heidelberg with his fellow practitioners.
Sigmaringen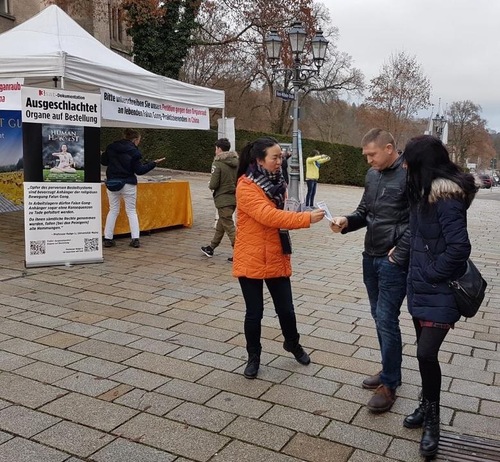 Passing out flyers in Sigmaringen
The practitioners' event in Sigmaringen was covered by a local newspaper. The readers learned that Falun Gong is a spiritual exercise that teaches the principles of Truthfulness-Compassion-Forbearance.
The reporter interviewed a practitioner, Wanda Wan Cheng, a music teacher who escaped from China. She recounted her experiences of being tortured in China because of her belief in Falun Gong.
Nuremberg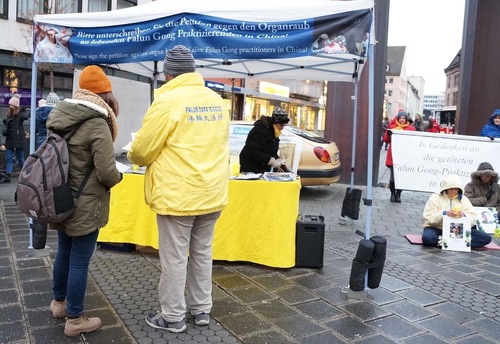 Practitioners' event at a Christmas market
Nuremberg, where World War II war criminals were tried, is the "capital" of human rights in Germany. On December 9, practitioners held a Falun Dafa Information Day at a local Christmas market, commemorating those who were killed in the persecution and exposing the brutality to the public by displaying banners and photos.
Darmstadt
Practitioners' booth at the Luisenplatz in Darmstadt
On December 8 and 10, practitioners from Darmstadt held a protest and a candlelight vigil at the Luisenplatz in downtown. Their large banners were seen by crowds of people coming to the Christmas market. Many of them expressed that such a brutal persecution cannot be tolerated.