Japan: Signature Drive to End the Persecution of Falun Gong in China Began on International Human Rights Day
December 19, 2018 | By a Falun Dafa practitioner in Japan
(Minghui.org) Falun Dafa practitioners in the Kansai region of Japan started a week-long signature drive in Kobe City's central business district on International Human Rights Day, December 10, 2018.
Practitioners collected signatures at the East entrance of Motomachi Station for a petition that calls for the international society to bring Jiang Zemin to justice. Jiang Zemin is the former Communist Party leader of China who ordered the persecution of Falun Gong in 1999.
Tens of thousands of tourists and local residents pass through the Motomachi Station every day, and despite the cold, practitioners overcame the difficulties and collaborated very well to make the event a success.
Directly outside of the East entrance is a plaza. Practitioners set up banners saying, "SOS Stop Persecution of Falun Gong," "Stop Organ Harvesting," and "Bring Jiang Zemin to Justice" in both English and Japanese.
At the intersection near the entrance, the intervals between the traffic lights are long. Practitioners broadcasted two recordings in turn: a two-minute and a five-minute introduction of the event. Many people came over to sign the petition, saying that they had heard the broadcast while waiting for the traffic light. Other people said they had read a flier that practitioners were handing out and came over to sign the petition.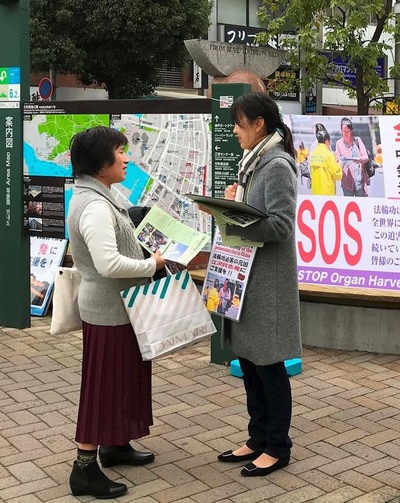 Falun Dafa practitioner talking to passerby about the persecution of Falun Gong.
The signature drive coincided with the annual Kobe Luminarie festival where more than 500,000 LED lights illuminate the streets and architecture of the city to commemorate the Great Hanshin earthquake that killed 6000 people in 1995.
According to the festival website, more than three million visitors have come to Kobe for the festival every year since 2004.