"Letter from Masanjia" Screened at European Parliament
December 16, 2018 | By Minghui Correspondent Rong Fa
(Minghui.org) A screening of the movie "Letter from Masanjia" took place in the European Parliament on December 4. Members of international human rights organizations, the United Nations Association, and the media attended the event sponsored by Tomas Zdechovsky, a Member of the European Parliament (MEP) from the Czech Republic.
"Letter From Masanjia" is a documentary about a handwritten letter discovered in a Halloween toy box from a Kmart store in Oregon a few years ago by Julie Keith. It came from an infamous Chinese labor camp named Masanjia. The letter was from a tortured toymaker, Sun Yi. His "crime" was that he practiced Falun Gong, a spiritual practice the Chinese Communist Party (CCP) banned in 1999.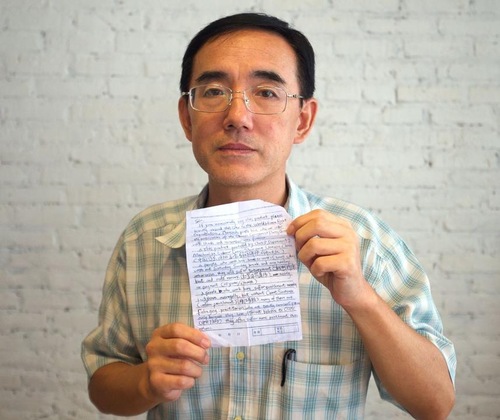 Sun Yi with the letter he wrote in the Masanjia labor camp (Flying Cloud Productions)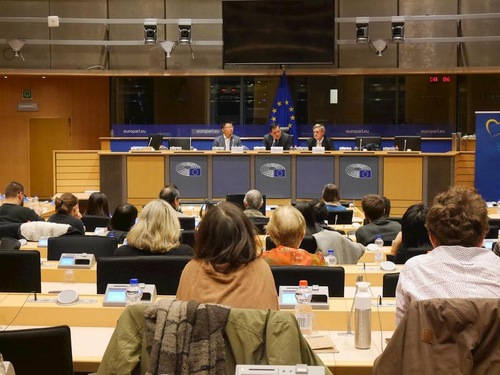 European Parliament Member Tomas Zdechovsky hosted a screening of the movie "Letter from Masanjia" on December 4, 2018. The panelists (L-R): director of the film Leon Lee, MEP Tomas Zdechovsky, and Willy Fautré, director and co-founder of Human Rights Without Frontiers.
MEP Tomas Zdechovsky: Film Reveals a More Accurate Picture of China
MEP Tomas Zdechovsky is from the Czech Republic. His grandfather was once detained in a concentration camp. Several of his family members were killed there. He had seen "Letter from Masanjia" prior to the screening and hosted the event to help people see China more clearly.
He commented that the film reveals vividly and comprehensively the dark side of Chinese society under the reign of the Chinese Communist Party (CCP) and how it oppresses so many Chinese citizens, but especially those who practice Falun Gong and all other religions.
He commended Sun Yi for his courage and said that he was moved by how Sun's wife supported him. Mr. Zdechovsky said the highlight for him was the part where Sun met the American woman who had found his letter in the Halloween decoration box (Julie Keith).
Mr. Zdechovsky was a co-sponsor of the December 2013 European Parliament resolution against forced organ harvesting in China. "We need to have open dialogues with China about these problems. One of the problems was and still is the (forced) organ harvesting. We cannot stop our open dialogues. We cannot say that this problem doesn't exist.
"I think communism doesn't have a future, not anymore," he added. "We saw this in Europe. In post-communist countries, communism is going down and down and down... When I see what they've done to Catholics, Falun Gong practitioners, and other religious communities—that is absolutely unacceptable!"
Willy Fautré: We Must Take Action to Expose the Persecution
Willy Fautré, director and co-founder of Human Rights Without Frontiers, said that it was a very touching movie. He said that such information should be exposed on a larger scale.
"I think it's important to share the reality about China in such an institution where 28 member states are present and can pick up the information that we want to highlight and give it more visibility, because steps must be absolutely taken to try to solve the problem of repression and the dictatorial regime in China."
Member of United Nations Association: Say 'No' to Persecution
Kurt Nielsen is a member of the United Nations Association from Denmark. He was in town for a conference and took the opportunity to see the film. He said he had not known much about Falun Gong prior to the event. He was very touched by the faith Sun Yi demonstrated.
"I liked the film, but it's a horrible story! We must speak up. We need to have a conscience. Human rights are very important in Europe," said Mr. Nielsen. "In the European Council, we have the court of human rights. Citizens of Europe can bring governments that abuse these rules to the court."
Mr. Nielsen said he would share the story with more people from his hometown and the associations he is involved with.