Hong Kong: Human Rights Day Parade and Rally Highlight Persecution in Mainland
December 13, 2018 | By Minghui correspondents in Hong Kong
(Minghui.org) Falun Gong practitioners in Hong Kong held a large rally and march on December 9, the day before International Human Rights Day. They called for an end to the persecution of the meditation and spiritual discipline in mainland China and for the perpetrators to be brought to justice.
The rally began at 10 a.m. at Civic Square. Several current and former Hong Kong legislators either spoke in person or had pre-recorded messages broadcast during the rally. They called upon the public to recognize the evil nature of the Chinese Communist Party.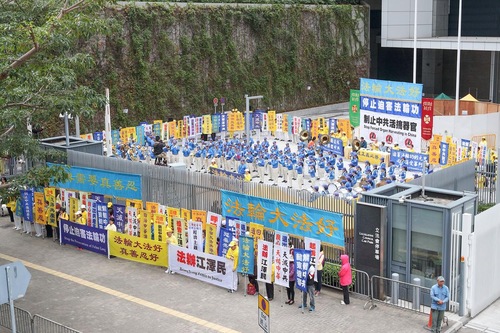 The rally at Civic Square on Dec. 9 at 10 a.m.
Persecution in China Intensifies
In his speech, Kan Hung-cheung, spokesman for the Hong Kong Falun Dafa Association, said that the persecution has intensified since October. "China's violation of human rights has worsened," he said.
He said that mass arrests of Falun Gong practitioners have taken place in Jilin and Heilongjiang provinces. He added that the state-sanctioned killing of practitioners for organs is still going on. In addition, the Chinese Communist Party (CCP) has extended its suppression to human rights lawyers, ethnic minorities, and other religious groups.
Mr. Kan also pointed out that increasing numbers of people worldwide have supported efforts to counter the persecution and condemn this human rights crisis in China.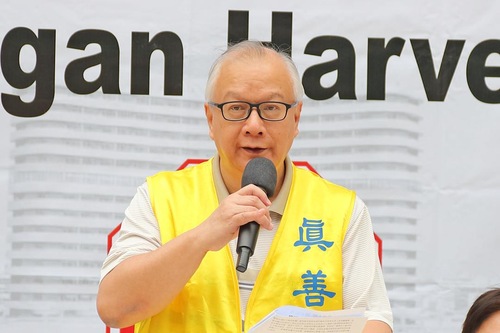 Mr. Kan told attendees that as of December 7, more than 3 million people from 34 countries have signed a petition in support of Falun Gong practitioners' lawsuits against former Communist Party leader Jiang Zemin, who launched and directed the persecution of Falun Gong.
Legislators Express Support
Wu Chi-wai, the chairman of Democratic Party and a member of the Legislative Council of Hong Kong, expressed his respect for Falun Gong practitioners.
"In the face of the ten-some years of persecution, Falun Gong practitioners never gave up on their belief. Nor have they been defeated by the tyrant power. Instead, they have persisted in their peaceful resistance against the persecution," Mr. Wu said in his recorded message.
Lam Won-yien, a former member of the Legislative Council, believes that human rights in China have not improved during the last few decades.
"The international community has started to pay more attention to the human rights problems in China," he said, "meanwhile, more and more Chinese people have quit the Party. With all these forces, the communist party is about to crash. I believe that Falun Gong practitioners, who follow the principles of Truthfulness-Compassion-Forbearance, will win soon."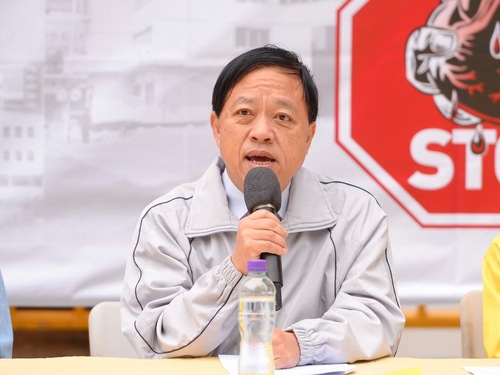 Lam Won-yien said that one's love for the country of China does not equate to love for the Communist Party.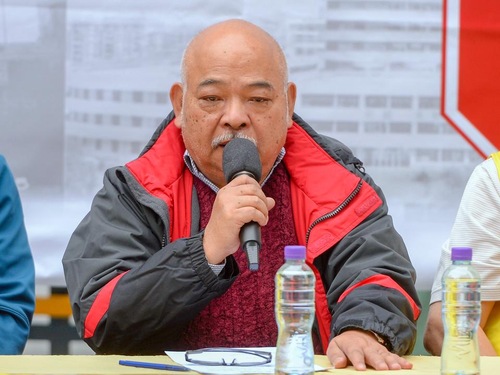 Former Legislative Council member Tsang Kin-shing condemned the ever-worsening persecution. He praised practitioners' efforts to counter the persecution and called upon Hong Kong citizens to stand up and fight for freedom and democracy.
Professor Chiang Yip-leung from the University of Manitoba in Canada spoke over the phone and condemned the CCP's propaganda against Falun Gong, which has deceived many people. "This propaganda is a kind of persecution of everyone," she said. "Facing such a large-scale slaughter, everyone should think about which side he or she should stand with."
Multiple Legislative Council members sent recorded messages calling on the international community to take more action to help Falun Gong practitioners and other prisoners of conscience, including imprisoned human right lawyers.
Crowds Gather to Watch Grand March
After the rally, the parade of over 1,000 kicked off at 2 p.m. from King's Road in the Eastern District of Hong Kong. It proceeded through the downtown and business districts and ended four hours later at the China Liaison Office in Hong Kong.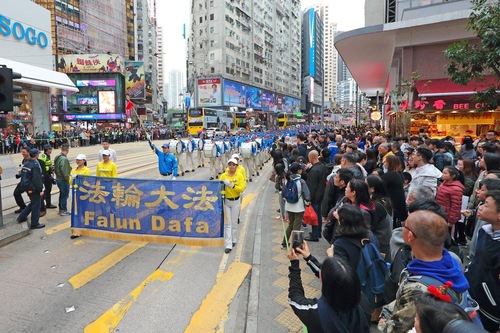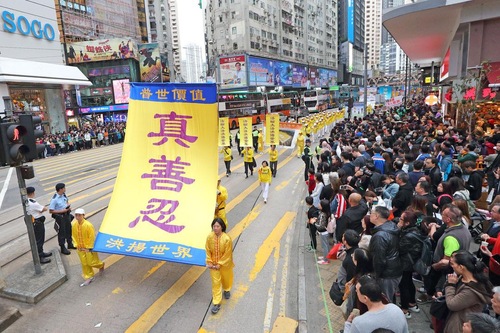 A banner with Chinese characters for "Truthfulness-Compassion-Forbearance," the core principles of Falun Gong.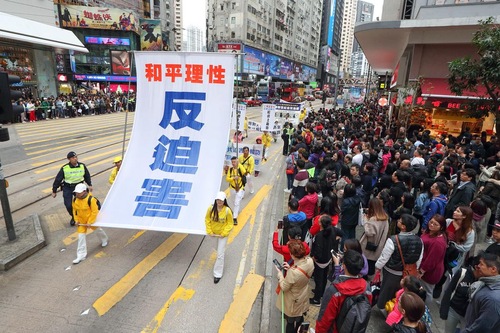 A banner with the message, "Countering the persecution peacefully and rationally."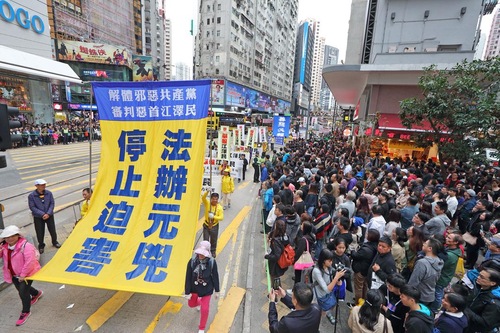 "Prosecute the perpetrator, stop the persecution"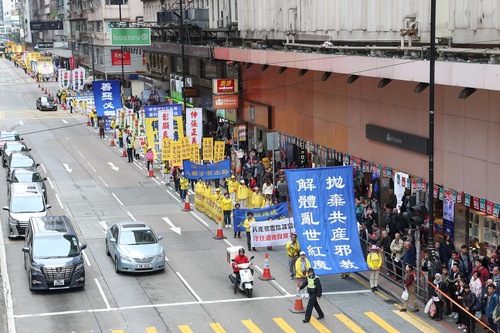 Banners calling for the abandonment and disintegration of the Chinese Communist Party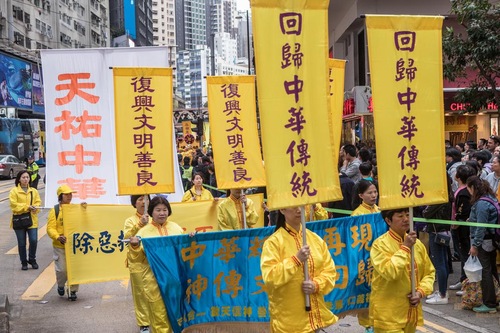 "Revive China's traditional culture"
Led by the Tian Guo Marching Band, the parade consisted of several segments, each conveying a different message: how people around the world practice Falun Gong, efforts to counter the persecution, quitting the Communist Party, bringing the perpetrators to justice, and the principles of Truthfulness-Compassion-Forbearance. Crowds of people gathered to watch the march.
Persecution: "It is so shocking"
Ms. Lam came to Hong Kong from China ten years ago. She watched the march with her son. "I often see Falun Gong practitioners' events. This is a special feature of Hong Kong," she said. "Here, we have the freedom to gather, the freedom of speech and belief. It is not like this in China, where people may disappear from the world because of something they said."
Several tourists from Beijing recorded video of the march. Ms. Liu said she was amazed. "All the positive messages delivered by the march are so different than what I heard in China. It is so shocking," she said. "A few of my family members have seen Falun Gong marches in Hong Kong, but this is my first time. It is really a free land."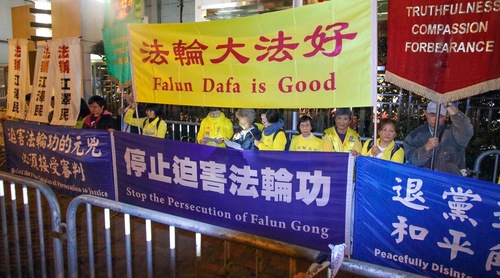 Practitioners hold banners in front of the Hong Kong Liaison Office.
As the march ended in front of the Hong Kong Liaison Office, the Tian Guo Marching Band performed more songs. Mr. Li, a local citizen, praised the peacefulness of the march. He said, "It's wonderful. The government should fix its mistakes."