Norway: Visitors Learn Falun Gong at Health Expo
December 11, 2018 | By a Falun Gong practitioner in Norway
(Minghui.org) Falun Gong practitioners taught the exercises to many attendees of the 26th annual health expo at the Norway Exhibition and Convention Center from November 23 to 25, 2018. Like in years past, the organizers provided Falun Gong practitioners a booth for free that was twice as large as other exhibitors'. Among the 250 participating exhibitors, Falun Gong was one of the few receiving a free space.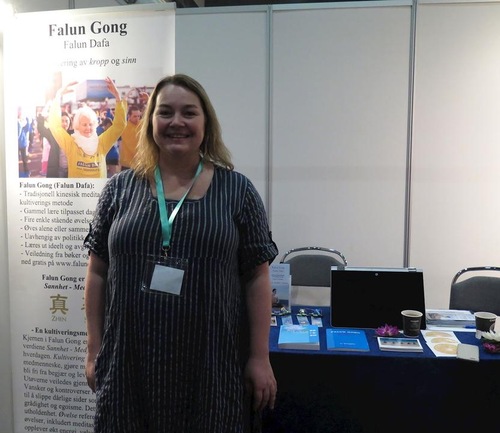 Stordahl, an expo organizer, felt good energy at the Falun Gong booth
One of the event organizers named Stordahl said, "I have been in charge of the Health Expo for eight years. When I took over, my predecessor told me that the space for Falun Gong was always free. I didn't know about Falun Gong at the time."
Stordahl said that her predecessor told her about the persecution in China and since Falun Gong is a non-profit group, they wished to support such groups that give good things to people.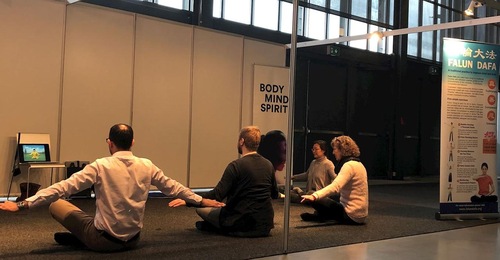 Expo attendees learn the Falun Gong sitting meditation
Visitors Learn Falun Gong
Joakim, a high school teacher, was interested in qigong and meditation. He came to try Falun Gong after reading the description of the Falun Gong booth in the expo brochure. He became interested in Falun Gong after learning the five exercises. He also bought a copy of Zhuan Falun, the main text of Falun Gong.
An attendee named Kim, along with his wife and daughter, were born in Vietnam. They found the Falun Gong booth by following the music being played there. His wife and daughter learned the Falun Gong exercises. Kim said that he had learned Falun Gong and sometimes listened to Master Li's lectures, but he practiced on and off.
Chinese Visitor Supports Falun Gong
A Chinese lady who had lived in Norway for many years was happy to see the Falun Gong booth. She said that she has read Zhuan Falun a few times. She said she recalled that many practitioners felt bad and wept when the Chinese Communist Party (CCP) started persecuting Falun Gong in 1999.
Anna is a young volunteer of the expo whose mother is from China and father is from Norway. She was appalled upon learning about the CCP's state-sanctioned live organ harvesting from Falun Gong practitioners.