Guangdong Man Sues Police for Wrongful Charges and Illegal Home Search
November 06, 2018
|
By a Minghui correspondent in Guangdong Province, China
(Minghui.org) A Guangzhou City resident filed a criminal complaint in late October against local police for raiding his home without following legal procedure and for pressing wrongful charges against him for practicing Falun Gong. His father suffered a heart attack after being intimidated by police and became incapacitated.
Falun Gong, also known as Falun Dafa, is a mind-body cultivation practice being persecuted by the Chinese communist regime.
Mr. Yan Rongjie, 55, is a security guard at the Sericultural & Agri-food Research Institute of the Guangdong Academy of Agricultural Sciences. He was arrested on the afternoon of July 23, 2018, while talking to people about Falun Gong near a local hospital.
That night, four officers from Yuexiu District Police Station broke into the home he shared with his parents and turned everything upside down. The elderly couple, who are both 80, questioned the raid, but they were intimidated and videotaped.
Mr. Yan's father was unable to sleep or eat for several days after the police left. He suffered a heart attack on August 20 and was in a coma for a few days. His heart almost stopped beating. Though he survived, he became completely paralyzed and incapacitated.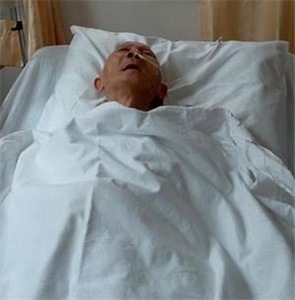 Mr. Yan's father in intensive care
Mr. Yan said in his complaint that the prosecution evidence such as Falun Gong-related materials confiscated from his home couldn't support the charge of "undermining law enforcement with a cult organization," the standard pretext used by the Chinese regime to target Falun Gong practitioners. In addition, Falun Gong is not included on the list of cults issued by the Ministry of Public Security.
He also pointed out that his case had been returned to the police by the procuratorate for insufficient evidence on October 17, shortly before he decided to file the complaint against the police.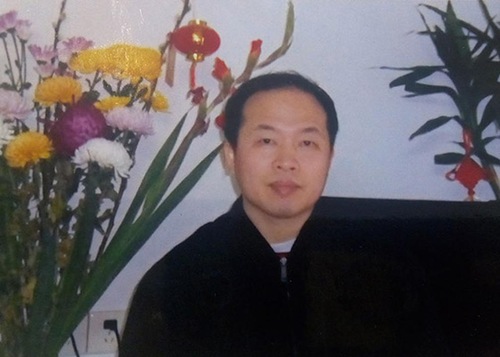 Mr. Yan Rongjie
Mr. Yan's lawyer also expressed his legal opinion that his client did not violate any laws in practicing the Falun Gong spiritual discipline and that the procuratorate should dismiss his case and release him.
Mr. Yan's complaint was filed with Yuexiu District Procuratorate against Yuexiu District Police Station. The same complaint was also filed with higher-level police departments and a relevant appeals office. His family also filed an information disclosure request with Yuexiu District Police Station, demanding to know the legal basis the police had to videotape his parents during the home ransacking.
Previous report:Mr. Yan Rongjie Arrested for His Faith, His Ill Father Traumatized and in a Coma