Falun Gong Practitioners Raise Awareness at Berlin's Famous Brandenburg Gate
November 04, 2018 | By a Falun Gong practitioner in Germany
(Minghui.org) Falun Gong practitioners in Germany held activities at one of Berlin's most visited landmarks, the Brandenburg Gate, on Saturday, October 27, 2018.
The Brandenburg Gate has been the site of many historical events throughout its existence. Built in the 18th Century, the neoclassical monument today stands as a reminder of Europe's turbulent history, and of both the division of Germany during the Cold War and the Reunification in 1989.
Practitioners demonstrated the exercises and asked both locals and tourists to sign a petition calling for an end to the Chinese Communist Party's (CCP) persecution of Falun Gong. Many people expressed their heartfelt support for Falun Gong, and some expressed interest in learning the Falun Gong exercises.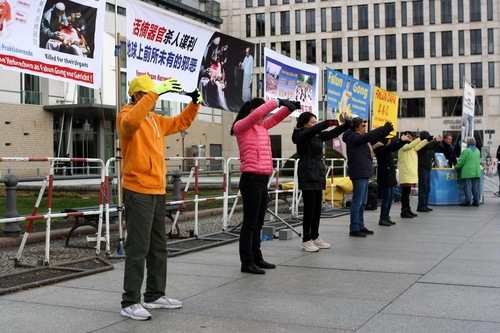 Falun Gong practitioners demonstrate the exercises at Brandenburg Gate.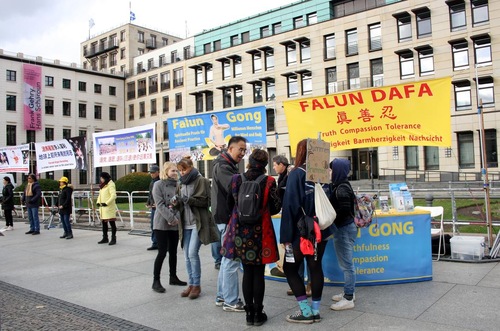 Three college students sign a petition calling for an end to the CCP's forced organ harvesting from practitioners.
Three college students, Franziska, Ronja, and Inge, condemned the CCP for killing Falun Gong practitioners to sell their organs. They signed a petition calling for the end of these crimes against humanity. Franziska said, "The persecution is a violation of human dignity!"
Gabriele signed the petition without hesitation. She had heard about the CCP's organ harvesting crimes when she visited the United States. She said the persecution was a crime against humanity and Falun Gong practitioners were peaceful and shouldn't be persecuted. She hoped that German politicians would pay attention to the issue and pressure the CCP through their economic ties.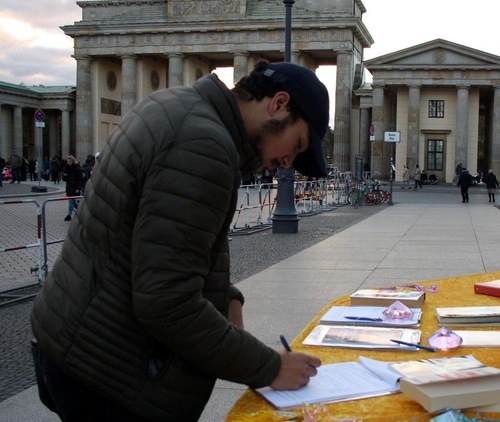 Samy supports Falun Gong practitioners.
Samy from London had also heard about forced organ harvesting in China from an information booth in London. When he noticed people approaching the Falun Gong booth to read the information, it reminded him of what he had learned. He asked a practitioner, "Where can I sign?"
He told a practitioner, "I'm very grateful that this ancient culture [Falun Gong] can be passed down!"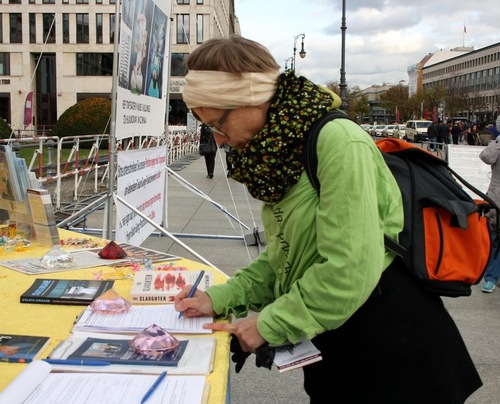 Cora from Oranienburg signs the petition.
Cora from Oranienburg, a town about 45 minutes by car north of Berlin, said it was hard to imagine that people are being tortured so badly in this day and age. "There is such a big difference in basic human rights in different corners of the world. It's terrible for the Chinese to live in fear like this," she said.
Cora showed great interest in Falun Gong. She said she had a love for Asian culture and went for acupuncture treatments when she was ill. When she heard about the health benefits of Falun Gong, she said she would learn the exercises in Tiergarten, a popular park in Berlin's city center. She said she was grateful to learn about this ancient self-cultivation practice.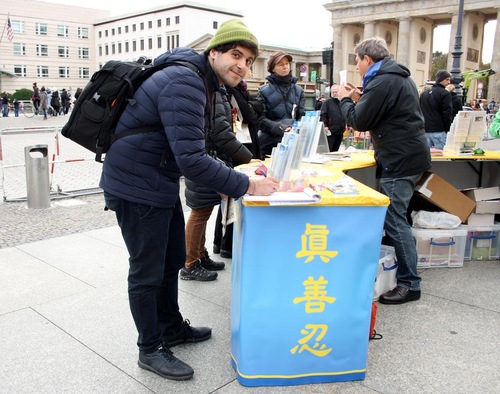 Francesco from Italy wants to help stop the persecution.
Francesc and Alessandro, tourists from Italy, wondered if the people in China were doing anything to stop the forced organ harvesting from Falun Gong practitioners. They said they appreciated the practitioners' efforts to call for an end to the persecution. Both of them signed the petition.