Ms. Jiang Linying Incarcerated 11 Times for Refusing to Give Up Her Faith
(Minghui.org) Ms. Jiang Linying, a Falun Gong practitioner from Shanghai, was arrested on October 31, 2018, at the Changzhou City Train Station. She is being detained in Nanjing City, Jiangsu Province.
Even though Falun Gong practitioners live by the principles of Truthfulness-Compassion-Forbearance and are good people, the Chinese Communist Party (CCP) initiated a brutal persecution of the practice in 1999. Instead of succumbing to CCP pressure and denouncing her faith, however, Ms. Jiang began to tell more people about Falun Gong and the persecution. That led to her being persecuted and incarcerated multiple times.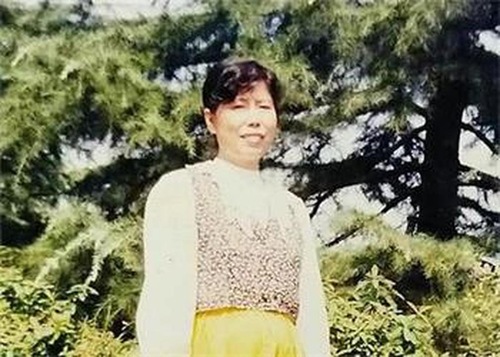 Ms. Jiang Linying
Most Recent Arrest
Representatives from the local police station and the household registration and neighborhood committees went to Ms. Jiang's apartment on October 25, 2018, to warn her not to leave home during the China International Import Expo in Shanghai November 5-10, 2018. They threatened, "If you want to take care of your old mother, stay home, or else go to prison." They were afraid that Ms. Jiang would talk to people about how she had been persecuted.
Her husband's blood pressure was off the charts due to the mounting pressure from the police and he was hospitalized on October 30, 2018. Ms. Jiang left for Changzhou City by train the next day to do paperwork for her former employer. She planned to return the next day to be at the hospital for her husband's surgery on November 1.
Officers from the Baoshan District Sitang Local Police Station called Ms. Jiang's husband at 8 a.m. on November 1, looking for her. Two hours later, they showed up at his hospital ward, but left when they did not find her. They notified him at around 11:00 a.m. that Ms. Jiang had been arrested on October 31 at the train station because she was in possession of a copy of Zhuan Falun, the main book of Falun Gong.
The police ransacked their apartment on November 2 and took two cell phones, an audio system, a laptop, Falun Gong publications, and more than 10,000 yuan in cash.
What Jiang Linying and Her Family Have Endured Since the Persecution Began
Before her most recent arrest, Ms. Jiang had already been incarcerated ten times, for a total of ten years, and tortured repeatedly. At various times she was: injected with drugs to destroy her nervous system, brutally beaten, forced to stand for prolonged periods of time, forced to sit on a small stool in one position for extended periods of time, not allowed to use the toilet, deprived of food, and forced to overeat.
Arrested Twice in 2000
Ms. Jiang went to Beijing to appeal for Falun Gong twice in 2000 and was arrested and detained in the Baoshan District Detention Center in Shanghai both times.
Arrested and Incarcerated in 2001
She was illegally placed under house arrest in the Songhai Hotel twice in 2001. She was then sentenced to three years and six months on September 13, 2001, by the Shanghai City Putuo District Procuratorate. She was incarcerated in the Songjiang District Women's Prison in Shanghai.
Ms. Jiang's family was not notified of her arrest. When her daughter came home from school that day, she saw their apartment door open. She could tell that somebody had rummaged through their apartment. Their neighbors told her that the police had taken her mother away. Ms. Jiang's husband learned, after coming home from his night shift, that his wife had been illegally detained by the Putuo District Police Station and that the police had searched their apartment without a warrant.
After Ms. Jiang's arrest, officers from the Baoshan District Police Station and the National Security Bureau accused both Ms. Jiang's husband and daughter of practicing Falun Gong. The police asked them for names of other Falun Gong practitioners in the area. Her husband told them that neither he nor his daughter practiced Falun Gong and that the police could not arrest someone based on no evidence. The police threatened to arrest them as soon as they did find evidence. To protect his daughter, Ms. Jiang's husband sent her to stay with her grandmother.
2008 Arrest and Forced Labor
Officers from the Sitang District Local Police Station and the Domestic Security Division in the Baoshan Public Security Bureau arrested Ms. Jiang on January 10, 2008 and ransacked her apartment again. The Shanghai Labor Education and Management Committee sent her to the Shanghai Women's Labor Rehabilitation Management Center for a year and three months. She had to do forced labor until after midnight and was not allowed to sleep or eat before she finished her daily work quota.
Her husband was also taken to the police station to record a "confession." The police lied, saying that four people had accused her husband of participating in Falun Gong, and threatened to arrest him, too, if he did not "confess." They held him for three hours, releasing him only after he signed, under pressure, the "confession" drafted by the police.
Arrested and Sent to Prison in 2012
Ms. Jiang was having dinner with her husband at home on February 9, 2012, when more than a dozen officers from the Sitang District Local Police Station and the Zhabei District Domestic Security Division broke into their apartment. They seized Ms. Jiang and ransacked their apartment once again. Ms. Jiang was given a 5-year sentence this time and imprisoned in the Songjiang District Women's Prison in Shanghai.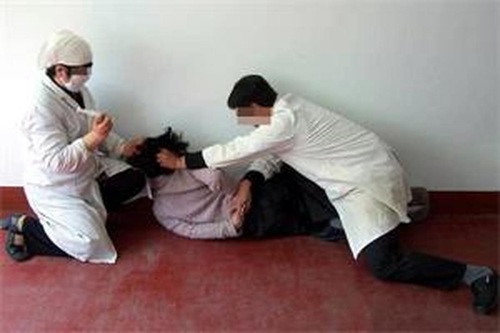 Torture re-enactment: Injected with unknown drugs.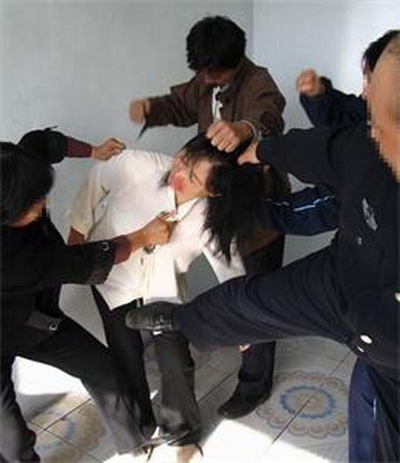 Torture re-enactment: Beating.
Ms. Jiang was monitored by the police and had her freedom restricted even after she was released. Each time she was released, representatives from the Sitang Local Police Station and the neighborhood committee would first take her to report to the head of the Sitang Local Police Station Comprehensive Management Office. The chief would talk to her and tell her husband to keep her home. They always threatened her husband that he would be arrested too if he failed to stop Ms. Jiang from talking to people about Falun Gong. The chief also made sure that the neighborhood committee members monitored Ms. Jiang and reported on her regularly.