Melbourne: Australians Learn About Falun Dafa at Community Events
November 27, 2018 | By Minghui correspondents in Melbourne, Australia
(Minghui.org) Practitioners in Melbourne introduced Falun Dafa at community events at Eltham and Chadston on two Sundays, November 10th and 17th. They also informed local residents of the Chinese communist regime's persecution of Falun Dafa that continues after 19 years.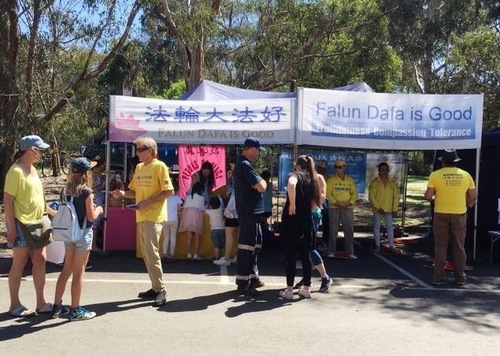 Falun Dafa introduced at Eltham community event.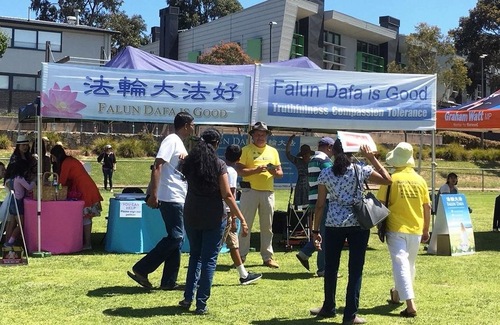 Falun Dafa at the Chadston community event
Eltham: "A beautiful way to start every new day"
Adam Rogasch owns a property renovation business and has practiced martial arts for more than 10 years. On Sunday, November 10, when he accompanied his wife and daughter to the local community event, he noticed people practicing the Falun Dafa exercises.
He said their movements attracted his attention and he wanted to learn more. "I noticed Falun Dafa has some movements similar to martial arts. It also has meditation and spiritual uplifting power."
When he learned the first exercise, "Buddha Showing a Thousand Hands," Mr. Rogasch said he could feel his entire body filling with energy.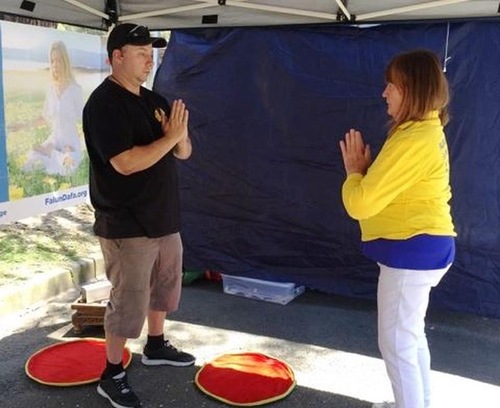 Adam Rogasch learns the Falun Dafa exercises.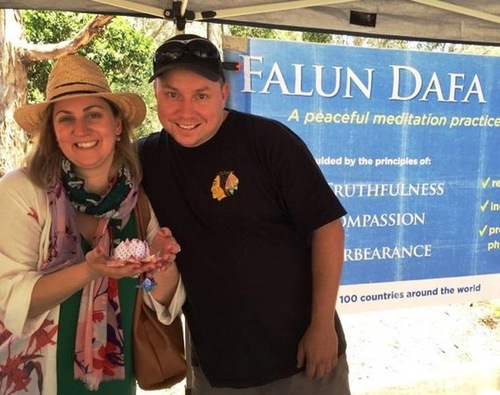 Mr. Rogasch and his wife at the Falun Dafa booth.
Stacey Ackland had practiced Tai Chi for many years and was intrigued by the smooth and graceful Falun Dafa exercises. She said, "I wish to find a soothing and easy-to-learn practice. It will be a beautiful way to start every new day."
When she was told that the peaceful practice is brutally persecuted in China, she immediately signed a petition to condemn the persecution.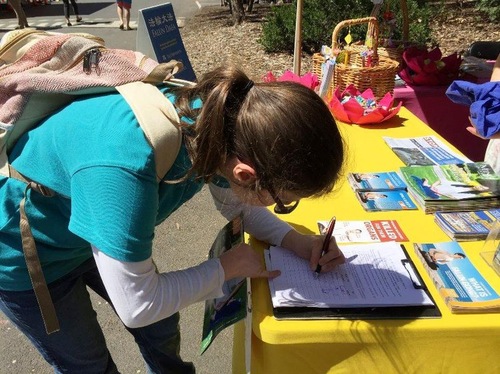 An Eltham resident signs the petition against the persecution.
Chadston: Family Fun Day
Halolo, an information technology engineer, noticed people making paper lotus flowers at the Falun Dafa booth, so he brought his wife and daughter over.
While Halolo watched them learn to make the flowers, he chatted with a practitioner and was told that many schools in India now teach and practice Falun Dafa. He said he is interested in attending a class and learning more about Dafa.
Seta Baleisuva is a local elementary school teacher. She was shocked to learn about the brutal persecution of Falun Dafa in China, including the state-sanctioned killing of practitioners for organs. She asked for petition forms and said that she would collect signatures from her colleagues, friends and neighbors.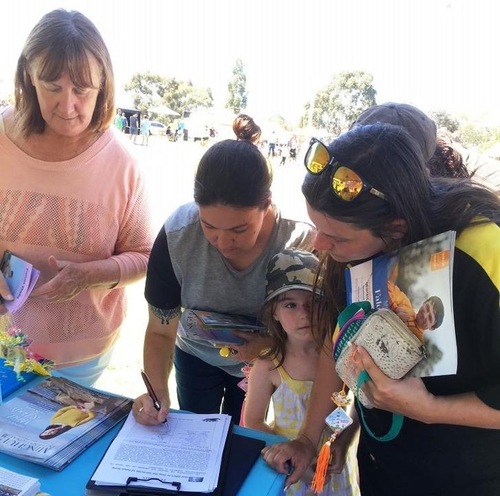 Chadston residents sign the petition condemning the persecution.
Crystal, who moved to Australia from Guangdong Province in China ten years ago, brought her daughter to the Falun Dafa booth to make a lotus flower. She was impressed by practitioners' decades-long efforts to raise awareness of the persecution.
She said she knows very well how evil the communist party is and said, "There are so many reasons that so many people are against the Chinese Communist Party. There is nothing too low that it wouldn't do!"