California: Falun Gong Practitioners Hold Rally Calling For an End to the Persecution
November 21, 2018 | By a Falun Gong practitioner in Los Angeles, CA
(Minghui.org) Falun Gong practitioners held a rally in Barnes Park in Monterey Park City, Los Angeles, on November 11, 2018. The speakers at the rally spoke about the Chinese Communist Party's (CCP) persecution and called on the CCP to immediately release practitioners who are incarcerated in China. Rally participants then held banners along the city's busy streets to raise awareness.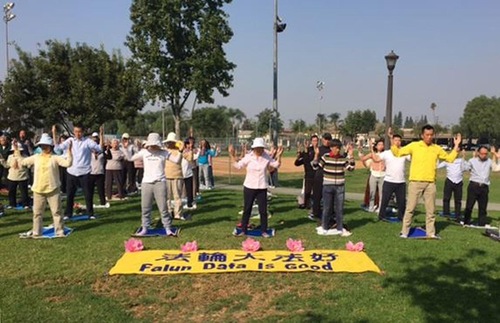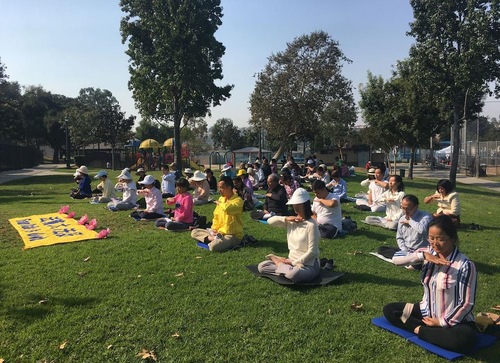 Group practice in Barnes Park in Monterey Park City.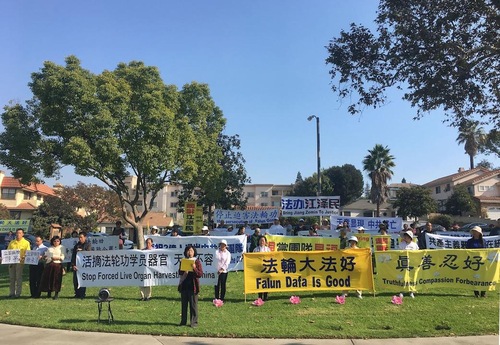 Rally calling for an end to the CCP's persecution.
Speaking at the rally, event organizer Helen Li pointed out that in the first half of this year, the CCP kidnapped 2,392 Falun Gong practitioners and harassed 1,236 practitioners; 131 practitioners were illegally arrested; 71 were sent to forced brainwashing sessions and 17 were forced to leave their homes to avoid the persecution. The homes of 1,091 practitioners were illegally ransacked by authorities, and 244 elderly practitioners (over the age of 65) were kidnapped and harassed–the oldest practitioner that was harassed by authorities is 89 years old.
"Today, we hold this event to speak for the Falun Gong practitioners being persecuted in China, and to expose and stop the persecution," she said.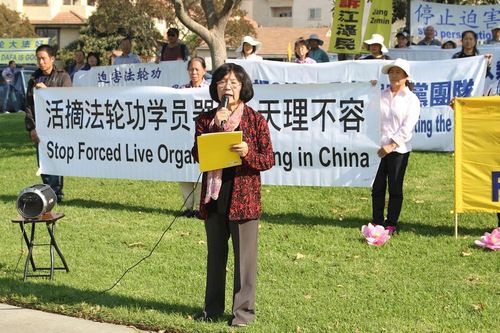 Helen Li speaks at the rally.
Li said that the 19-year-long persecution has already caused many broken families and the CCP recently escalated its persecution through illegal surveillance, increasing the frequency of kidnappings, ransacking homes, illegally arresting practitioners and subjecting them to imprisonment.
Practitioner Haizhen Xia from Shanghai narrated her experience of the CCP's persecution, "I was imprisoned in Shanghai Women's Prison for seven years, just because I practiced Falun Gong. I suffered various forms of torture, such as being deprived of sleep, force-fed while tied to a bed, being cuffed and suspended for 17 days, electric shock torture and brutal beatings."
"I now stand in the land of America with my freedom," Xia said, "But practitioners I know well are still imprisoned. Among them is Chen Ping, who graduated from Harvard University with a Masters degree and was imprisoned in the same prison as me. She was arrested by police a few days ago. Another practitioner Xu Yongqing, an engineer from Shanghai, was sentenced to two years in prison in September this year."
"Today, I call on each kind person with a sense of justice to stand with us and stop the CCP's persecution," Xia said.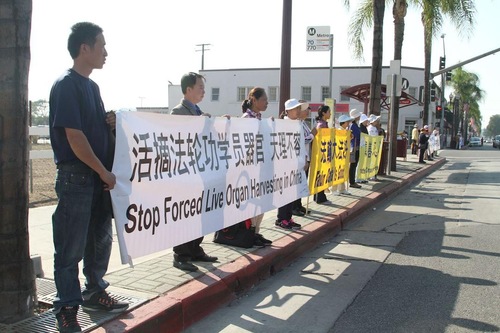 Falun Gong practitioners hold banners on Garvey Ave and Garfield Ave to raise awareness of the persecution.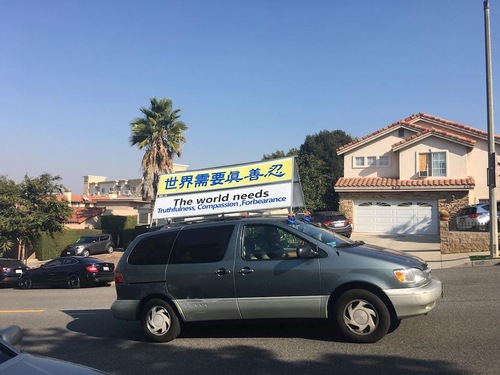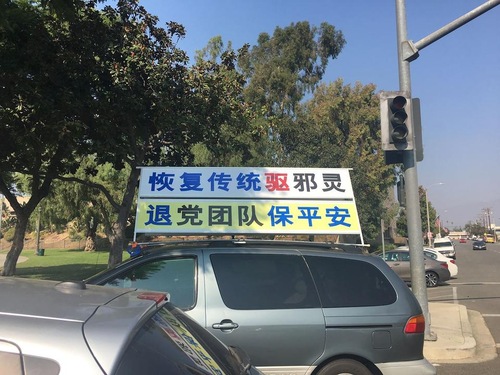 Practitioners arranged seven vehicles with billboards on top to drive through the streets at the same time as the activities.
A Chinese couple viewed the posters with Falun Gong information and banners. The husband said, "We have already quit the CCP and all its affiliated organizations. The CCP has harmed China for so many years, we hope it will collapse soon."
A passerby told a practitioner he felt indignant about the CCP's state-sanctioned live organ harvesting from Falun Gong practitioners. He condemned the CCP and said he believed the live organ harvesting was true, as it was impossible for patients to get matched organs in such a short time. The CCP is too evil and kills people for organs, he said.
Many drivers passing by in vehicles honked their horns to greet practitioners or gave them a thumbs up to express their support.