Nine-Day Falun Dafa Seminar Offered in Toronto
November 17, 2018 | By Minghui correspondent Zhang Yun
(Minghui.org) After the success of the first free nine-day Falun Dafa Seminar in September, another one was held on November 3rd through 11th at the Culture Center in downtown Toronto.
Attendees were grateful for the free instruction of the exercises, and the chance to listen to the English translation of the original lectures given in China by Master Li Hongzhi, the founder of this mind/body practice.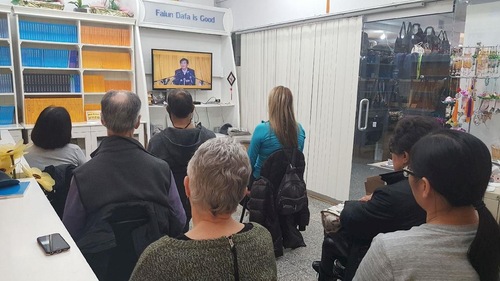 Watching Master Li's lectures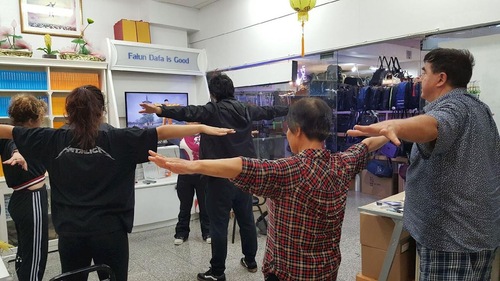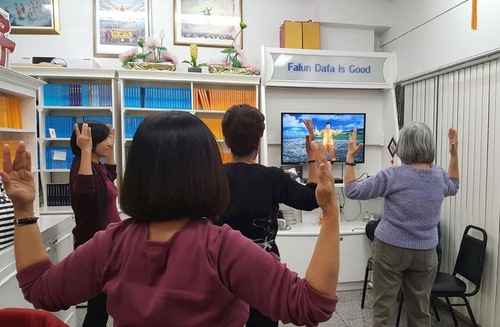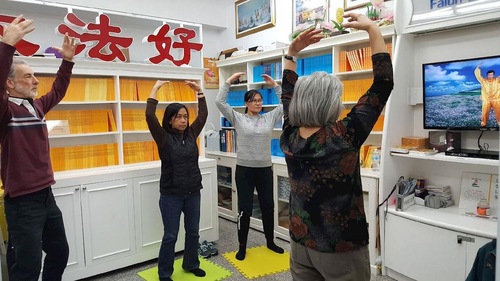 Learning the exercises
Participant Feedback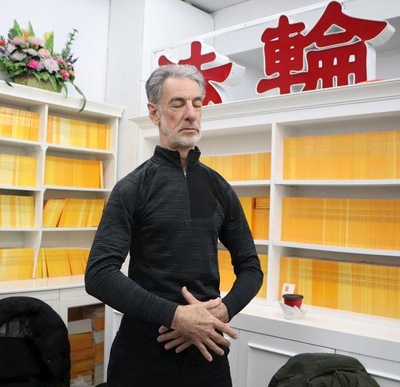 David Donvhe said he learned a lot from the lectures and felt energized by the exercises.
David Donvhe, a chiropractor, could not finish the first workshop, so he returned for the second one.
He said, "After the first two classes, I could feel so much energy. It is just incredible. My mind seems clearer, thinking more about what I am doing and what I am not doing. To me, it all [the teachings] rings very true."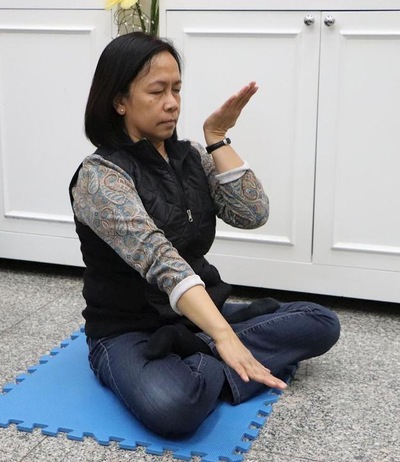 Flordeuz Gelacvo is doing the 5th exercise, a sitting meditation.
Flordeuz Gelacvo attended the seminar every day. She said, "It [Falun Dafa] is good, especially with what is going on in this world. Cultivating the goodness in people will make this world become a better place to live in.
"It [Falun Dafa] is deeply enlightening for me physically and inside (mentally). I am just learning this exercise, but it already really helps me physically. It makes me more flexible. I am also learning how to be a kinder and happier person."
Seventy-five-year-old Cely Mendoza, who immigrated to Canada from the Philippines 40 years ago, learned about the workshop at a Philippine community event.
"This is the first time I am trying an exercise like this. I like it. The volunteers are very patient."
Mendoza said she was touched by Toronto practitioners' efforts to raise awareness about the persecution in China. "I am so sad because this exercise is so good and is helping people. Why does the Chinese government persecute these good people? I will tell everyone this exercise is good. My sister lives far away in Britain, but I will tell her online."
Mila Lualhati, also from the Philippines, said, "I noticed the energy right away. After attending this Falun Dafa seminar, I just hope to be a much, much better person. I learned a lot. Hopefully, we can follow what the Falun Dafa teaches."
Peal Lo, who moved to Canada from China decades ago, had read about Falun Dafa and the persecution.
She said, "For the first few days, I struggled a bit because I am not very flexible. Now, this is the eighth day, and you can see that it's already much easier for me. Before I retired, I did not have time to do this kind of exercise because I was very serious about my job, and worked from morning till night. But now I have the time to do the things I want to do. I will tell people that 'Falun Dafa is good.'
"I really enjoyed the seminar," she added. "The volunteers are very patient and attentive. It is a happy atmosphere here."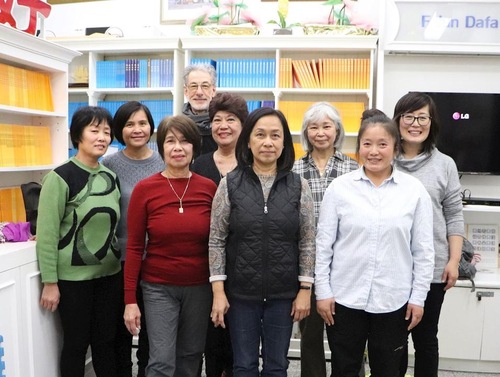 Some of the attendees and the volunteers: Cely Mendoza (front row left 1 in red); Peal Lo (rear row; right 2)