Taiwan: Falun Dafa Showcased in National Taiwan University's 90th Anniversary Celebration Parade
November 16, 2018 | By a Minghui correspondent
(Minghui.org) Falun Dafa practitioners participated in National Taiwan University's 90th Anniversary celebrations on November 10, 2018. The Falun Dafa entry consisted of the Tian Guo Marching Band, a fairy dance group, and practitioners demonstrating the exercises and displaying banners.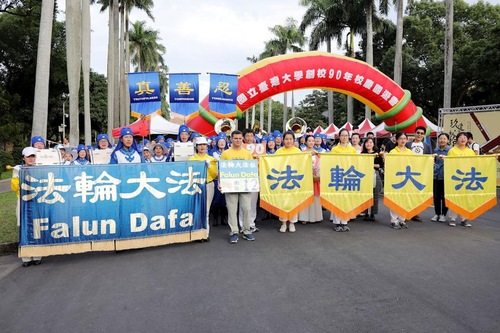 Practitioners participate in National Taiwan University's 90th Anniversary celebrations.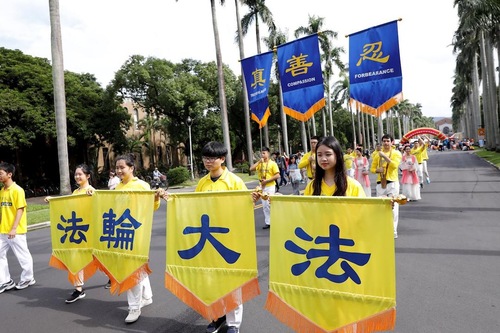 Falun Dafa banner leads the practitioners' entry.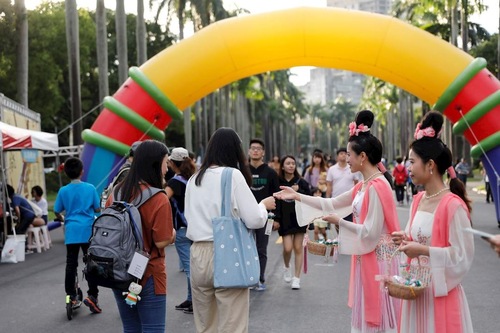 Distributing lotus flowers to spectators.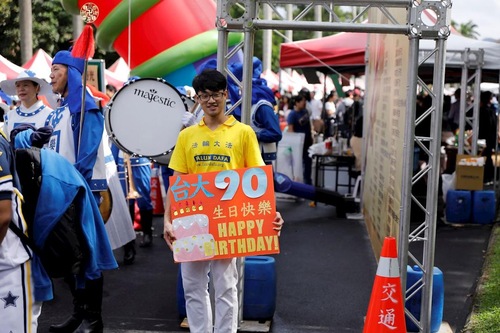 A practitioner holds a poster during the celebration.
Professor Chang Chin-hua, director of the Taiwan Falun Dafa Association, said that the university's Falun Dafa Club recently held a nine-day workshop on campus. It also held seminars to introduce Shen Yun Performing Arts and promote traditional Chinese culture.
The Falun Dafa Club at Tainan University was established in January 2000, the first of its kind at a Taiwan university. The student and faculty members can be found in a variety of majors: finance, law, engineering, language, biology, political science, among others. One member is an Argentine student studying Chinese at the university's Language Center.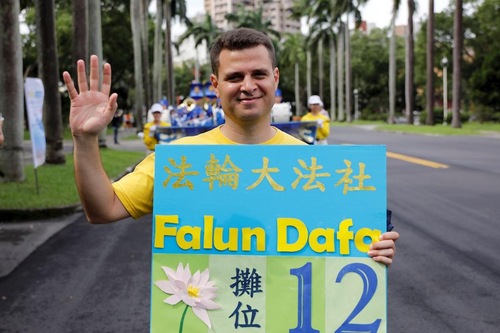 Andres Auzunbud from Argentina.
Andres said, "In 2005, I learned about Falun Dafa at a book fair held in Buenos Aires. After I returned home, I downloaded Zhuan Falun from the website I found on a leaflet.
"I was really interested in the principles mentioned in the book. Later, I contacted practitioners in Argentina to learn the exercises and then I started to practice," he explained.
Andres continued, "After I began to practice Falun Dafa, I became more interested in Chinese traditional culture and cultivation. I decided to come to Taiwan to learn Chinese and participate in activities organized by the university's Falun Dafa Association. I am very happy to be a part of the parade."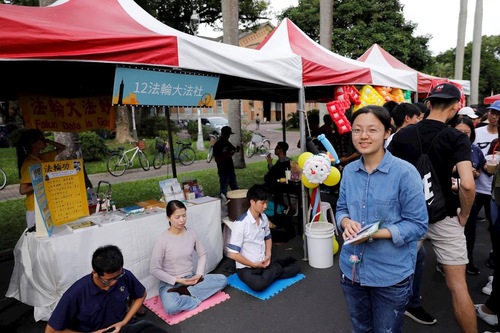 Yuan He-hsin from the Law Department.
Ms. Yuan He-hsin from the university's Law Department said, "Many universities in Taiwan have Falun Dafa clubs. Professors and students practice the exercises in the mornings and have group Fa study in the evenings."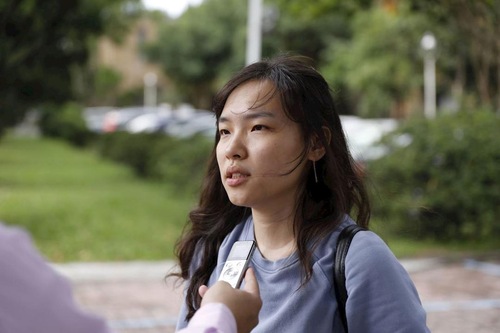 Chang Hsuan-ling said she hopes to end the CCP's persecution and help more people know the facts.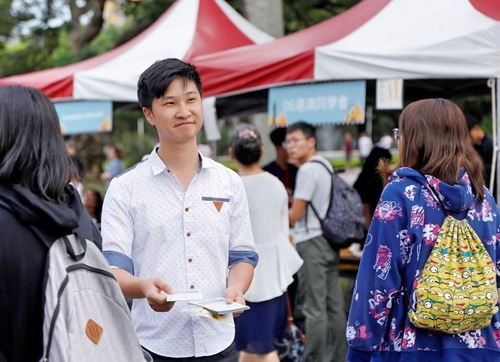 Chung Hsian-yu from the Ministry of Foreign Affairs returned to the university he graduated from to participate in the parade and to tell people that Falun Dafa is good.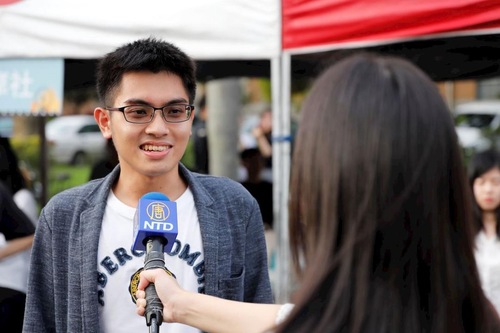 Chuo Ting-wei, a Master's student from the Translation Institute, said that he became open-minded, happy and confident after practicing Falun Dafa
Chuo said, "Besides participating in the parade, this semester we will let people know about the Chinese Communist Party's state-sanctioned live organ harvesting from Falun Dafa practitioners in China. We plan to hold a photo exhibition and screen documentary films to inform people about the egregious persecution in China."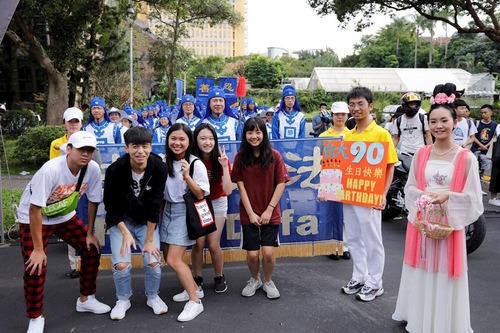 National Taiwan University students with members of the Tian Guo Marching Band and the dance group.