Practitioner Deng Chenglian Arrested, Unduly Tortured
November 10, 2018 | By a Minghui correspondent in Shanghai, China
(Minghui.org) Falun Gong practitioner Mr. Deng Chenglian in Shanghai was arrested by officers from Minghang District Police Department and Hongqiao Police Station. His family members asked the people in their village to help by signing a petition calling for Mr. Deng's release. Everyone signed the petition.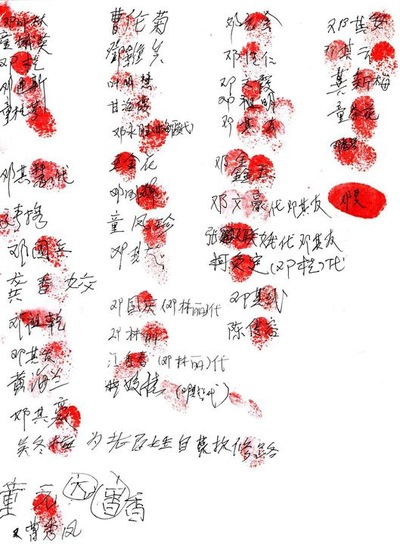 Villagers' petition signatures
When the police arrested Mr. Deng on March 23, 2018, they didn't show any identification or a warrant. They seized his personal property and took him to the police station, where he was interrogated for a whole day yet not given any food or even water.
The police later took him to a detention center, where he was handcuffed and shackled. Mr. Deng went on a hunger strike to protest his arrest and maltreatment.
He was taken to Shanghai Prison Hospital on March 30. He was tied down on the "death bed" for 11 days.
His arrest was approved on April 27 and his file was given to the court for processing.
In June, a guard and a helper pushed Mr. Deng to the ground and shaved his head to humiliate him. He was cuffed and shackled for 15 days.
When Mr. Deng went on another hunger strike, he was involuntarily induced to urinate, which caused a urinary tract infection. The detention center tied him to a bed for a month.
He was taken to Shanghai Hospital again on July 3 and tied to the death bed for 17 days. He was force-fed through a tube, which was inserted through his nose and pushed down to his stomach. He also developed a festering bedsore on his back from lying in bed for extended periods of time.
Mr. Deng told the officials of the detention center on September 3, 2018, that he was too weak to do guard duty in the evenings. For this, he was punished and put in solitary confinement. He went on a hunger strike again. He was kept in solitary confinement from September 4th through the 17th.
Mr. Deng was born in Qichun County, Hubei Province, in 1971. He went to Shanghai where he ran a successful company. He helped people in his hometown by donating money to develop roads, and he frequently provided emergency relief to poor families. The villagers all wanted to help when they heard that he had been illegally arrested.