Switzerland: Parade in Zurich Raises Awareness of Falun Gong Persecution in China
October 07, 2018 | By a Falun Gong practitioner
(Minghui.org) The European Tian Guo Marching Band led a procession through downtown Zurich, Switzerland, on October 5, 2018, to help raise awareness of the Chinese Communist Party's (CCP) persecution of Falun Gong and call for help to stop the CCP's state-sanctioned forced organ harvesting from Falun Gong practitioners.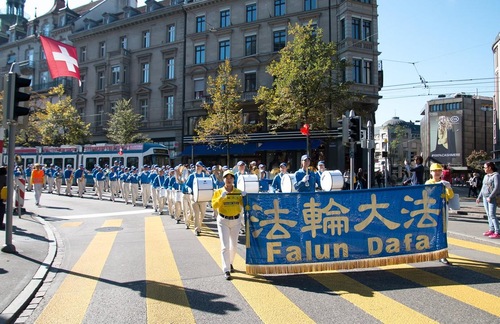 Falun Gong practitioners' parade in Zurich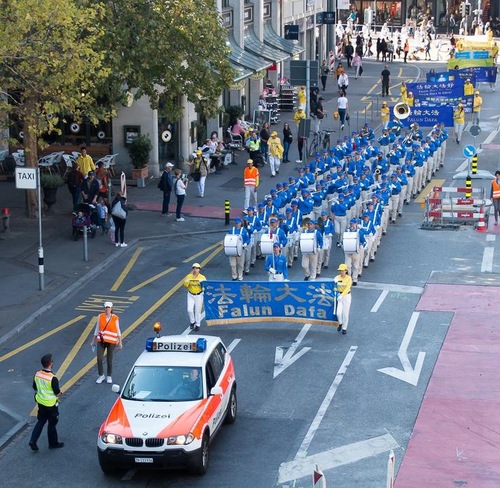 A police van leads the procession.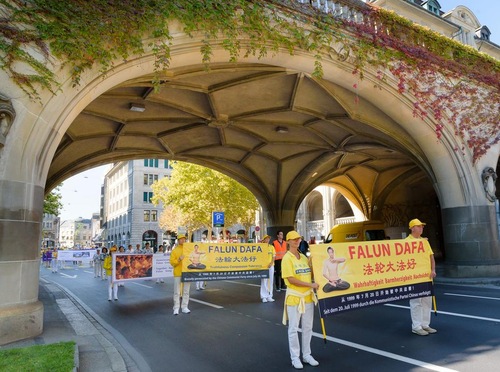 Falun Gong banners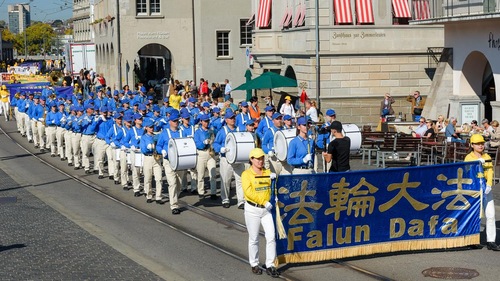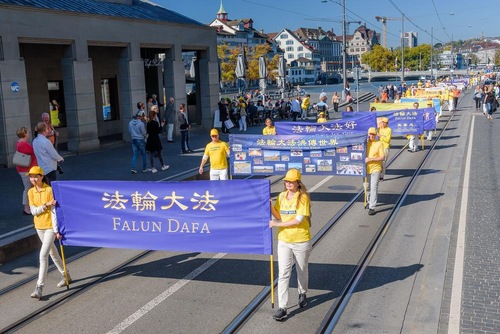 Beside the Limmat River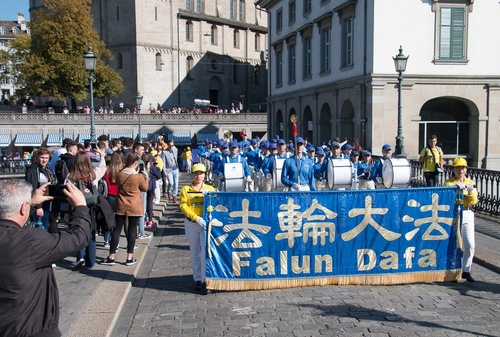 Spectators taking photos
The procession began at Helvetiaplatz, made its way through the downtown area, and ended up at Stadthausanlage. Many spectators took photos and read flyers to learn more about Falun Gong.
Spiritual Advisor: Falun Gong Is Full of Hope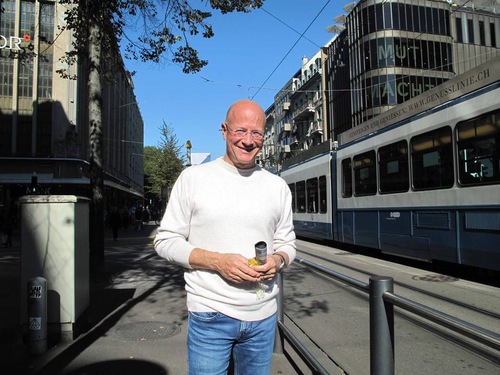 Richard Casanova
Richard Casanova, a spiritual advisor, already knew about Falun Gong from the news. He said, "When the ladies in white passed by [holding photos of practitioners who have died as a result of the persecution], my heart was moved. It was so touching. When a person who works hard with their whole heart passes by, I can feel it. And I have this feeling today."
Casanova opposed the CCP's persecution of Falun Gong and praised the practitioners' efforts to end it. He said, "I believe that everyone has the right to choose his own belief. But in China, freedom of thought and freedom of belief are regarded as 'dangerous' by the CCP due to its paranoia."
Casanova said he thought that it was a disgrace that the international community has not condemned the persecution.
A Way to Let People Know about the Persecution
After the parade passed by, James, a student in the Department of Economics at the University of Zurich, read the flyer in his hands. He said, "That was fascinating, the music especially. More people know about Falun Gong now.
"I think Falun Gong must be very good when I see that so many people are willing to participate and tell others what is happening."
He said it was was the first time he'd ever heard about Falun Gong but that he felt the principles of Truthfulness-Compassion-Forbearance were good and everyone should follow them.
He was upset to hear that the practitioners were being persecuted just because of their belief, and appalled to learn about the CCP's live organ harvesting, "That is pure evil. It's illegal and shouldn't be happening at all. No one should be treated like that. People should work together to stop it."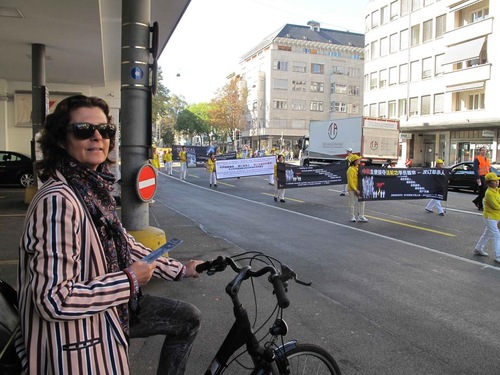 Reporter Nicole
When the procession passed by a media outlet, Nicole, a reporter, was on her way out the door. Pausing to read the banners, she said she had heard of Falun Gong before and supported the practitioners' efforts to end the persecution. She said, "This is an important issue and a good way to get the information out there."
"Live Organ Harvesting Should Not Be Tolerated"
Seated outside a cafe, Murat and Dardan watched the parade and read the flyers. Murat said, "So many different nationalities. That's very good. But it is very sad to find out what is behind this. I am indignant to learn that people are being persecuted. The perpetrators should be suppressed."
In reference to the CCP's live organ harvesting, Dardan said, "We read that people were killed after their organs were removed and can't imagine that such a thing could be happening today. That is killing and should not happen. It should not be tolerated. It must be stopped. This is terrible."
Passersby expressed their admiration for the peaceful march, commenting that it was a good way get more people to pay attention to the persecution in China.