San Francisco: "I Feel Relaxed and Energized" After Attending a Falun Dafa Exercise Instruction Workshop
October 07, 2018 | By a Minghui correspondent in the San Francisco Bay Area
(Minghui.org) "This is what I've been looking for!" a woman named Balvir said. The medical technician had just attended a Falun Dafa exercise instruction Workshop, which was held on September 30, 2018, in the Union City Library, in the San Francisco Bay area.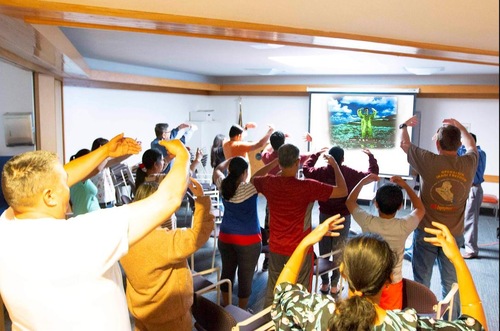 Learning to do the Falun Dafa exercises
"I like this exercise teaching workshop!" Balvir said as she put her hands on both sides of her ears. She said that she could feel heat in her hands and head while she did the second exercise, Holding the Wheel.
"I feel energized and relaxed. I was in high spirits after doing the exercises," she added.
Balvir saw information about the workshop on the Internet. "It's my first time to practice. I like it very much. I'm looking forward to attending the next workshop."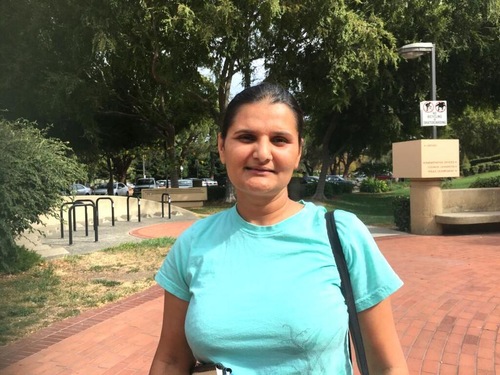 Balvir said that she felt energized after doing the Falun Dafa exercises.
She said, "People in Silicon Valley have a fast pace of life and high work pressure. They are either ill or experiencing family problems. So, this practice is very good and can relieve stress."
Balvir said that she will download the main book of Falun Dafa, Zhuan Falun from the Internet and visit the practice site in Fremont.
This was the seventh Falun Dafa exercise instruction workshop held by practitioners in Union City and Fremont. News of the workshops has been passed on by word of mouth, and an increasing number of people are interested in learning. More than 30 people attended the workshop in Union City that afternoon.
Attendees Eager to Learn Falun Dafa
Jayesh and his friends were waiting outside the library before the doors opened. Although this was the first time that Jayesh did the Falun Dafa exercises, he could double-cross his legs while doing the fifth exercise. He said, "This practice I learned today makes me feel comfortable. I also feel relaxed, both physically and mentally. Very good."
Ms. Chen, from China, said she likes Falun Dafa. She called very early saying she wanted to learn the exercises. She said that she planned to watch the online video instruction to keep learning the exercises after returning home. She said, "I've been reading the Falun Dafa books, but I didn't know where to learn."
A man from China said that he had learned the Falun Dafa exercises and that he was mainly bringing his son to learn this time. He said, "This practice is very good. It can improve a person's mind and body, so I brought my son to learn."
Another overseas Chinese from Southeast Asia said that after returning home, she planned to teach her father, mother, and children to practice.
Mario seriously focused on learning the movements. He said that when he drove to the library, his calves were very painful. After he finished doing the exercises, he felt much better and said that the pain had lessened, "I really like this workshop. My legs are much better. I feel good now. Thank you."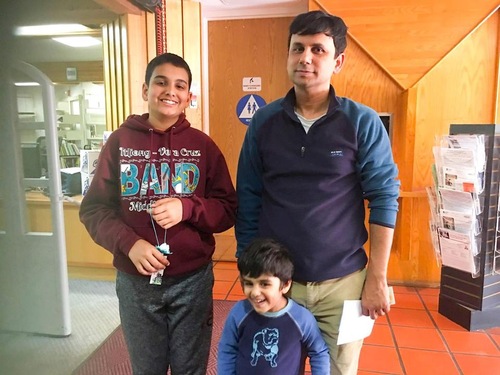 Shailesh and his sons learn the Falun Dafa exercises.
Shailesh originally had something else scheduled that day, but when he heard about the Falun Dafa workshop, he came and brought his family. He said, "I don't want to miss the opportunity to learn. I feel relaxed and calm. I also feel that there is not so much pressure. This is a very good practice."
The people who attended the workshops said that they felt good afterward and wanted to participate in the next workshop and experience it again. Two library administrators also came and learned the exercises. Some people sent text messages to the practitioners who were conducting the workshops saying that they missed the workshop that day and asked when the next one would be held.