German Unity Day: "Peace and Kindness Like This Are Important to All of Us"
October 05, 2018 | By a Minghui correspondent in Munich, Germany
(Minghui.org) Falun Dafa practitioners brought the Tian Guo Marching Band to the German Unity Day celebration on October 3, 2018, in Munich, Germany. Coinciding with Oktoberfest 2018, the performances at the city center drew the attention of both local residents and tourists.
The activities included a march and two rallies, one at Marienplatz and another at Max-Joseph-Platz, a large square adjacent to Munich Residenz and the historic Opera House. People were glad to hear about this ancient meditation practice, and many signed petitions calling to stop the persecution in China.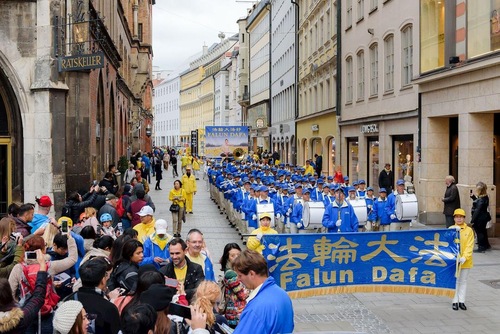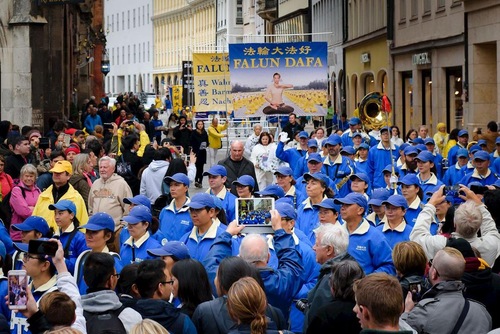 March by Falun Dafa practitioners in Munich city center on October 3, 2018.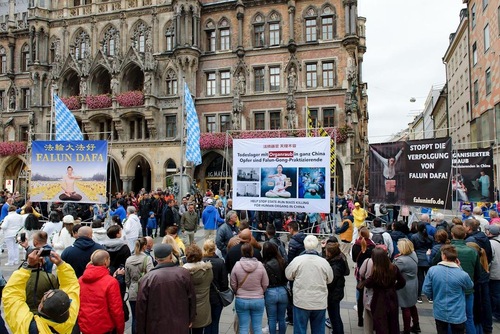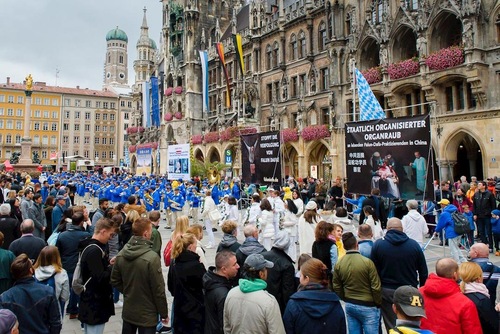 Practitioners arrive at Marienplatz, the main square in Munich for centuries.
Bringing Back Tradition
Kesina is from East Germany and she currently lives in Munich. After reading information on the posters and banners at Marienplatz, she was shocked by the brutality of the persecution in China.
"I thought I already knew about the disasters that communism has caused to society, but I cannot imagine things like forced organ harvesting could happen," she said, "Today we are here celebrating German Unity Day and the Berlin Wall already came down in 1989. I think more people in Munich and all over Germany need to know about this."
She expected more coverage of this in the news media. "This is what communism does—when you do not listen to it, it will suppress you and put you in prison," she continued. She said that people who live in communist societies are not respected, as they have no freedom of belief or speech.
She said the principles of Falun Dafa, Truthfulness-Compassion-Forbearance, help people return to tradition. "Peace and kindness like this are important to all of us. They will help us to combat the evilness," she added.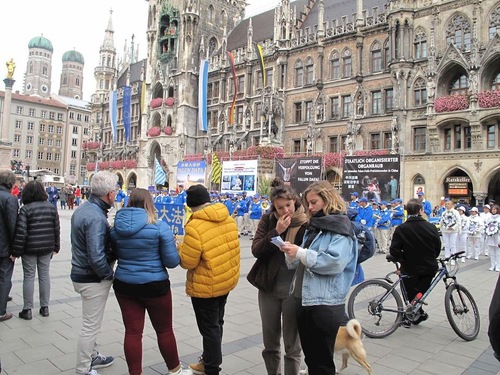 Passersby stop to learn information about Falun Dafa.
"I Will Join Your March"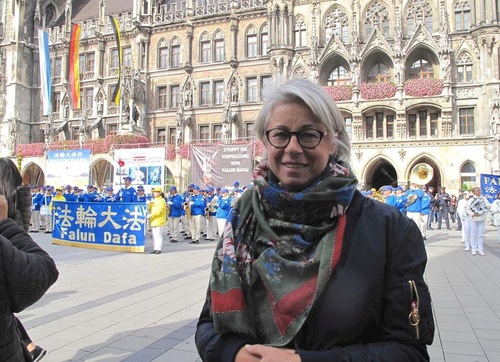 Helga from Zurich, Switzerland, says the event sends an important message to the public.
Helga was born in Bavaria and she currently lives in Zurich, Switzerland. Although this was the first time hearing about Falun Dafa, she felt sad for the ongoing tragedy of the persecution in China.
"We have suffered from the horror brought about by the Nazi's in the 1930s. It is absurd for something like this to continue today in the 21st century. Innocent people are being suppressed for their belief. I am glad that events like this can raise awareness of it."
Impressed by the strong energy from the exercise demonstration and the performance of the Tian Guo Marching Band, Kesina said that these activities were well organized. She expressed hope that more people will pay attention to it. Upon hearing a similar event was scheduled in Zurich two days later, she was very excited, "I will join your march and in telling others this important information."
Justice and Human Rights
Four young artists stopped and asked for more information. One of them, Maser Johnsen, was shocked by the abuse against Falun Dafa practitioners. "I have a friend from Xinjiang and he told me many stories about organ harvesting. I will go back and read more about it," he remarked and signed a petition.
Another artist Jawad Rajpoot said that basic human rights should be protected, "No one and no government has the right to kill you for your organs. The most terrible thing is that the organ harvesting in China is backed by the government. We have no choice but to step forward for justice and human rights."