March in Prague Raises Awareness of Persecution in China
October 05, 2018 | By Minghui correspondents De Xiang and Rong Fa
(Minghui.org) The ancient "King's Path" (Královská cesta) welcomed a new procession on September 29. Over 1,000 Falun Gong practitioners from 30 countries marched on this route across from the historical center of Prague to raise awareness of Falun Gong and the persecution in China.
The first coronation celebrations incorporating this path was in the 1400's for Albert the Magnanimous, King of Hungary and Croatia. Since then, many central European kings traveled on the "King's path" to their coronation at the St. Vitus Cathedral at the end of the path. Today it is a major tourism route in Prague.
The march coincided with the St. Wenceslas Day (Czech Statehood Day on September 28) activities. Many tourists and locals saw the march.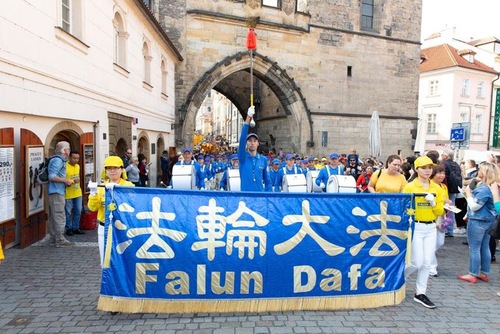 Falun Gong practitioners' march procession at old town Prague.
Dragon dance of Falun Gong practitioners.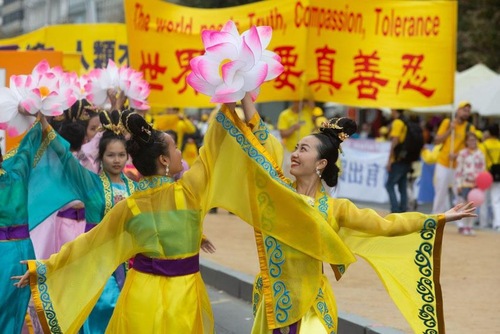 The fairy lady procession.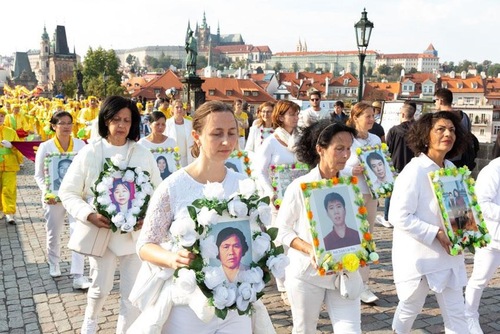 In memory of the Falun Gong practitioners who died in the persecution in China.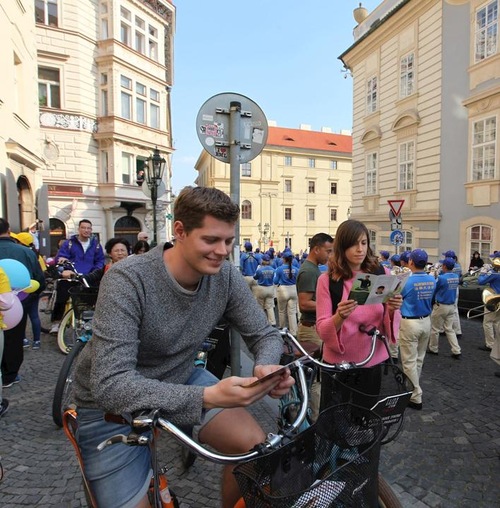 Spectators read Falun Gong flyers.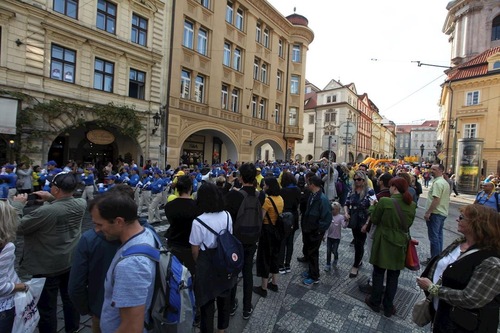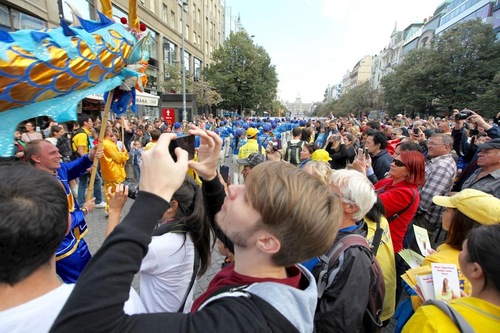 Many people at the march in Prague on September 29.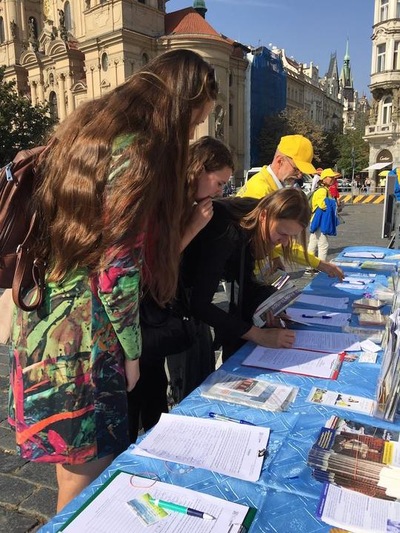 Passersby signed the petition calling for an end to the persecution of Falun Gong in China.
"I support this March"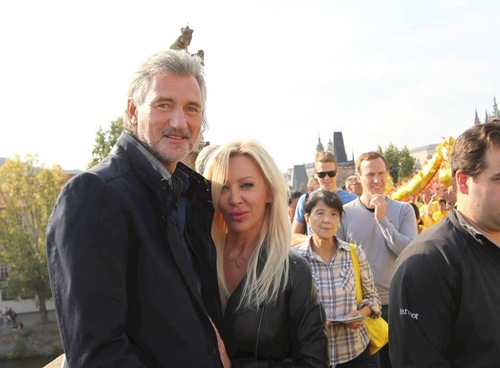 Helmut Berger from Austria and Nora Dukesowa from Prague.
Helmut Berger, a tourist from Austria, read a Falun Gong flyer. He said that he understood the purpose of the march. "I agree with this (Falun Gong) spreading across the world. This is amazing." He also commented that the march was very peaceful.
Nora Dukesowa is a local who runs a beauty salon. She used a translation application on her mobile phone and showed the English version of her opinion: "I support this march. I know the Chinese regime does wrong things. This is not right."
"This is killing and it must end"
Lucas is a university student in Prague, majoring in computer science. He said he was glad to have an opportunity to learn about Falun Gong, "So many people are doing the exercises and marching here today. They are so passionate. I have never seen so many people in a march, and the message is very clear. I have obtained some basic information. I may not have been able to know about Falun Gong if I hadn't seen this march."
Lucas signed the petition against forced organ harvesting in China. "I hope my signature can help stop this from happening, can help people to live free of fear, and can help people have freedom of belief. I am very happy to do so.
"I just learned about the Chinese regime's forced organ harvesting of Falun Gong practitioners. This is horrific. It is killing, and the most horrible thing, it must end! It's very good to raise awareness and inform more people about this."
He said he would share the information about the persecution with his friends.
University students Lucas and Kate.
"It's time to speak out for freedom of belief"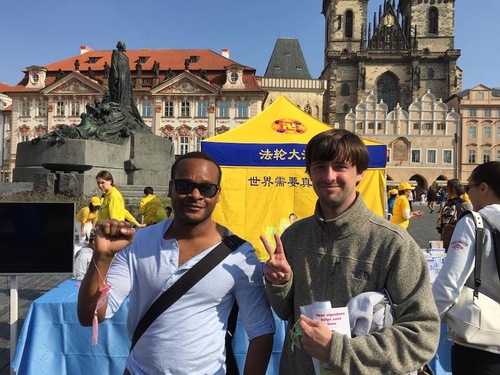 Jon (left) and Will, tourists from America.
Will and Jon from America were traveling in Prague. Will said that his mentor had tried Falun Gong. "I hope to use what's in my power to protect anyone who's subjected to violence."
He added, "I heard about the persecution of Falun Gong in China many years ago. I think it is time to speak out. Signing the petition is fighting for freedom of belief! This is the first thing." He said that the forced organ harvesting was a new issue he learned about. "I think it's important for people to know about this and help end it."
"I think the human body is priceless. Nobody should kill others and sell their organs. This is so terrible! I'm very sad to learn about this. I hope my signature can help end this violence and violence around the world," echoed Jon.