Hebei Woman Sentenced to 3.5 Years, Forced to Waive Right to Have Case Reconsidered
October 30, 2018 | By a Minghui correspondent in Hebei Province
(Minghui.org) A Kangbao County resident was forced to sign a document to waive her right to file a motion to reconsider her case, after the local appeals court ruled to uphold her prison sentence for distributing calendars bearing messages about Falun Gong.
Ms. Qian Fenglin's whole family benefited greatly by following Falun Gong's principles of Truthfulness-Compassion-Forbearance to conduct themselves. She also credits the mind-body practice for enabling her daughter to improve her grades and get admitted to graduate school.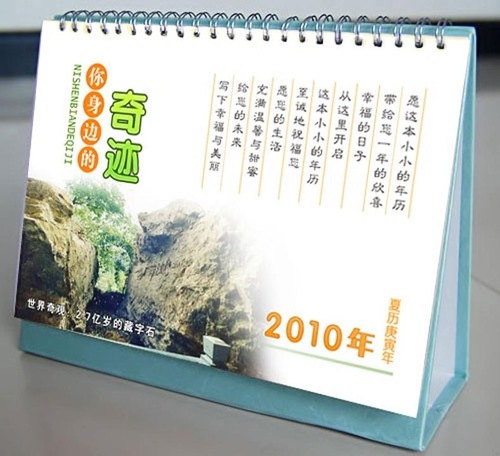 A desk calendar distributed by Falun Gong practitioners in China.
Having had firsthand experience with Falun Gong, Ms. Qian was determined to tell people that it should never have been persecuted by the Chinese communist regime.
She was arrested on January 4, 2018 while handing out calendars with content related to Falun Gong. Four police officers punched and kicked her. They also forcibly took her blood sample and collected her fingerprint. Later that day, she was handcuffed and sent to the Shisanli Detention Center. Her home was ransacked by police, with her Falun Gong materials confiscated.
A hearing against Ms. Qian was held on March 28. Her lawyer from Beijing entered a not guilty plea for her, as no law in China criminalizes Falun Gong. The lawyer also argued that his client should never have been arrested for exercising her constitutional right to freedom of belief.
Zhang Zhenbin, the presiding judge, interrupted the attorney many times, especially when the latter mentioned the Constitution in his defense argument.
A staff member from Kangbao County Court showed up at the detention center on July 11 to inform Ms. Qian that she had been sentenced to 3.5 years and fined 10,000 yuan.
Ms. Qian appealed to the ZhangJiakou Intermediate Court. Her daughter and relatives also contacted the court officials many times asking for her acquittal, but they did not receive any response.
Without notifying Ms. Qian's attorney or family members, a group of officials from both the trial court and the appeals court went to the detention center on October 19 to tell her that her appeal has been rejected. They forced her to sign a document to waive her right to file a motion to reconsider her case.
By law, those whose appeals have been rejected have the legal right to file a motion to have their cases reconsidered.
Ms. Qian has gone on a hunger strike in protest.
Key Responsible Personnel:
Guo Lifu: Director of Kangbao County Court, +86-17703133408Zhang Zhenbin: presiding judge at Kangbao County Court, +86-15933036988, +86-17703137966Wang Jing: Zhangjiakou Intermediate Court, +86-313-2055901.Address: 29 Jianguo Road, Qiaodong District, Zhangjiakou City, Hebei Province, 075100
Related Articles in Chinese: