Falun Gong in Bowral Tulip Time Street Parade in Australia
October 03, 2018 | By Hua Qing, Minghui correspondent in Australia
(Minghui.org) The Tulip Time Festival in Bowral, Australia, attracts thousands of flower lovers and tourists every year. Falun Gong practitioners have been invited to join the festival's annual street parade for many years and are always warmly received.
This year, the street parade was held on Saturday, Sept. 22, 2018, during the first month of spring.
The Falun Gong practitioners' colorful banners and bright yellow jackets stood out. Some of their banners read, "Falun Dafa Is Good" and "The World Needs Truth Compassion Tolerance." They also distributed fliers to the spectators along the parade route.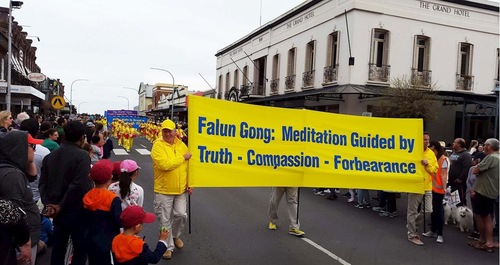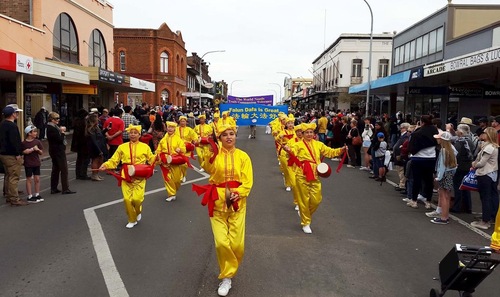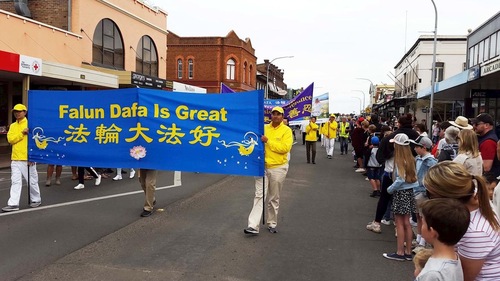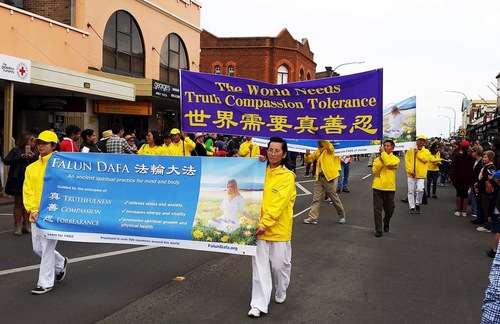 Falun Gong practitioners at the Bowral Tulip Time Street Parade
The waist drum troupe, made up of female Falun Gong practitioners in yellow satin suits with red waist drums, was a highlight of the parade.
Mr. Mani Shrestha, a musician originally from Nepal, said that this was his first time at the parade, and he was really enjoying it, "Especially the Falun Gong group–I really like their drum music. I like it so much.
"I come from Nepal, which has some similarities to Chinese culture," he said. "I can understand the meaning and energy in their drum beats. I'm a musician myself. I feel their drum beats are beautiful and relaxing."
Mr. Shrestha took a pamphlet about Falun Gong and said that he wanted to learn more about the practice.
As the Falun Gong practitioners passed in front of the main stage, the host told the crowd that Falun Gong was an ancient cultivation practice which follows the principles of Truthfulness-Compassion-Forbearance and has spread to more than 100 countries around the world.
Many spectators were seen giving the practitioners in the procession a thumbs-up. Some could also be heard shouting praise, such as "Great job!" and "You guys are amazing!"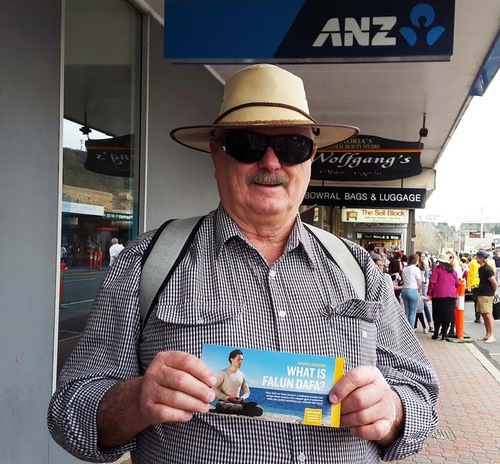 Mr. John Tuneriete
Spectator John Tuneriete said, "Their performance was natural and beautiful, and the traditional music was touching and heart-shaking. Their colors are bright and pretty. I appreciate Falun Gong for bringing this beautiful audio and visual entertainment. I will certainly find out more about Falun Gong."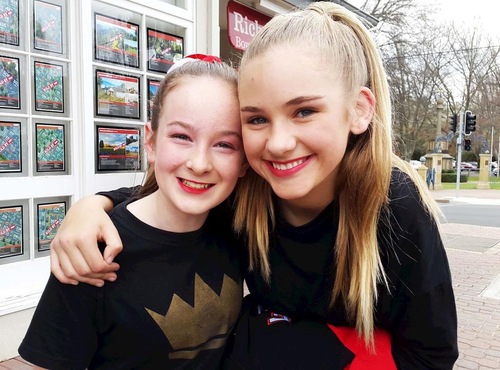 Jordan and Abby were amazed by the Falun Gong drum dance and praised it as "surprisingly beautiful"
A woman approached one of the Falun Gong practitioners from the parade and told her, "I have heard about the persecution of Falun Gong. The Chinese Communist Party is terrible. It's great that you are stepping out to show the beauty of Falun Gong. Thank you for telling us about it."
Bowral, about 70 miles south of Sydney, is the largest town in the Southern Highlands of New South Wales and is said to have the largest tulip garden in the world.