Chisinau Day in Moldova: Introducing Falun Gong and Raising Awareness of the Persecution in China
October 28, 2018 | By practitioners in Moldova and Romania
(Minghui.org) Falun Gong practitioners from the Republic of Moldova and Romania held a series of events in Chisinau, the capital of Moldova, on October 12-14, 2018, to draw public attention to the persecution of this spiritual practice in China.
Practitioners held a peaceful protest in front of the Chinese Embassy in Moldova on October 12. In the afternoon, they demonstrated the exercises, distributed informative materials, and made paper lotus flowers with parents and their children in Afghan Park in the Riscani area. Many people stopped to sign the petition, make a lotus flower, or learn the Falun Gong exercises.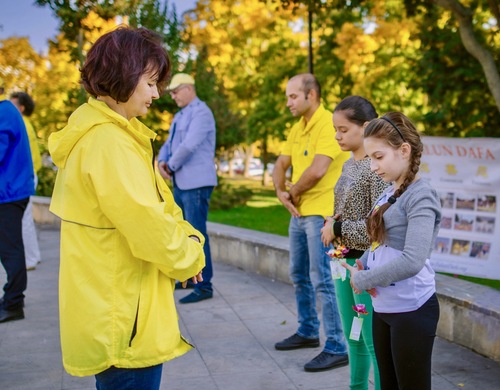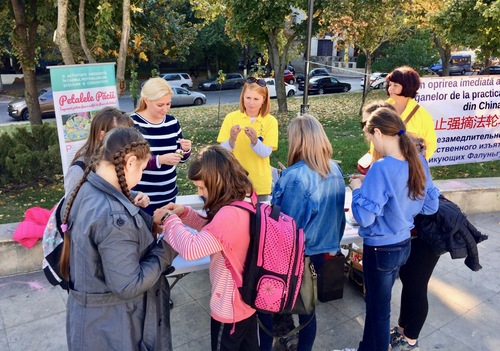 A young woman asked where she could learn the Falun Gong exercises. A mother and a child, moved by the Petals of Peace project and the story of Fadu, a Chinese girl who lost her father in the persecution, condemned the persecution in China. She repeatedly expressed her admiration for the beautiful paper flowers.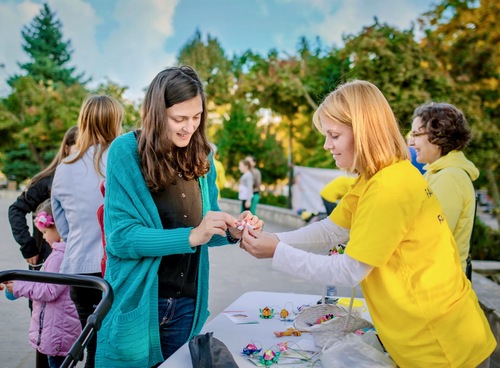 Two students from Ştefan cel Mare High School stayed with the practitioners throughout the event. They made many flowers and learned the exercises.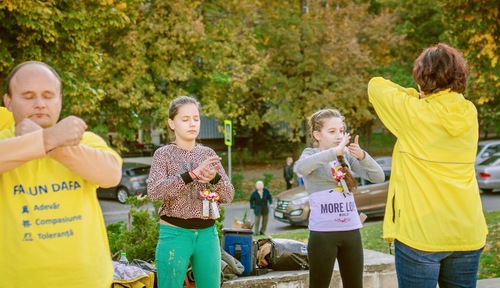 The girls said that the exercise music and movements were very relaxing and that they planned to tell their teacher and parents about the practice. Two other girls, who had had a conflict with some male classmates, said they would give the boys lotus flowers to "awaken their conscience."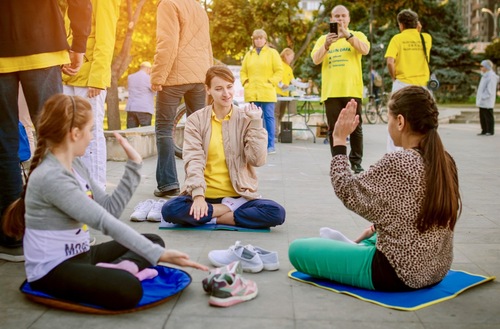 On Saturday, October 13, the practitioners demonstrated the exercises and told the public about Falun Gong in Central Park at the Great National Assembly Square.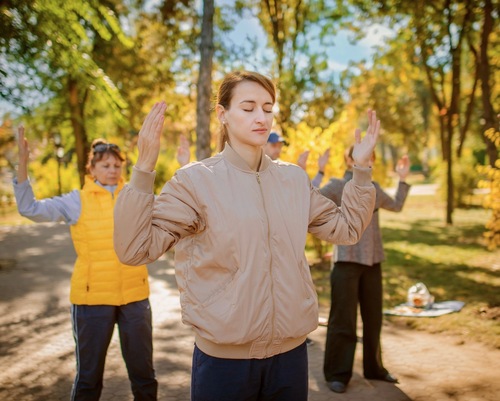 Demonstrating the second of five Falun Gong exercises
Demonstrating the fifth exercise (sitting meditation)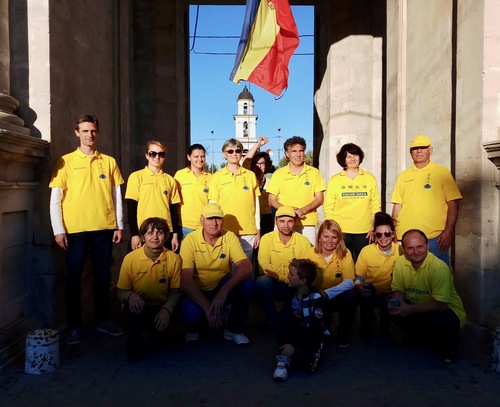 Falun Dafa practitioners from Moldova and Romania pose for a group photo as a reminder of their historic time spent together in their joint peacemaking effort.
A woman who signed the petition calling for the prosecution of Jiang Zemin (former Chinese dictator who launched the persecution of Falun Gong) encouraged the practitioners to continue their initiative to support those who are being persecuted and murdered by the communist regime in China for refusing to renounce their belief.
On Sunday, a Chisinau holiday, practitioners held activities in Stefan cel Mare Central Park. The good weather and celebratory activities in the center of Chisinau brought out many residents and visitors, who had the opportunity to get acquainted with the practice of Falun Gong, learn about the persecution, and sign a petition. Many people who stopped at the table were attracted by the lotus flowers that practitioners and their children made as part of the Petals of Peace project.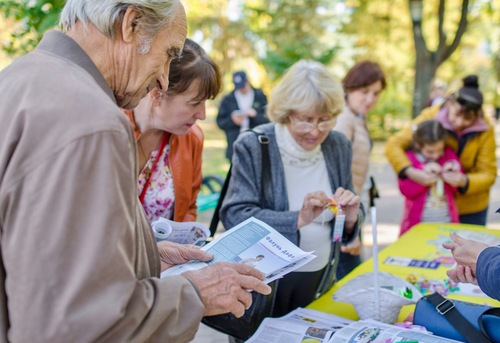 Passersby stop to hear about the persecution of Falun Gong in China.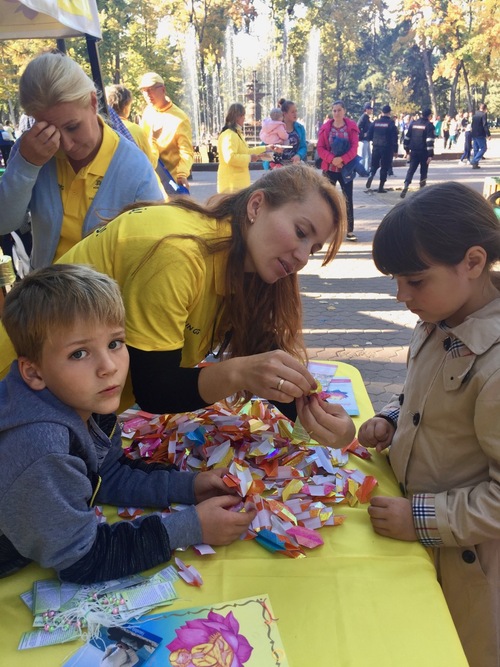 With the Petals of Peace project, children learn to make lotus flowers to give their loved ones as a reminder to have good thoughts for the children suffering in the persecution in China.