University of Missouri Falun Dafa Club Participates in Homecoming Parade
October 24, 2018 | By a Falun Dafa practitioner in Missouri
(Minghui.org) The University of Missouri's annual homecoming parade on October 20, 2018 consisted of more than 100 groups, including the Falun Dafa Club.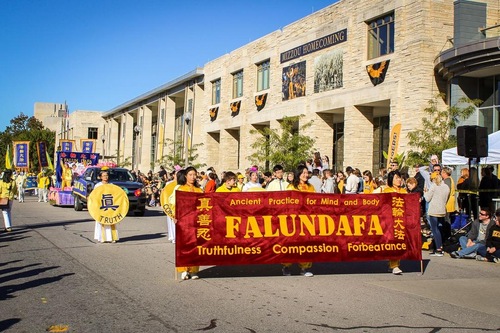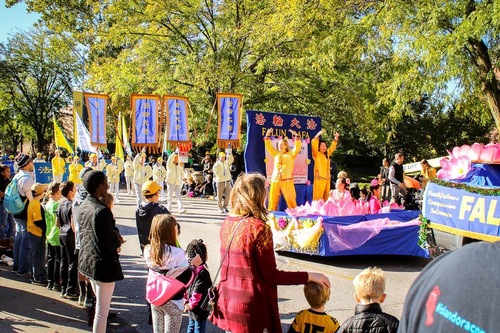 The Falun Dafa group participates in the University of Missouri's homecoming parade.
Amidst the excitement of homecoming, the peacefulness of the Falun Dafa exercises demonstrated on their float drew respectful attention and smiles. The group's drum team in ancient Tang Dynasty uniforms also won cheers and applause.
"Truthfulness-Compassion-Forbearance! Yes! This is what the world needs!" called out a spectator when she saw the first banner of the Falun Dafa procession. Some spectators asked where they could learn more about the ancient meditation practice.
A practitioner who distributed flyers along the way said, "The streets were crowded with spectators. Many wished to learn more about Falun Dafa and were very happy to get a flyer.
"There were many Chinese students, and some were surprised to see us [as this practice is persecuted in China]. Most of them were happy to receive the flyers. It's a good opportunity for them to learn more about Falun Dafa and to see us being involved in community events outside China," she added.
The University of Missouri's homecoming parade began in 1911 when former sports director Chester Brewer invited alumni to watch the annual football game. The university's homecoming festivities have become a highly anticipated annual tradition for both students and alumni. This year, more alumni participated in the events as Professor George Smith was awarded the 2018 Nobel Prize in Chemistry.
The Falun Dafa Club at the University of Missouri was established in 2016. Free classes are held every week on campus.