Paris, France: People Learn about the Persecution of Falun Gong
October 18, 2018 | By Minghui correspondents De Long and Zhou Wenying in France
(Minghui.org) Banners and posters raised awareness of the persecution of Falun Gong in China on Human Rights Square near the Eiffel Tower on October 14. Practitioners also demonstrated the Falun Gong exercises.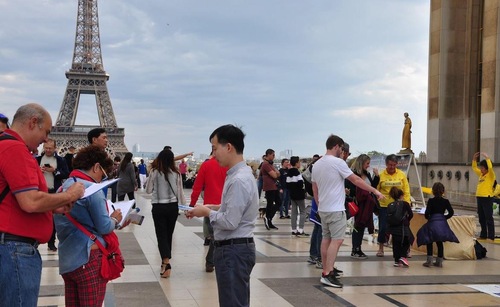 Tourists sign a petition calling for an end to the persecution.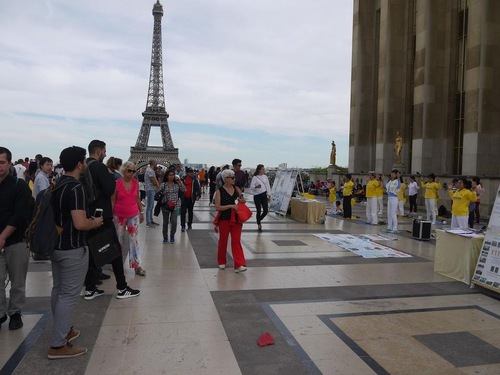 Tourists stop to watch practitioners demonstrating the Falun Gong exercises.
Police officer Carlier Cyril was on vacation in Paris with his family. When he learned about the persecution of Falun Gong in China, he signed the petition to show his support. He was keen to learn the exercises because he has a very stressful job and needs something to help him relax. He said he would check out the Falun Gong website.
Eric Soret is a school principal in Réunion Island, a French department in the Indian Ocean. He said that he is a member of a human rights organization. He knows there is no freedom in China and that the regime controls the media. He thinks harvesting organs from living Falun Gong practitioners for profit should stop immediately.
Marlene Cohen was shocked to read about forced organ harvesting taking place in China. She said, "It is terrible that such atrocities are happening in China." She hopes Falun Gong practitioners will persevere and that the petition will bring positive results.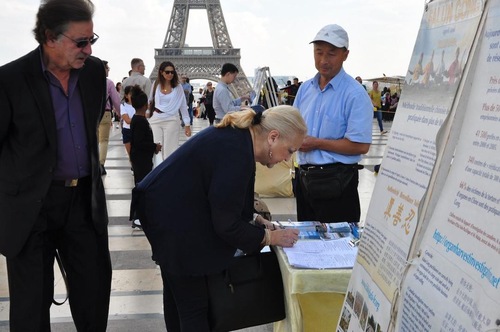 Former bank employee Marlene Cohen signs a petition to stop forced organ harvesting.
Two reporters from the website oneheart.fr decided to interview practitioners after reading the information on Falun Gong. They shot a segment introducing Falun Gong to their readers, which will be posted on their website.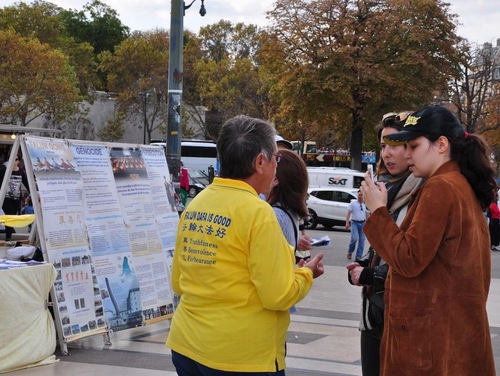 Reporters from oneheart.fr website interview Falun Gong practitioners.
Laura Cerda, a student from Barcelona, Spain, was on vacation in Paris. She believes it is important that practitioners persevere in telling others about the persecution taking place in China. She said, "Truthfulness-Compassion-Forbearance, these are important principles. Everyone should improve themselves and become a better person."