Vietnamese Practitioners Benefit from the European Falun Dafa Experience Sharing Conference
October 12, 2018 | By Dexiang and Rongfa, Minghui correspondents in Prague
(Minghui.org) As Falun Dafa has become more widely known in Vietnam in recent years, the number of practitioners there has increased quickly. Twelve practitioners decided to travel all the way from Vietnam to attend the 2018 European Falun Dafa Cultivation Sharing Conference in Prague on Saturday, September 29.
Vietnamese German Falun Dafa practitioner Thanh told a Minghui reporter that practitioners from Vietnam came to the European conference to learn from fellow practitioners' experiences and to participate in the Tian Guo Marching Band's performances in Vienna, Munich, Zurich, and other European cities. They also wanted to meet Vietnamese practitioners who live in other countries in anticipation of cooperating together in the future to expose the persecution in China.
"Falun Dafa has been quickly embraced by the people of Vietnam," Thanh said. "More than 60 exercise sites have been established in Hanoi alone. Starting as early as 3:30 a.m., you can find Falun Dafa practitioners doing the exercises throughout the city."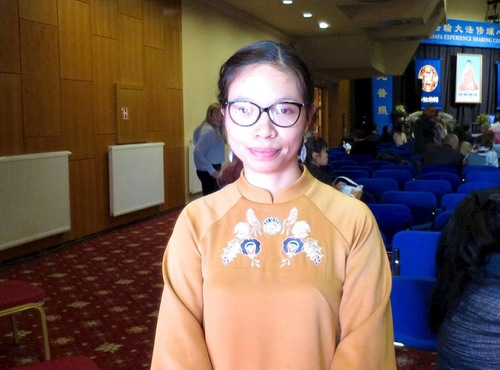 Ms. Nguyen Thi Hoar Link benefited from the experience sharing conference.
Ms. Nguyen Thi Hoar Link from Vietnam has been practicing Falun Dafa for a year. "I have attended many experience sharing conferences, including those in Taiwan," she said. "Master has kindly sent a greeting to this European conference, encouraging us to do well. I'm proud to be part of the conference and I appreciate this opportunity very much."
Ms. Nguyen was deeply impressed by the sharing paper that a young practitioner presented at the conference. "He has been cultivating for two years. Before that, he realized he needed a master to guide him. After he started cultivating in Dafa, he learned Chinese in two years and studied the Fa in Chinese to gain a better understanding."
"Another practitioner shared her experiences working in a media outlet. Her situation is similar to mine. She felt she could do everything well. Because of her excellent grasp of Chinese, she received a lot of praise. She developed self-complacency and thought she was better than others. I'm embarrassed to say I had the same experience. After she realized her attachment, she corrected herself and began to accept different opinions."
Besides what she learned from the conference, Ms. Nguyen was also excited to have the opportunity to distribute Falun Dafa flyers during the parade. She was very impressed at how happy people were when they were given Falun Dafa materials.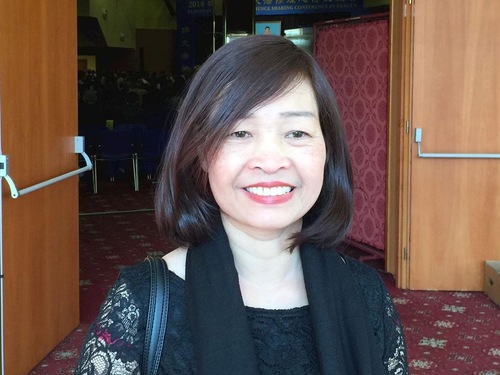 Ms. Le Thi Thao's improved health encouraged her family to cultivate.
Ms. Le Thi Thao from Poland said that she has benefited tremendously from her cultivation in Falun Dafa. "No words can describe my gratitude to Master Li! Even the most beautiful words sound pale compared to my deep appreciation of Falun Dafa."
Ms. Thao, 53, developed epilepsy when she was 30. For more than 20 years, she often lost consciousness without warning even though she took her medicine every day. Her doctor had told her that she could skip meals but not her medicine. She also suffered from several other ailments and life was hard.
"I started practicing Falun Dafa a couple of years ago and noticed an obvious improvement in my health right away. I felt relaxed and gradually reduced the dosage of the medicines I was taking. Two months after I started cultivating, I didn't need any medicine. I have been healthy and relaxed ever since. My parents and my daughter witnessed the huge changes in me and started practicing Falun Dafa themselves," Ms. Thao said.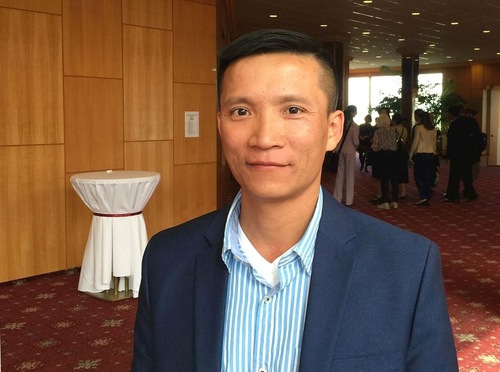 Mr. Hoang from Czech
Mr. Hoang, a Vietnamese Czech, learned about Falun Dafa from his mother four years ago. After he started to cultivate, he quit smoking and drinking.
"The sharing today is very inspiring!" he said. "One of the practitioners said in her speech that she couldn't participate in group exercises during activities because of her young child, but she did whatever she could to help by distributing flyers to passersby while others did the exercises together. I have a restaurant. I will tell my customers about Falun Dafa and do the three things well."