Switzerland and Austria: Raising Awareness of the Persecution of Falun Gong
October 11, 2018 | By a Falun Gong practitioner in Switzerland and a Minghui correspondent
(Minghui.org) Falun Gong practitioners recently held events in Switzerland and Austria to raise awareness of the Chinese Communist Party's (CCP) persecution of the practice. The European Tian Guo Marching Band performed during these events as part of its five-city tour of Prague, Vienna, Munich, Zurich, and Lucerne.
Raising Awareness in Switzerland
Practitioners held an event at Loewenplatz in the Swiss town of Lucerne on Saturday, October 6, 2018. Within two hours, several Chinese tour groups had passed by and many of the tourists were drawn over by the music of the Tian Guo Marching Band. Some Chinese tourists accepted Falun Gong information materials, while others took photos and videos of the band performing.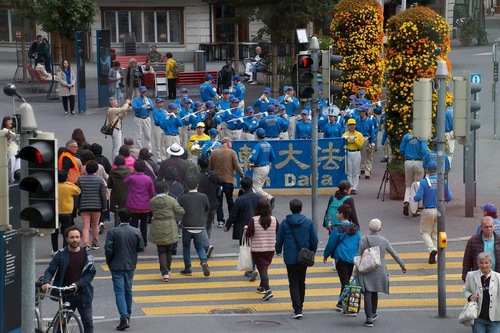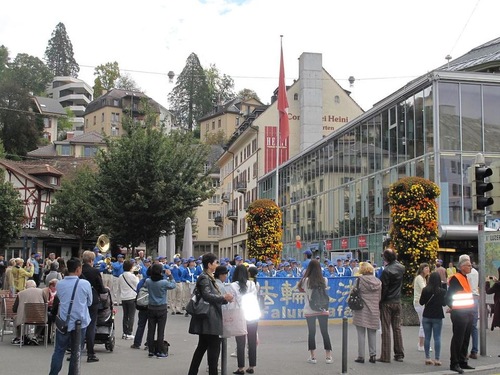 The European Tian Guo Marching Band performs at Loewenplatz in Lucerne on Saturday, October 6, 2018.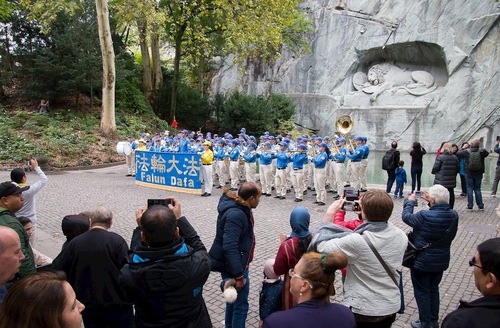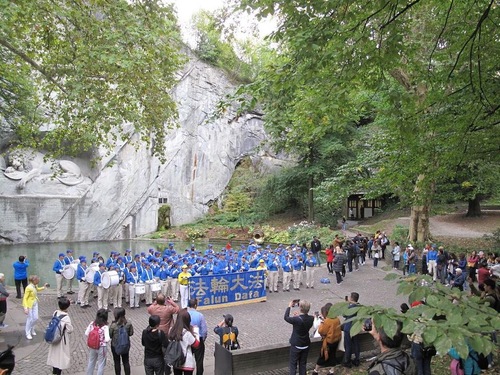 The Tian Guo Marching Band performs in front of the Lion Monument in Lucerne.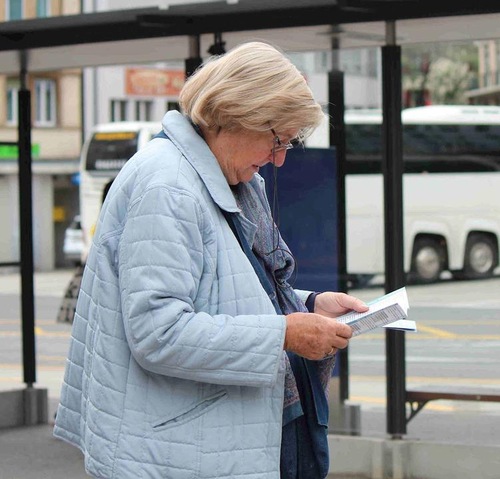 A passerby reads a Falun Gong flyer.
Bieg from Germany works in Lucerne as a physical therapist. He and his girlfriend Thusi were at Loewenplatz and paused for a while to listen to the band. They accepted a flyer and talked with a practitioner about Falun Gong. They were appalled to learn about the CCP's persecution of the peaceful practice.
"I just learned that such a bad thing is happening in China," Bieg said. "We have freedom in Europe, but many people around the world have no freedom and suffer from this [persecution and live organ harvesting]."
Thusi said that she had heard of the CCP's autocracy and the absence of freedom in China, but did not know the situation was so bad.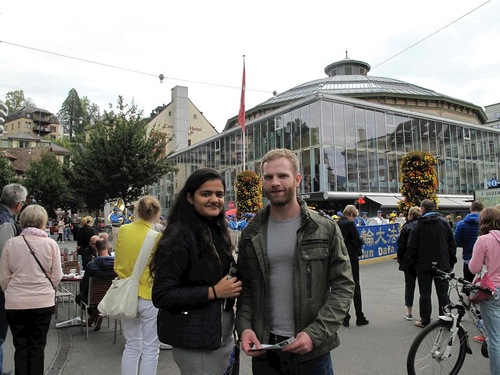 Bieg (right) and Thusi.
Interior architect Ms. Keusch and violinist Mr. Miranda, who comes from Spain, were riding bicycles when they heard the band performing. A practitioner handed them each a flyer, which they started to read. Mr. Miranda told the practitioner that he was impressed by the sound, "The music is melodious. The performance is fantastic." Ms. Keusch agreed but said she wondered why such melodious music was paired with information about the CCP's state-sanctioned live organ harvesting described in the flyer that she had been handed.
The practitioner told them that the band members were all Falun Gong practitioners. If they were in China they would be at risk of being subjected to live organ harvesting for practicing Falun Gong. The practitioner said that some of the band members had indeed been imprisoned in China for their belief.
"This [live organ harvesting] is horrible. It is an inhuman and stupid deed!" Ms. Keusch said.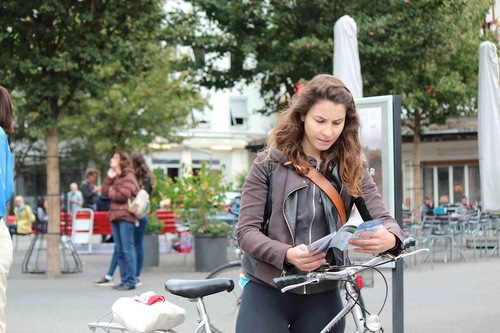 Interior architect Ms. Keusch.
Mr. Miranda, a violinist from Spain, reads about Falun Gong.
Raising Awareness in Vienna, Austria
Schönbrunn Palace in Vienna is one of Austria's most important historical monuments and a popular tourist attraction. The former imperial summer residence boasts more than 1,400 rooms and is set amidst magnificently landscaped gardens. Falun Gong practitioners traveled to the palace on Tuesday, October 2, 2018, to raise awareness and call for an end to the CCP's persecution.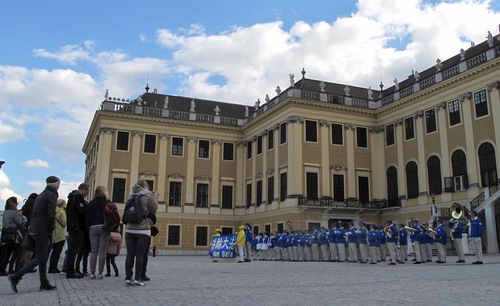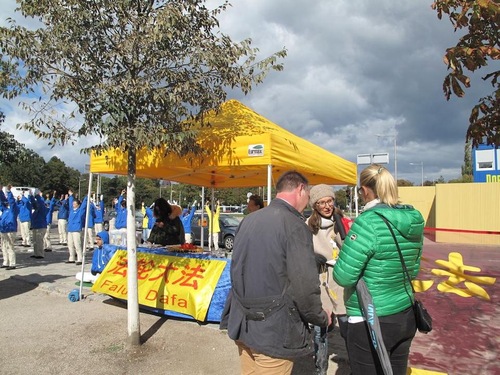 Introducing Falun Gong to passersby outside of Schönbrunn Palace, Vienna.

The European Tian Guo Marching Band performs.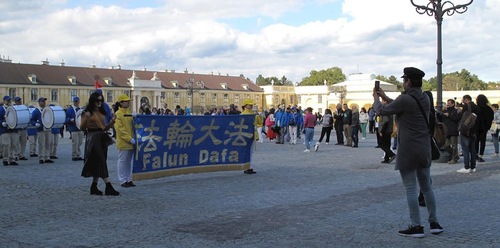 Tourists watch the band perform.
Carlos (left) and his friend.
Carlos from Central America was visiting Schönbrunn Palace with his Austrian friend. He said he had started practicing meditation a year ago and knew that meditation aids relaxation and maintains fitness. He condemned the CCP's persecution of such a peaceful meditation practice.
"It is unacceptable for people to be killed for practicing Falun Gong," Carlos said, "They need to keep this (Truthfulness-Compassion-Forbearance). I think they should stick to it all the time."
"No government can deprive a life of what he should have obtained. I think communism should disappear from this world. We don't need it because the world needs peace. We will not actively seek war and violence. What we have to do is to uphold traditions together."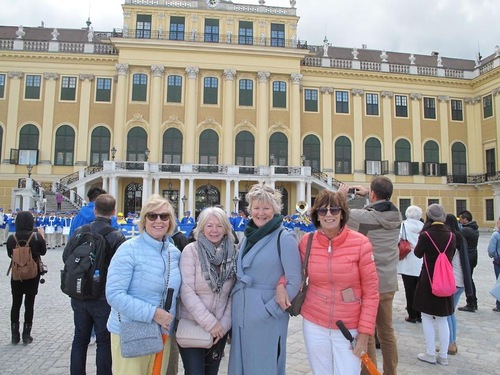 Four ladies from Ireland visiting Schönbrunn Palace.
Four ladies from Ireland were on a one-day tour of Vienna that included a visit to Schönbrunn Palace. They listened attentively to the Tian Guo Marching Band's performance and said that they were delighted to encounter the band. Some of them had heard of Falun Gong before and knew that Falun Gong's principles are Truthfulness-Compassion-Forbearance.
A practitioner explained that the band members strive to follow the principles and hoped to use music to express their faith, communicate with the audience, and raise awareness.
"This is very good. Living a life in this way fulfills the meaning of life," one of the women said.
Another lady said, "This reminds me of a prophet who said that one cannot communicate with God without music."
Related article in Chinese: Awareness raising in Vienna